For those not familiar with the merger arbitrage strategy, here's how it works. Often, after a takeover is announced, a risk premium, or spread, will remain between the takeover offer and the market price of a company's share price to reflect the risk that the takeover might fall apart.
The merger arbitrage strategy seeks to capture that spread by buying the shares of the company being bought for a discount, reflecting the risk, and then tendering the shares for the full offer price. This strategy is often one of those used by Arbitrage Funds.
The strategy can prove to be quite profitable, as the risk premium usually amounts to roughly 2-3 percent. Although that does not sound like much, the return is earned over a relatively short period of time, which allows the investor to take advantage of other proposed takeovers as the year unravels. In fact, the strategy can handsomely beat the market if an investor can successfully capture 8-10 arbitrage spreads per year.
However, the strategy is not without risk, and it has not been particularly profitable lately. In fact, it has been a complete disaster for those trying to implement the strategy on two recent takeovers that might have seemed to both average and sophisticated investors as a slam-dunk.
On March 16, Canada's largest telecom corporation, BCE Inc. (NYSE:BCE), announced its intention to acquire Astral Media (OTC:AAIAF) for roughly $3B in an all-cash offer. The strategy behind the acquisition was to acquire more content, as Astral owns various French and English television channels, radio stations and other digital media properties.
Astral shares soared about 34 percent on the announcement, and a risk premium spread of roughly 2.9 percent remained. The spread was reasonable, and reflected a low probability of the takeover concluding in a failure.
While the proposed acquisition was being reviewed by Canada's broadcasting regulator, the CFTC, shares of Astral were exchanging hands from investors who bought prior to the takeover to those seeking to capture the discount to the offer price.
Finally, on October 18, the CFTC announced that it intends to block the proposed acquisition of Astral, as it determined the deal to be ultimately uncompetitive given BCE's current control of television channels and radio stations.
The next day, shares of Astral declined about 16 percent, making the potential arbitrage profit of 2.9 percent pale in comparison. It will take about five successful similar arbitrage opportunities to cover the losses sustained by the strategy.
(click images to enlarge)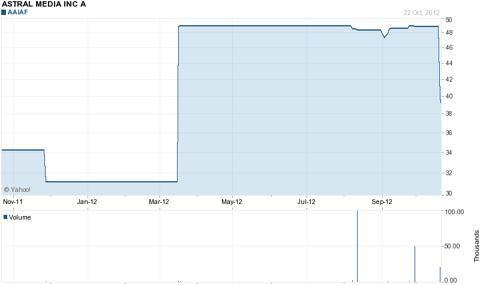 Similarly, on June 28, Malaysia's state owned oil and gas producer Petronas proposed to acquire Canadian gas producer Progress Energy (OTC:PRQNF) for roughly $5.5B. On July 27, Petronas increased its offer after a competing bid for Progress came in from a third party (believed to be Exxon).
Arbitrage seekers jumped on the opportunity, pushing the price of Progress to a point where the risk premium spread was a little below one percent. This reaction reflected the certainty and conviction the market had in the deal going through.
However, Industry Canada announced on October 19 that it was blocking the deal because Petronas failed to demonstrate that the transaction will result in a net benefit to Canada.
Progress Energy shares declined about 8.2 percent when markets opened on October 22.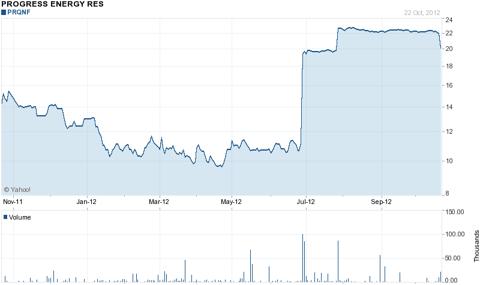 Although arbitrage strategies can offer healthy annualized returns, these examples illustrate that the arbitrage strategy can significantly hurt investors.
It is therefore, in the best interest of a retail investor to avoid chasing a quick 1-3 percent arbitrage opportunity, and instead, sell at a discount if the investor is lucky enough to own shares in a company that is being acquired.
Disclosure: I have no positions in any stocks mentioned, and no plans to initiate any positions within the next 72 hours. I wrote this article myself, and it expresses my own opinions. I am not receiving compensation for it (other than from Seeking Alpha). I have no business relationship with any company whose stock is mentioned in this article.