Coach (NYSE:COH) reported 1Q13 results on October 23rd.
Key highlights:
Net sales: $1.16 billion, +11% y/y
North American sales: $784 million, +8% y/y, with comps +5.5%
International sales: $362 million, +15% y/y
EPS: $0.77, +6% y/y
What I liked: Strong comps in North America and China and a $1.5 billion stock repurchase
Strong North American and China sales
Coach's sale in North America, which accounted for 2/3 of total sales this quarter, were $784 million, up 8% y/y, with direct sales continue to witness solid traffic and conversion that resulted in 11% y/y increase in revenue. Most notably, comparable store sales in North America bounced back, increasing 5.5% as factory stores benefited from the return of promotions.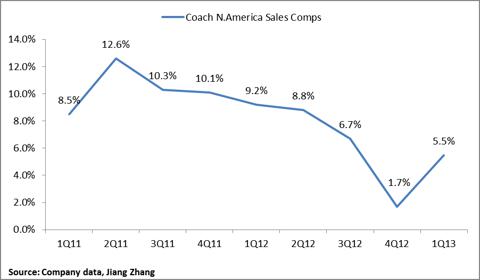 Click to enlarge
The company also saw resiliency in China, where sales were up 40% y/y driven by double digit comps as consumers continue to appreciate Coach's brand and products.
At the end of the quarter, the company opened 5 North American factory stores, which include 3 Men's stores, to bring the total to 354 full price and 174 factory stores. As for China, Coach opened 8 new stores, with 7 on the Mainland and 1 in Hong Kong, to bring the total to 104 locations in 38 Mainland cities and Hong Kong.
Stock repurchase
The board authorized a $1.5 billion stock repurchase program, which I view as a positive. Since Coach's shares are down 30% from its March highs due to concerns over North America comps and competition from Michael Kors (NYSE:KORS), I believe that the stock repurchase can assure the market that Coach's share is 1) undervalued and that 2) the share price has hit a bottom. I believe that continued momentum in North America and China are key catalysts going forward.
What concerned me: Continued promotion to cap margin expansion
While last quarter's North American comps were a significant improvement from Q4, investors should not forget that it was driven by the return of in-store promotions. As I noted in my earnings preview (view report), Coach needs to find a way to grow comps without leveraging in-store promotion or else margins expansion is unlikely to materialize heading forward.
Disclosure: I have no positions in any stocks mentioned, and no plans to initiate any positions within the next 72 hours. I wrote this article myself, and it expresses my own opinions. I am not receiving compensation for it (other than from Seeking Alpha). I have no business relationship with any company whose stock is mentioned in this article.