Earnings reports are generally known for the amount of volatility that they create in a stock, and this is generally a valid assumption. Boeing (NYSE:BA) is one rare exception to this rule. As I will show throughout this article, one of the most intriguing aspects of Boeing's charts is how flat and predictably the stock tends to trade after an earnings announcement.
In the past year, Boeing has done very well earnings-wise. In fact, Boeing has beaten analysts' estimates for the past 11 quarters! After all four reports over the past year, the stock has stayed flat, or at least confined to a narrow range.
One year ago, for the 3rd quarter of 2011, BA had an initial 5% "spike" from the $64 range to the $67 range, but went right back to $64 by the end of the week, then stayed there for the next few weeks.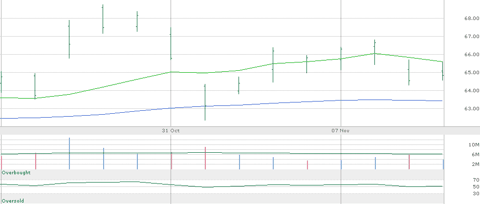 Click to enlarge
When fourth quarter earnings were reported on January 5th, 2012, the stock barely budged, even though the company beat expectations handily. In fact, it barely moved at all in the month following the announcement, stuck in a narrow, well-defined range between $75 and $76.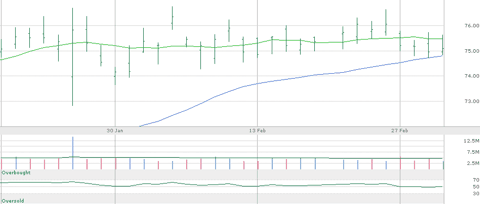 Click to enlarge
The first quarter of 2012 beat analysts' expectations when reported on April 25th of this year, and initially the stock popped from $73.21 the day before the report, to an intraday high of $77.50 the following day. However, the same pullback pattern was seen as in the 3rd quarter '11 chart, and within 2 weeks, the stock went right back to its pre-earnings $73-74 range.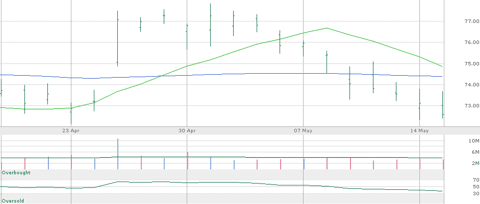 Click to enlarge
Most recently, the company reported 2nd quarter earnings on July 25th. After a slight pop of around $2 a share the following day, the stock went right back to a trading range between $73 and $74, where it stayed for a month.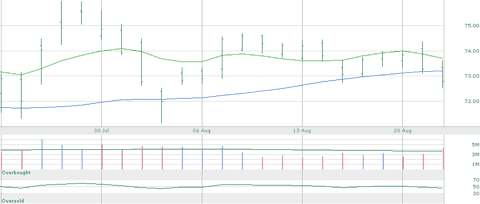 Click to enlarge
So, it seems that Boeing has a knack for beating analysts' predictions, then spiking very little, if any, before retreating to its pre-earnings price level. Using this information, I want to make an options trade that takes advantage of the market's perceived volatility in the stock, while still creating a favorable risk-reward ratio. I may be going out on a limb assuming that Boeing will beat earnings, but since it has happened the past 11 times, and 14 out of the last 15, as a believer in market trends, it seems like a reasonable expectation that the stock will not react largely to the downside this time.
Because I feel that the upside is favored, I want to create a somewhat neutral but slightly bullish trade in a very short time frame, which I like to do by buying an in-the-money option and selling an out-of the money option. I would do this by buying the October 26th weekly $72.50 call for $1.83 and selling the $75 call of the same expiration for $0.56, for a net cost of $1.27. Maximum profit of $1.23, or a 96.8% gain, is achieved if Boeing spikes above $75 as a result of the announcement, which is only 1.76% above Monday's closing price of $73.70. Breakeven for this trade is achieved with a stock price of $73.77, only 7 cents above today's price. The only way this trade gets wiped out completely is if the stock closes below $72.50 at expiration. While this is definitely possible, I believe the charts show that based on historical trends, this is very unlikely. The small risk of losing your money is offset by the possibility of a 96.8% profit, which seems very likely if past trends occur yet again.
Disclosure: I have no positions in any stocks mentioned, but may initiate a long position in BA over the next 72 hours. I wrote this article myself, and it expresses my own opinions. I am not receiving compensation for it (other than from Seeking Alpha). I have no business relationship with any company whose stock is mentioned in this article.