On September 4, the Cornerstone Total Return Fund (NYSEMKT:CRF) declined 19% to a closing price of $10.00 per share. Friday it was down another 4% to $9.60. Regardless of these wild gyrations in market prices, there remains one clear trend - Cornerstone's net asset value ("NAV" – the real per share value) has been declining steadily for years. But don't take my word for it, just take a look at this chart:
click to enlarge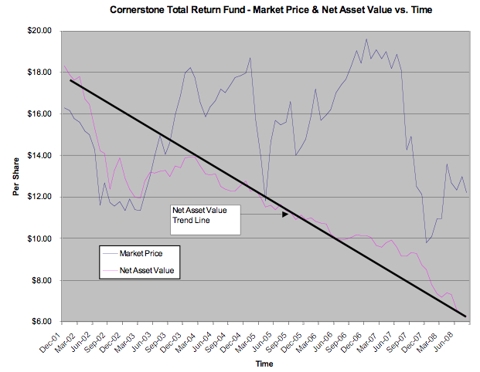 Click to enlarge
About a month ago I wrote about how Cornerstone was in liquidation and how that was problematic not only for shareholders but also for the board of directors of the fund, as board members have (in violation of state laws) unilaterally decided to liquidate without shareholders' consent. To date they have paid out approximately 67 percent of fund assets through monthly distributions, which many investors have mistaken as income versus what it really has been – a return of their own capital.
After this past week's poor market performance, Cornerstone's NAV is worth only $6.05 per share. What this means is that even at a market price of $9.60 per share, this fund is still 58 percent higher than it should be.
With a 40 percent dividend cut coming in 2009 it is clear that this closed-end fund's future is bleak. The policy of paying out unsustainable distributions can only fool people for so long. Annual dividend cuts will help to enlighten shareholders that Cornerstone's so called income is just a mirage.