Late last week, Internet giant Google (NASDAQ:GOOG) released its fiscal third-quarter earnings report. The report was released a few hours early, causing a huge firestorm and media frenzy throughout the day. Google's stock dropped and was halted for a few hours. When the dust settled, Google released its finalized report. The worst fears were confirmed. Google substantially missed on the bottom line, and revenues were terrible as well. The bad report has put some fear into Google investors, and the stock has gone lower since. Today I'll examine Google's results, and determine what investors need to do right now. But one fact is clear: Since the recent high near $775 Google has lost a Franklin, or $100.
Third-Quarter Results
The top- and bottom-line results were extremely ugly. Now Google reports both on both a GAAP and non-GAAP basis, but Street analysts use the non-GAAP numbers for their estimates. I'll discuss those first, but use GAAP numbers for the main point of my discussion later on.
On a non-GAAP basis, Google reported revenues of $11.33 billion, which severely missed expectations for $11.86 billion. Earnings per share came in at $9.03, missing estimates for $10.65. Google missed by $1.62, the second $1 or more miss in the past four quarters. This is not a company that has consistently beat expectations, or even met them. We've now had two large misses in a year.
So now let's look at the GAAP numbers, because Google's financials are presented using that method. The following table shows Google's Q3 margins, which I'll use to describe the terrible numbers.

On a GAAP basis, including traffic acquisition costs, revenues came in at $14.1 billion, up 45% from the prior year period's $9.72 billion. Now, of that $4.38 billion increase nearly 59%, or $2.575 billion, was due to the Motorola Mobility acquisition. Excluding Motorola, Google stand alone revenues were up 18.6%.
But Google's costs rose even more sharply. On their own, Google's cost rose by more than $1.06 billion, a rise of 31.44%, much faster than the 18.6% Google's revenues rose by. Additionally, Motorola added more than $2.1 billion to the cost of revenues. Overall, the total cost of revenues was up 94%, more than double the pace of revenue growth. That explains the nearly 12 full percentage points decline in gross margins.
In terms of operating expenses, R&D expenses rose by 43.1%, Sales and Marketing expenses rose by 46.2%, and General and Administrative expenses rose by 54.1%. Overall, operating expenses rose by 46.5%, also faster than the rise in revenues. For the period, operating income actually declined more than $320 million, or 10.5%. Operating margins fell even faster than gross margins, falling more than 12 full percentage points, a terrible decline.
Google's "other income" declined by nearly 80% in the period, or about $240 million. Pre-tax income fell by 16.7%, or $561 million. But despite the huge decline in pre-tax income, Google's tax provision only declined by $8 million, less than 1.3%. The effective tax rate increased from 18.78% to 22.26%.
Overall, GAAP net income declined by $553 million, more than 20%. That was a faster decline than operating income. Overall, net profit margins plunged by 1264 basis points -- quite a fall. Additionally, the diluted share count rose by 1.8%, also helping to pressure EPS.
The Declining Margin Saga
Google's margins fell dramatically year over year, but they also fell substantially over Q2 levels as well. The following table shows Google's GAAP gross margins over the past two years.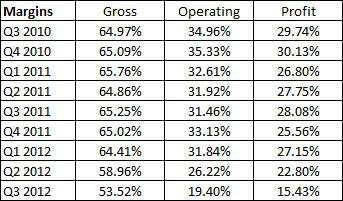 Google's gross margins fell nearly another five-and-a-half full percentage points over Q2. Operating margins fell nearly seven full points, and profit margins fell even more than that. Google's profit margin in Q3 was nearly half that of what it was in Q4 of 2010.
Net profit margins are down 43% since the Motorola Mobility acquisition was completed. Google actually announced an operating loss for the segment. Google could easily see margins bounce back next quarter, but even if they return to Q2 levels, they are still well down over prior year numbers. As I have stated in the past, Google has gotten bigger, but that doesn't necessarily mean better. We saw that in Q3.
Balance Sheet
The following table shows some key Google balance sheet ratios over the last few years, and against Q2. (Dollar values are in millions.)

As you can see, the Motorola Mobility acquisition hit some of the financial ratios, which is to be expected. However, the balance sheet got better in Q3, despite the worse-than-expected results. The cash pile and working capital increased nicely. The current ratio is still strong, and increased during the period. No new debt was added or paid back during the quarter. Total liabilities rose by 1.74%, but total assets rose by more than 4.25%. That helped the debt (liabilities to assets) ratio improve by 60 basis points. Google has a strong balance sheet, and it is the one positive I can take away from the Q3 report.
A Troubling Valuation?
Google closed down another $3 plus on Monday, closing at $678.67. At that price, we are down about $96 from the recent 52-week high, and Google closed well off its Monday low.
But the question is: With the struggles Google is going through now and the margins coming down substantially, what is the stock worth? Well, the following chart shows Google's price to earnings valuation compared to Apple (NASDAQ:AAPL) and Microsoft (NASDAQ:MSFT). The chart uses trailing 12 months earnings. Since Microsoft and Google have already reported, I plugged in the current consensus for Apple's quarter for its trailing figure. Apple will report on Thursday afternoon.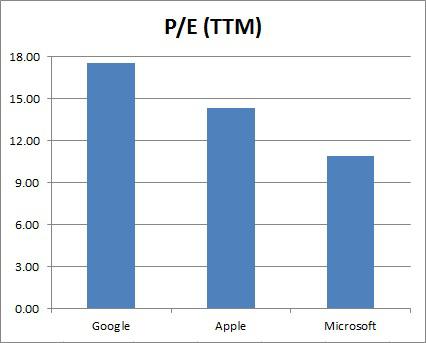 Google currently trades at a 22.5% premium to Apple, and a 61.5% premium to Microsoft. Don't forget, this is based on non-GAAP earnings for Google. Should you use the GAAP numbers, the premium is much higher. Is it worth it? Let's consider some facts.
Google pays no dividend. Apple's stock currently yields 1.67%, and Microsoft currently yields 3.29%.
Google is not buying back stock, leading to a rise in the diluted share count each quarter. Apple just started a buyback plan to offset some executive dilution. Microsoft is currently buying back $1 billion in stock per quarter and has been buying back stock for years.
Google only revenues increased by 18.6% in the quarter. Apple's quarterly revenues are expected to increase by 28.2%. Microsoft's quarterly revenues declined by 7.9%, excluding deferred revenues for Windows 8. Otherwise, Microsoft revenues would have been mostly flat for the quarter.
To the average price target, Google analysts see 16.87% upside. Apple analysts see 22.76% upside in that name. Microsoft analysts see 27.07% in that stock.
Excluding the revenue growth from Motorola Mobility, Google does appear to be a bit overvalued, especially since it doesn't pay a dividend and is not buying back stock. The Motorola acquisition gives Google a bit more growth, but with much higher costs. After Q1 2014, Google's revenue growth will appear to drop off, because the Motorola acquisition finished in Q2 2012. The growth will go back to a more normal pattern, with better comparables to previous quarters.
Final Thoughts and Recommendations
Investors were certainly spooked by the quarterly report, and I don't think the early release was as big of a deal as most made it out to be. The numbers reported were the actual numbers, and they weren't good. I would like to hear from the analyst community who seemed very bullish on Google, pushing the average price target up from $750 to $815 in recent months. In fact, the high target on the Street currently is $910. That might be a stretch for a while.
If this quarter was a sign of things to come, Google is definitely a short candidate. It does trade at a premium to others in the industry, and if it can't meet growth forecasts, it will come down. I wouldn't be surprised to see Google rally back to $700 potentially before another leg down. The next quarterly report will be very interesting. Either analysts will push down estimates so much that Google cannot miss (potentially it will blow out estimates) or Q3 results were a sign of things to come, and that is not encouraging for shareholders.
Disclosure: I have no positions in any stocks mentioned, but may initiate a long position in AAPL over the next 72 hours. I wrote this article myself, and it expresses my own opinions. I am not receiving compensation for it (other than from Seeking Alpha). I have no business relationship with any company whose stock is mentioned in this article.