As everyone knows, SUPERVALU (NYSE:SVU) has faced a significant set of headwinds. We were displeased to see the company's performance momentum has regressed relative to the momentum it enjoyed in FY 2012. We have no illusions that the company is facing super challenges, however we believe it offers the potential for provide a super value for its customers, its current and potential investors and potential acquirers. To SUPERVALU's detractors (whether they are short the company or not), we offer this advice: Quitting while you are ahead is not the same as quitting. Despite the soft performance the company has endured year-to-date, we believe that the company is bottoming out. We are most certainly aware that the company has changed since its 2006 acquisition of Albertsons and that Craig Herkert's (AKA the Wal-Mart (NYSE:WMT) guy) tenure as CEO failed relative to the promise and potential his hiring was to portend. In our July 31st report on SVU's new CEO Wayne Sales, we could see that despite Herkert was giving it his best but his best wasn't good enough to forestall the sales declines that SVU was incurring. We also noted that SVU's new boss seemed to generate a fresh new air of possibly and positivity in our opinion and the Minneapolis/St. Paul Business Journal even quoted us on it.
We were glad to see that SUPERVALU reported its difficult quarter now, rather than waiting until the end of the day when we were expecting it to report results. We were also glad to see that the company still generated free cash flows of $108M in the first half of 2013, though it was a far cry from what we were anticipating. We don't ignore the challenges that SVU has recently faced. We were concerned to see across the board operating income declines in all three business reporting segments. We also were glad to see the Save-A-Lot business broken out as a separate reporting segment at the beginning of the year so we can determine the performance of that banner and we were displeased to see that Save-A-Lot reported soft results during the quarter, as well as last quarter.
Save-A-Lot's revenue grew by .1% as gains from 47 new stores (on a year-over-year basis) were basically offset by a -3.7% Identical Store Sales decline. Adjusted segment operating income declined by 32% due to the negative ID sales performance, price-reduction investments to maintain its competitive position and administrative expenses to support the division's growth. We think Save-A-Lot's President and CEO Santiago Roces has some explaining to do with regards to the poor performance at Save-A-Lot. We concede that Save-A-Lot's results were acceptable last year, but if the division can't turn itself around, he may need to join his fellow Wal-Mart alum Craig Herkert in the gone and forgotten column. 16 of Save-A-Lot's new stores were opened in the most recent quarter and the company has been testing a revitalized Save-A-Lot format consisting of a new merchandising and display approach, enhanced marketing messaging and new products in a more labor-efficient manner. SVU plans to add 20 net new Save-A-Lot stores by the end of its fiscal year. According to SVU's CEO Wayne Sales, Save-A-Lot's licensee stores have been more productive than the company owned stores in terms of profitability.
SVU's Traditional Retail business continues to face the most challenges amongst SVU's business units as it saw its operating income decline by 54% on a year-over-year basis. This was due to an Identical Store Sales decline of -4.3% and was a regression from the -3.7% achieved in Q1 2013 and -2.8% in FY 2012. Operating income declined due to increased price competitiveness investments, which served as a 90bp drag on revenues and were partially offset by cost reduction initiatives and a lower LIFO charge. The good news is that SVU has a market leading pricing position in 3 of its retail banners; it has improved or remained constant in 7 and only declined in 1 market. SVU announced that it completed its pricing initiatives at Jewel-Osco in the Chicagoland area. Jewel still has the number one market share with 31% and though its revenue has slipped by 20% over the last five years, these initiatives will help it defend its $5B in revenue against competitors like Dominick's, Aldi and the Mariano's Fresh Markets banner owned by Roundy's (NYSE:RNDY). At least Jewel-Osco's market share of 31% is still stronger than Dominick's 9% share. We found it interesting that Roundy's CEO Bob Mariano was the former boss of Dominick's, before its 1998 acquisition by Safeway (NYSE:SWY). Dominick's has seen its market share deteriorate from 24% in 1998 to 9% recently.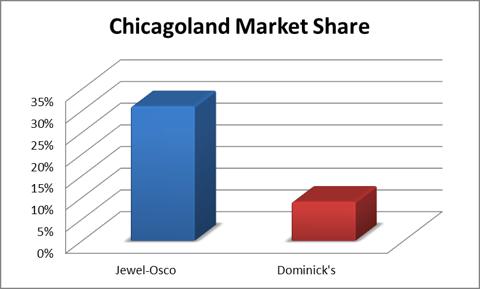 Click to enlarge
Source: Chicago Business
SVU's Independent Wholesale Grocery Distribution Business saw a revenue increase of 1.1% year-over-year and reach $1.87B in the quarter. The company attributed its revenue growth to greater sales amongst its existing customers, which collectively opened 42 new or replacement stores this year and completed 54 remodels. The division saw its quarterly operating income decline by 11% year-over-year due to increased investments in price competitiveness. SVU's Independent Business announced that Leon Bergmann was resigning from the company and it is replacing Bergmann with Janel Haugarth, a 35 year company veteran who was most recently in charge of SVU's business optimization.
Despite the narrowed interest coverage ratio this quarter, we don't believe that the company needs to file bankruptcy. This thesis is partly based on the fact that SVU was able to replace its senior credit facility with loans based on a portion of the company's real estate assets. This refinancing will eliminate restrictive covenant concerns and increase the company's financial flexibility. Also, the company has reduced its debt outstanding since its 2006 acquisition of Albertsons and we believe that this will enable the company to at least be able to refinance its debt if it isn't able to pay it down. SVU doesn't have any maturing debt issues until the beginning of next year, where it will be paying $33M of New Albertsons Inc on the first business day of the 2014 fiscal year (February 25th 2013). SVU's only other intermediate term debt issues are $140M for the New Albertsons May 1st 2013 bond issue and $490M for the SUPERVALU Inc November 15th, 2014 issue.


Source: Bloomberg LP
We believe that the company's efforts to improve pricing will result in market share stabilizing, which means that its competitors can't rely on SVU to cede market share. We can see this as Kroger (NYSE:KR) and Safeway have each seen its identical stores sales growth narrow as well during the most recent quarter. While Kroger and Safeway have more resources to sustain a price war than SVU, we don't think those companies want to go through a price war especially when each store is devoting every dollar it can to a share repurchase program to boost EPS. We wrote a two part series in which we outlined synergies that would accrue to a grocery store chain if it was to take out SVU in whole or in part.
In conclusion we still believe that SVU's shares are still undervalued. While we were shocked at the results of the company, we believe that the investment community has taken the company's stock down so far that it is trading as if it was a distressed company. We won't go so far as to say it is a distressed company but it is certainly a struggling company facing a challenging environment. We don't think that SVU is anything like Wal-Mart, which was Craig Herkert's previous employer. However, we don't think that SVU is like Winn-Dixie, which went bankrupt in 2005. SVU has been more aggressive in reducing its operating expenses and capital expenses and reinvesting those savings in lower prices for its customers. We are also encouraged by the fact that SVU hired Goldman Sachs and Greenhill to provide a review of strategic alternatives for the company. Since the company is still able to generate ~$900M annually in operating cash flows and will be earmarking its free cash flows for debt reduction, we believe that there is potential for the company to realize value to shareholders through strategic alternatives and our firm has even fielded a number of questions about this matter.
Disclosure: I am long SVU. I wrote this article myself, and it expresses my own opinions. I am not receiving compensation for it (other than from Seeking Alpha). I have no business relationship with any company whose stock is mentioned in this article.
Additional disclosure: This article was written by an analyst at Saibus Research. Saibus Research has not received compensation directly or indirectly for expressing the recommendation in this article. We have no business relationship with any company whose stock is mentioned in this article. Under no circumstances must this report be considered an offer to buy, sell, subscribe for or trade securities or other instruments.