It was announced today that Mel Karmazin will be leaving Sirius XM (NASDAQ:SIRI) as of February 1st, 2013.
I expect the reception of this news to be one of both cheers and tears. Opinions surrounding Mel Karmazin and his performance as CEO of Sirius XM during his tenure are polarized. Investors have shown with their comments in the past that these opinions run the gamut from love him to hate him.
Consider the comments from my recent article last Friday where I was of the opinion that Mel may in fact stay with the company. They give great insight into how many investors may be feeling regarding Mel Karmazin staying or leaving. It's interesting to note that the majority of the opinions had a "take him or leave him" attitude, and to be honest, that is probably best for the stock. Neutral indifference usually is. Then again, there are a few comments from readers who absolutely love Mel, or absolutely hate him. While it seems most of those have been lost to moderation, as individuals got rather heated with their opinions, I assure you they were there.
I'd like to point out one comment, though, from SA user Gabriel Borenstein that fits very well with what I think is the prevailing opinion surrounding Mel Karmazin.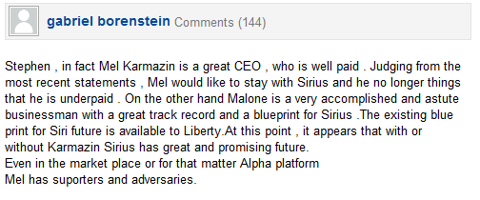 I may have my disagreements with Gabriel, but he's been rather spot on with some opinions lately.
Gauging sentiment is going to be important for current investors. It's what is going to dictate share price movement in the short term. Uncertainty is not usually a good thing, and it can be seen that on release of the news a large number of shares sold out very quickly in after hours trading, right down to $2.71 per share. As I write this shares are still floundering around $2.82, but appear to have stabilized within the day's trading range. Volume on this news also appears very light, with perhaps 3 million total shares having exchanged hands so far, much of it as the share price bounced around and settled into the current range.
My advice to investors for the short term is stick with the plan. Stick with your long term opinion of Sirius XM, which should not have changed on this news alone. As I stated in my article on Friday, and as Gabriel and countless others reaffirmed, Sirius XM had a promising future with or without Mel Karmazin, and thus has a promising future now that his decision is known.
That being said, investors will do well to keep a very close eye on who will be the next CEO of Sirius XM. Many investors have indicated that they, and Liberty Media (LMCA) has indicated that it, would like to see a bit more innovation and push of the technological envelope at Sirius XM. With the absence of Mel, who has been referred to as an old guard radio guy, it opens the door for some fresh blood to come in and perhaps shake things up a bit. J
Just so long as that shaking is done carefully, I think pushing the boundaries a bit with Sirius XM might bring a bit more optimism for future possibilities. With the strong foundation of the subscriber based business of satellite radio, the can hold some interesting possibilities for the company which may be touched upon very soon. With whispers of pairings with Verizon (NYSE:VZ) and AT&T (NYSE:T) leaking out, this new leader had better be ready to carry the torch high. Long term will be on the shoulders of the new CEO.
I'd like to offer a personal thank you to Mel Karmazin. I've appreciated his role as CEO of Sirius XM and I believe he has done a great job while I have been invested. My portfolio certainly wouldn't be where it is today had I not put at least a little faith in his abilities. So thank you, Mel, and here's to hoping for the best in what you pursue after Sirius XM.
Disclosure: I am long SIRI. I wrote this article myself, and it expresses my own opinions. I am not receiving compensation for it (other than from Seeking Alpha). I have no business relationship with any company whose stock is mentioned in this article.