"It could be that the purpose of your life is only to serve as a warning to others." Source: Despair.com
Being regarded as the worst run bank in America is not an easy accomplishment in 2008, with many competitors for this prestigious title. To win this honor would require dreadful management, poor strategic decisions, terrible timing, and delusional decision making. Wachovia (NASDAQ:WB) wins on all counts. The stock chart below looks like a waterfall in progress. It will likely reach the bottom in the next year.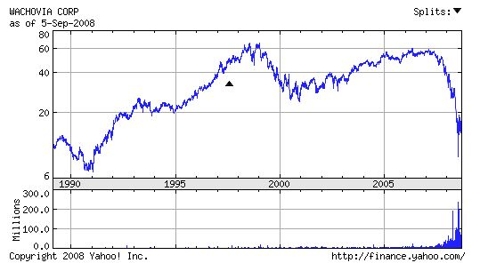 It is amazing how far this 227 year old institution has fallen. Founded in 1781 in North Carolina, through mergers and acquisitions, Wachovia has grown to be the fourth largest bank in the United States. The current version of the bank has its roots in the 1990's. First Union Bank, also from North Carolina, acquired 80 smaller banks in the 1990's before merging with Wachovia in 2001. The mistakes and bad judgment started in 1998 and have grown to a crescendo today.
First Union acquired CoreStates in 1998, then the biggest banking merger in history. Under the previous CEO, Edward Crutchfield, the integration of CoreStates into First Union was a disaster. Systems didn't communicate, employees lacked training, and customer service was a disaster. That same year, it acquired The Money Store for $2.1 billion. It gutted the staff of this unit and clearly didn't understand the business. It closed the unit in 2000, writing off $1.7 billion. The never ending quest for size led to these poorly thought out acquisitions. The stock price topped out at just above $60 in 1998.
The G. Kennedy Thompson Years
G. Kennedy Thompson started at First Union in 1976. He was elevated to the top spot in 2000. He evidently wanted to make his mark immediately. In early 2001, he engineered the acquisition of Wachovia Bank. The First Union name had such a poor reputation that the company decided to take the Wachovia name. To his credit, the integration went much smoother than the CoreStates merger.
Growth through acquisitions continued to be the strategy of choice for Mr. Thompson. Prudential Securities and Metropolitan West Securities were acquired in 2003. SouthTrust was acquired in 2004. The 2006 acquisition of Westcorp gave Wachovia its first exposure to the California market. The California market will ultimately be seen as its Alamo. The disastrous $25.5 billion acquisition of Golden West Financial in May 2006 is the anchor weighing the bank down and will ultimately drag it under. Did Mr. Thompson undertake this high risk strategy in order to top his bitter cross town rival Ken Lewis, CEO of Bank of America (NYSE:BAC)? Only he knows for sure.
Golden West Financial was the 2nd largest savings and loan in the U.S., with $125 billion in assets, 283 savings branches and 11,600 employees. This acquisition gave Wachovia a major presence in California with 123 branches and $32 billion of deposits. The housing market had clearly peaked in mid-2005 and was slowing rapidly in early 2006. Herbert & Marion Sandler, the founders of the institution, showed tremendous timing in selling out at the top. Wachovia and Mr. Thompson used horrible judgment and clearly did not do their due diligence during this acquisition. Growth at any cost is never a brilliant strategy. Sometimes you can get lucky when a strong economy bails you out. But if the economy goes into the toilet, this dangerous strategy can flush your entire company.
Of the $11.6 billion of loans originated in 2005 by Golden West, 99% were adjustable rate mortgages. Billions of these loans were Option ARMs. An Option ARM gives the borrower the option to pay a minimum payment (the loan balance increases), just principal, or principal and interest. Over 70% of borrowers chose the minimum payment option. This reckless choice will only work if housing prices go up 10% per year. When prices drop 20% to 30% over the next 2 years, it results in Armageddon for the borrower and lender. Fortune Magazine distinguished itself by naming Golden West Financial as "Most Admired Company" in the mortgage services business in 2006.
Wachovia stock traded at $59 on the day before the merger announcement in 2006. Today, the stock sits at $16.75, a 72% decline in 2 years. While announcing the deal, Mr. Thompson bragged that he had captured "a crown jewel" in the mortgage business. In a letter to shareholders less than two years later, Mr. Thompson wrote, "With the benefit of hindsight, it is clear that the timing was poor for this expansion in the mortgage business." This was a bit of an understatement. He concluded his letter, "After the industry shakeout, we believe the mortgage industry will be dominated by a handful of the nation's largest commercial banks. We will be ready for a market with far fewer irrational participants."
On June 2, 2008 the Wachovia Board of Directors guaranteed that Mr. Thompson would be one of the fewer irrational participants. He was fired. Besides the blow to his ego, I think Mr. Thompson will be able to muddle through. He "earned" $47 million in pay from 2005 through 2007, while the stock plummeted due to his "poor timing." For his sterling management performance, Mr. Thompson was given a $9 million severance package and the use of an office for as long as he wishes. I'm guessing the 11,000 employees who have been fired due to his incompetence didn't receive similar packages.
The Golden Western Debacle
Mr. Thompson was so sure that he had made a brilliant acquisition that he allowed executives from Golden West take control of all mortgage lending for the bank. These executives began pushing Wachovia's sales force to steer mortgage applicants into its "Pick-A-Payment" loans. These loans cost as much as 1% more than 30 year fixed rate mortgages. According to a BusinessWeek article, former brokers say they were given sales targets for the Pick-A-Payment loans and were told to downplay the fact that making the minimum payment would cause the loan balance to rise, known as negative amortization. Training videos instructed brokers to avoid terms like "negative amortization" in favor of the term "deferred interest". So, top executives were pushing deceptive high risk loans on poor uneducated borrowers when housing prices were already declining. This behavior borders on immoral and unethical.
According to a recent news report, Wachovia showed a pattern of taking advantage of elderly minority homeowners. According to CBS 5 in San Francisco, one of those people is 81-year-old Nell Walker of San Francisco, whose family said in 2006 that she received a "Pick-A-Pay" loan for over $300,000 even though she's on a fixed retirement income. "I think a lot of it was misleading and it wasn't explained," said Walker. "They gave it to my mom and to this day we still don't know how. She has never worked a day in her life," said her daughter Jacqueline Phillips. Now the minimum payment is about to go up, and Walker may lose her home of over 40 years. "It's awful! I'm 81 years old," she said.
Ultimately, the $26 billion acquisition of Golden West will cost Wachovia more than the entire acquisition price. The deal generated $14.3 billion of goodwill and other intangible assets. There is no goodwill in this deal. All $14.3 billion will be written off. Deferred interest on the Pick-A-Payment loans reached $3.9 billion as of June 30. The people who owe this deferred interest are in desperate straits. At least $2.5 billion of this deferred interest will be written off.
When it bought Golden West, Wachovia acquired $122 billion of these mortgage loans. Wachovia now estimates that it will ultimately write off 7% to 8% of these loans. Based on its incompetence in assessing risk and dishonesty in reporting financial results, I would guess the company is understating future losses. The losses will reach at least 10%. This would amount to $12.2 billion. Totaling these likely losses brings the ultimate write-off related to this acquisition to $29 billion. This will surely help Mr. Thompson enter the Worst Acquisition Hall of Fame.
Ethical Lapses or Lack of Ethics?
The NY Times detailed Wachovia's negligence in a May 2007 article, "Corporate Profits, From Data Sold to Thieves". The article goes on to say, "In all, Wachovia accepted $142 million of unsigned checks from companies that made unauthorized withdrawals from thousands of accounts, federal prosecutors say. Wachovia collected millions of dollars in fees from those companies, even as it failed to act on warnings, according to records." Furthermore, the article adds "In a lawsuit filed last year, the United States attorney in Philadelphia said Wachovia received thousands of warnings that it was processing fraudulent checks, but ignored them."
On April 25, 2008, Wachovia agreed to pay up to $144 million to end the investigation without admitting wrongdoing. The investigation found that Wachovia had failed to conduct suitable due diligence, and that it would have discovered the thefts if it had followed normal procedures. The penalty is one of the largest ever demanded by the Office of the Comptroller of the Currency.
Wachovia, under intense pressure from New York State Attorney General Andrew Cuomo, agreed to buy back $9 billion of auction rate securities that they falsely marketed to investors as a money market type investment. According to a recent Bloomberg article:
Wachovia, the fourth-largest U.S. bank, will pay a $50 million fine to settle claims by the Securities and Exchange Commission and states led by Missouri that it misled investors. It also will take a $275 million pre-tax charge because of higher legal costs in the third quarter. The move follows a similar $500 million write down in the second quarter that was disclosed Aug. 11. ``If it wasn't for the secretary of state in Missouri and others, I don't think we would have gotten anywhere,'' said Tom Nagel, a St. Louis insurance agent who has more than $750,000 in auction-rate securities with Wachovia. ``I dealt with Wachovia people until I was blue in the face and they categorically denied selling this as a money market. But if they don't want to admit they did wrong, shame on them.'' ``Wachovia clearly didn't do right by their customers,'' Missouri Secretary of State Robin Carnahan said in a Bloomberg Television interview. ``I'm as excited as I can be that these 40,000 investors will have access to money that they haven't had before.''
Wachovia recently announced a $144 million settlement for federal charges that it had failed to stop telemarketers from taking advantage of thousands of elderly consumers. This horrible ethical "lapse" was detailed in a February 2008 article in the International Herald Tribune:
Internal Wachovia e-mail messages, for example, show that high-ranking employees at the fourth-largest U.S. bank frequently warned colleagues about telemarketing frauds routed through its accounts. Documents also show that Wachovia was alerted by other banks and U.S. agencies about ongoing deceptions, but that it continued to provide banking services to multiple companies that helped steal as much as $400 million from unsuspecting victims. "YIKES!!!!" wrote one Wachovia executive in 2005, warning colleagues that an account used by telemarketers had drawn 4,500 complaints in just two months. "DOUBLE YIKES!!!!" she added. "There is more, but nothing more that I want to put into a note." However, Wachovia continued processing fraudulent transactions for that account and others, partly because the bank charged fraud artists a large fee every time a victim spotted a bogus transaction and demanded their money back. One company alone paid Wachovia about $1.5 million over 11 months, according to investigators. "We are making a ton of money from them," wrote Linda Pera, a Wachovia executive, in 2005 about a company that was later accused by U.S. prosecutors of helping steal up to $142 million.
In April of 2008 Wachovia was investigated by United States federal prosecutors as part of a probe into drug money laundering by Mexican and Colombian money-transferring firms. The investigation of the alleged laundering also included other large U.S. banks. The probes and accusations continue to mount. Last week, the SEC announced a new probe involving Wachovia. According to an article in The Bond Buyer:
The Securities and Exchange Commission [SEC] enforcement staff has notified Wachovia Bank that they may recommend the SEC file charges against it, as a result of an investigation into alleged anti-competitive bidding practices in municipal derivatives and investment products. Wachovia Corp. disclosed the SEC warning in the 10-Q quarterly financial statement it filed with the commission in August. The firm said in the filing that it "has been informed that in connection with the bidding of various financial instruments associated with municipal securities, the staff of the Securities and Exchange Commission is considering recommending that the commission institute civil and/or administrative proceedings against" it.
The clear lack of ethical behavior by executives at Wachovia prove that these actions and attitude came from the top. Again, this lack of ethics must be attributed to Mr. Thompson and his cronies.
Will Wachovia Survive?
Wachovia has written off $22.7 billion since 2007, while only raising $11 billion of new capital. The stock has dropped so low that raising new capital would significantly dilute existing stockholders. The credibility of its financial statements and management abilities is so damaged that an investor would be a fool to invest in this financial institution. Proving that they are paid to pump up these financial stocks, financial analysts are forecasting that Wachovia will make a profit in the 3rd quarter. After losing $9.8 billion in the first 2 quarters, home prices plunging, unemployment surging, and commercial real estate beginning its painful decline, there is absolutely no way that Wachovia will report a profit for the 3rd quarter.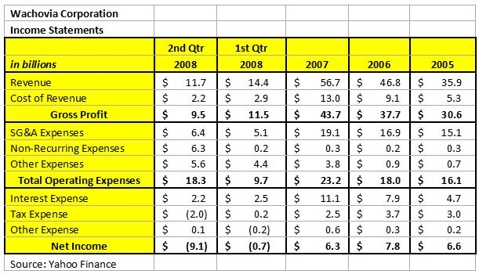 Ultimately, it is the balance sheet where all of the problems are hidden. Current accounting regulations allow for significant leeway in valuing assets on the balance sheet. Wachovia is so woefully run that it needed to hire Goldman Sachs to figure out what its loan portfolio is worth. One thing is for sure, it is worth less with each passing day.
Wachovia has $532 billion of loans on its books, almost equally divided between commercial and consumer loans. Non-performing loans have increased 454% in the last year. Past due commercial loans have increased 367% in the last year. Past due consumer loans have increased 60% in the last year. These trends portend further deterioration in the asset side of the balance sheet. Wachovia also has approximately $25 billion of Level 3 Assets in its balance sheet. These are assets where one or more of the inputs don't have observable prices. They are reliant on management estimates. Based on management's credibility, it is highly unlikely that these assets are worth $25 billion.
Wachovia has $132 billion of off-balance sheet assets. A rule that was about to be implemented by the FASB that would have forced banks to put these off-balance sheet assets on their books was delayed indefinitely due to tremendous pressure from Hank Paulson and Ben Bernanke. If Wachovia had been forced to put these assets on its books, the company would be insolvent. Banks make money by lending at a higher rate of interest than they pay out to depositors. Wachovia currently earns 5.69% on its lending, while paying 4.33% on its long term debt. Wachovia has $34.5 billion of debt maturing in 2008 and 2009. It will not be able to borrow anywhere near 4.33% in the current market. It is so desperate for deposits that it is offering the highest CD rates in the country.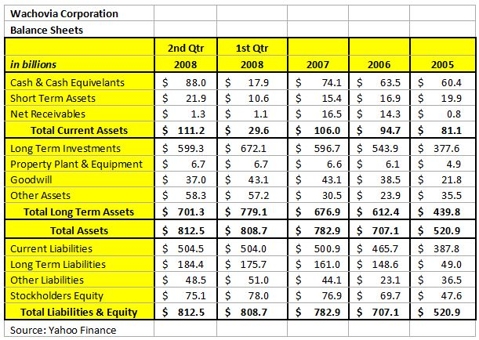 Ultimately, a bank is dependent upon its reputation, the trust of its depositors, and the trust of the market. Wachovia has $383 billion of deposits and only $88 billion of cash. It has lent these deposits out. If there was a run on the bank, Wachovia would not have the cash to satisfy its depositors. Wachovia's wholly owned financial guaranty reinsurer, BluePoint Re Ltd. filed for bankruptcy on August 7. Bennet Sedacca in his article "Dead Men Walking" pointed out the reasons why Wachovia is a "Dead Man Walking":
Equity has traded from $60 to $16.
Issued a $3.5 billion "hybrid security" in February that now trades at 11%.
S&P has stated it cannot issue any more hybrids.
Sold 92,000,000 shares of a preferred stock in December at 8% that now trades $18 or 11%.
Cut common dividend twice since February to $.05 a share or 90%.
Debt trades at 9.5-10.5%.
Robert K. Steel assumed command of this sinking ship in July, 2008. He had been Hank Paulson's right hand man at the Treasury and was formerly a top executive at Goldman Sachs. Based on the facts, Mr. Steel should pray that his former boss thinks that Wachovia falls into the "Too Big to Fail" category and comes to its rescue.