This earnings season has seen a mixture of results thus far. Admittedly, I was a bit cautious heading into last week, as I hedged my mostly long portfolio with December SPY put spreads which helped cushion what has thus far been a minor pullback in the S&P 500. Just as always, some companies fell short of projections and have plummeted, while others surpassed expectations and have bounced higher. However, there has been several companies that posted fairly impressive earnings despite the condition of the economy, then unjustifiably sold off in my opinion. When this happens, investors could seize these opportunities to initiate positions in these stocks. Let's investigate an instance where a great stock posted reasonable quarterly results, but has since seen shares decline, inviting investors to take a nibble for the long term.
VF Corporation (NYSE:VFC) has a basket of very strong clothing lines, including Vans, The North Face, Nautica, Timberland, SmartWool, JanSport, Eastpak, Wrangler, Lee, Riders. It also provides protective occupational, athletic, licensed athletic, and licensed apparel under the Red Kap, Bulwark, Majestic, MLB, NFL, and Harley-Davidson brands. Talk about a strong portfolio.
Q3 Earnings Announcement: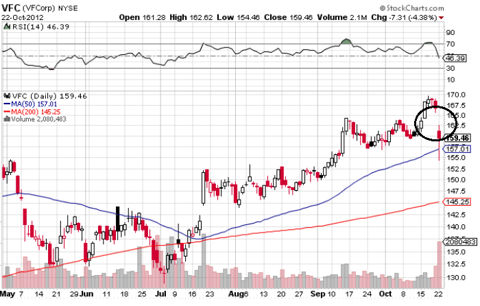 On 10/22/12, VFC reported Q3 EPS of $3.52, a slight earnings beat of $.02 on a $3.50 basis. They reported revenues of $3.1B, an increase of 14% year over year. The stock plummeted nearly 5% in a knee jerk reaction to an apparent disappointment of a $70 M revenue short fall? Keep in mind $70 M is only about a 2% miss off the basis. But let's look at the positives of the Q3 report investors should have really focused on:
For the remainder of 2012, the company raised EPS estimates by 10 cents to $9.60 and confirmed the revenue outlook.
Raised dividend payout by 21% to 87 cents per share.
Sales at the largest top-line segment, outdoor and action-sports, climbed 29% to $1.85 billion, with organic revenue growth of 6%.
Revenue increased 14% to $3.12 billion. This dwarfs the so called 2% "

miss

."
VFC is targeting China and other Asian countries, where it's gunning to double revenue over the next five years, to $2 billion.
Gross margin performance was better than anticipated, increasing 142bp Y/Y to 46.7%.
Dividend Boost: Management Rewards Shareholders
As of today, VF shares yield about 1.73%. After the 21% dividend boost, shares will yield around 2.09%. I feel this huge boost to shareholders speaks to management's positive view of the future for this company.
Analyst Opinions Following Report Seem Positive:
Following the Q3 announcement, S&P Capital initiated target price of $175/share for 2013 and a buy rating, while Credit Suisse's report has a 12 month price target of$ 182/share - not bad versus VFC's current price of $159/share.
Summary:
In my view, VFC posted a solid quarter, especially considering the troubled economy. Growth in China, improved margins, a 21% dividend boost, and continued integration of the Timberland acquisition together offer a compelling justification to buy this company. Also, Increased margins not only support management's reaffirmed guidance projections, but also the overall strength of VFC's brands, which to me offer a high caliber mixture of recognizable names. Because of VFC's Q3 report, shares can be bought, not sold off as we have seen.
Disclosure: I have no positions in any stocks mentioned, and no plans to initiate any positions within the next 72 hours. I wrote this article myself, and it expresses my own opinions. I am not receiving compensation for it (other than from Seeking Alpha). I have no business relationship with any company whose stock is mentioned in this article.