After the bell on Tuesday, Netflix (NASDAQ:NFLX) reported its fiscal third-quarter earnings report. While revenues were slightly ahead of estimates and earnings per share beat, domestic subscription numbers were somewhat disappointing and the company's Q4 revenue forecast fell short of expectations. Netflix shares dropped in the after-hours session, something investors have become used to when this company reports. Let's look at the Q3 report.
Third-Quarter Results
The following table provides a summary of Netflix's third-quarter results, compared to the guidance the company gave for the quarter.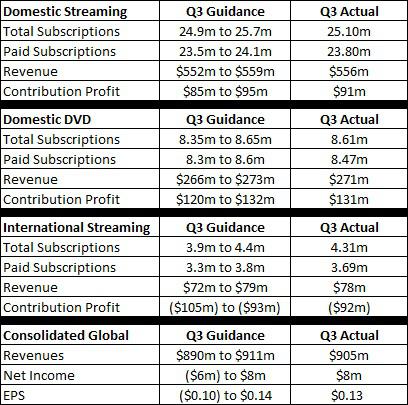 I'll start with domestic streaming. Paid subscriptions came in at the midpoint of guidance, but total subscriptions were below the midpoint. Overall, revenues and contribution profit were slightly above the midpoint. With investors wanting more subscriptions, this segment can be viewed as a disappointment. Contribution margin rose to 16.4% from 15.6% in Q2.
In terms of domestic DVD, total subscriptions came in near the high end of the range. However, paid subscriptions were just barely above the midpoint. Revenues came in a bit above the midpoint, and contribution profit came in at the upper end of guidance. As Netflix switches to a streaming-only model, DVD subscribers are expected to flee. However, these numbers weren't as bad as they could have been. Netflix's ability to retain these customers can be key, as the contribution margin for this segment was 48.2% in the quarter. That's not only up from Q2's 46.0%, but well above the streaming rate.
As for international streaming, total subscriptions came in at the higher end of the guidance range, as did paid subscriptions. Revenues came in at the high end of the range, while the contribution loss was not as much as had been expected.
Overall, revenues beat Netflix's guidance midpoint, and net income came in at the high end of the range. Compared to analyst expectations, Netflix beat slightly in terms of revenues, $905.09 million vs. the expected $904.89 million. In terms of earnings per share, the 13-cent figure handily beat the 4-cent expected profit.
Margin Discussion
The following table shows Netflix's Q3 margins over the past four years, and I'll use this table to further analyze Netflix's results.

Netflix revenues rose by 10.13% over the prior-year period. However, subscription expenses rose by 27.63% over last year, and this is Netflix's biggest expense. Fulfillment expenses declined by 6.67%. Overall, the cost of revenues increased by 23.48%, more than twice as fast as the rate of revenue growth. Gross margin dollars declined by 15%, and that is evident in the huge drop off in gross margins above.
On the operating side, technology expenses rose by 18.77%, marketing expenses rose by 27.07%, and general expenses were up 2.58%. Overall, operating expenses rose by 20.14%, about twice as fast as the rise in revenues. Operating income for the period declined by 83.34%. Operating margins declined by 10 full percentage points.
Netflix also saw a 1.53% increase in interest expenses, and other income fell by 52.77%. Pre-tax income fell by more than 87%. Additionally, the effective tax rate rose from 33.29% to 35.75%. Overall, net income for the period dropped by 87.71%, falling from $62.46 million to $7.675 million. That really hurt profit margins, as shown above.
On the earnings per share front, Netflix posted a $1.16 profit in the year-ago period. This quarter was a profit of $0.13. Earnings per share were also impacted by a sharp rise in the diluted share count for the period, from 53.87 million to 58.729 million.
The following margin table shows Netflix's margin over the last eight reported quarters. It is not pretty.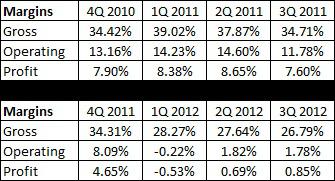 Netflix posted a 1.8% rise in Q3 revenues over those of Q2, but the total cost of revenues rose by about 3%. That took down gross margins even more. However, operating expenses decreased by 1.42% over Q2 levels, thanks to a 4.22% decrease in marketing expenses. Overall, operating margins declined by just four basis points. Since Netflix's Q3 tax rate of 35.75% was much lower than Q2's 42.15%, profit margins actually increased by 13 basis points. It doesn't seem like much, but it is better than declining profit margins.
Q3 Balance Sheet
The following table shows some key financial ratios taken from the company's balance sheet over the past two years.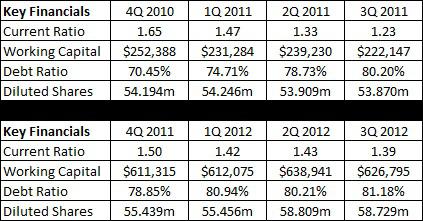 Netflix stated that free cash flow was a negative $20 million for the quarter, trailing the period's $8 million in net income. Netflix also stated that it expects to burn through cash over the next few quarters as it turns to more original programming, relying less on content purchases. Original programming requires more investment upfront, and Netflix believes this is the way to go.
Netflix ended Q3 with $798 million in cash, cash equivalents, and short term investments. That number will go down in future quarters. I wouldn't be totally worried just yet, but if cash levels really start to plummet, this company could need some future cash down the road. Remember, the company raised $400 million last November, which is why year-over-year numbers look so much better.
Those who look at Netflix also like to look at the company's off balance sheet liabilities, primarily made up of content obligations. Netflix provided the following chart in the investor letter showing how content obligations have risen over time, but not as much recently.
Click to enlarge image.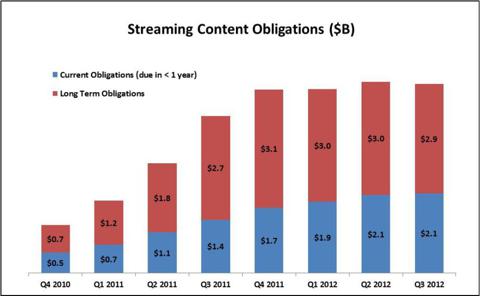 As I've mentioned in past articles, Netflix has become slightly more stringent with its content acquisitions. The company decided to abandon Epix exclusivity, allowing Amazon (NASDAQ:AMZN) to pick up Epix content. Netflix still has a year on the current Epix deal; it just won't be the only one with access to it.
Guidance
The following table summarizes Netflix's Q4 guidance in relation to Q3 results. This is what most investors seem to focus on.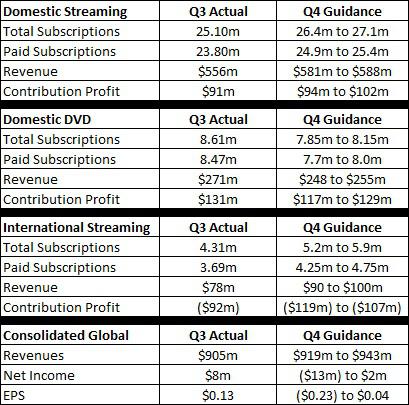 In terms of analyst expectations, the Street was looking for Q4 revenues of $942.37 million. Obviously, Netflix's guidance is a bit below that. In terms of earnings per share, the Street was looking for a loss of 8 cents. The midpoint of Netflix's given range is a little worse than that, but not by too much.
This all has to do with Netflix's move into Scandinavia. While that will boost the international subscription base it will be very costly for a quarter or two, and the company had guided to a Q4 overall loss when it reported Q2. Netflix has come in at the upper end of their given range when it comes to earnings over the past few quarters, so there is an outside chance that it is profitable.
Overall, Netflix is guiding to 2012 subscriber numbers like this:
Domestic Streaming -- Started with 21.67 million total. Will end with 26.75 million, based on midpoint of guidance.
Domestic DVD -- Started with 11.17 million. Will end with 7.85 million, based on midpoint of guidance.
International Streaming -- Started with 1.86 million. Will end with 5.55 million, based on midpoint of guidance.
Recap
Overall, this report was a disappointment. Netflix had originally hoped to add 7 million domestic streaming subscribers this year, but the given guidance is for between 4.7 million and 5.4 million. The company did beat on the top and bottom lines, but Q4 revenue guidance was a bit light. Gross margins continued to come down, with operating margins roughly flat and profit margins actually up over Q2 levels. The balance sheet worsened slightly and the company expects to burn through cash going forward as it develops more original programming. Netflix shares were down more than $11, or 16%, to $57 in the after-hours session, and given the stock's history will probably test the 52-week low below $53 in the next couple of weeks.
Disclosure: I have no positions in any stocks mentioned, and no plans to initiate any positions within the next 72 hours. I wrote this article myself, and it expresses my own opinions. I am not receiving compensation for it (other than from Seeking Alpha). I have no business relationship with any company whose stock is mentioned in this article.
Disclaimer: Investors are always reminded that before making any investment, you should do your own proper due diligence on any name directly or indirectly mentioned in this article. Investors should also consider seeking advice from a broker or financial adviser before making any investment decisions. Any material in this article should be considered general information, and not relied on as a formal investment recommendation.