Last week, I posed the question of whether or not Arena Pharmaceuticals' (NASDAQ:ARNA) third trip above $9.00 would be the charm. As it turns out, the lack of any news from the DEA regarding scheduling for its anti-obesity drug Belviq has once again allowed disappointment to set in, and the stock has tumbled to just above $8.50 from a high near $10.00.
Essentially, the cycle of building excitement followed by disappointment has once again demonstrated that Arena has been a trader's dream lately. The important thing to note is that the equity is finding support at higher levels and then testing higher highs along the way.
Click to enlarge image.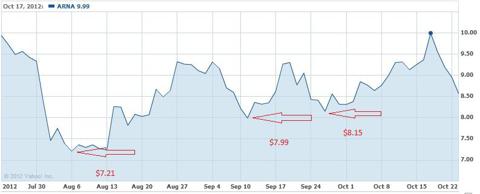 If the trend remains intact, it may be possible to estimate a low side of between $8.25 and $8.50. In my previous article, I noted that I saw the equity having difficulty in dipping below $8.50, while the upside on DEA news could bring an $11.00 price and establish a new foundation from which to build on. It seems that the $8.50 call was in the correct neighborhood.
One key element for ARNA has nothing to do with the company at all. It is actually the anticipated news surrounding competitor Vivus (NASDAQ:VVUS). Vivus launched an anti-obesity drug, Qsymia, last month and while no official numbers have been announced, there have been reports that the drug is seeing ever-increasing prescriptions written on a weekly basis. In many ways, any positive traction from Vivus bodes well for Arena.
The bottom line here is that we want to know the bottom for Arena. In my opinion, it is in the neighborhood of $8.50. That means it is currently screaming buy. Yes, it can test $8.00 again, but I really do not think that such a move would last very long. The anticipation cycle of DEA scheduling is about to begin again, and savvy traders will play this range until the DEA announces. The key here is that we are now past four months, so literally speaking an announcement could happen anytime or it could be eight weeks away. It is simply a question of how many excitement/disappointment cycles we are talking about.
What I see is a low-side risk of about $8.15, with upside potential of $11 and beyond. Stay tuned, because this roller coaster is always exciting.
Disclosure: I am long ARNA. I wrote this article myself, and it expresses my own opinions. I am not receiving compensation for it (other than from Seeking Alpha). I have no business relationship with any company whose stock is mentioned in this article.