Vodafone Group PLC (NASDAQ:VOD), including its 45% stake in Verizon Wireless (NYSE:VZ), is the second largest wireless company in the world behind China Mobile (NYSE:CHL) and the largest carrier in terms of the number of countries served. VOD offers a range of products and services, including voice, messaging, data and fixed-line solutions and devices to assist customers in meeting their total communications needs. With its diversified geographic position and strong fundamentals, we believe VOD will continue to be a great long-term holding for cash flow investors and will be a solid defensive play for this uncertain economic environment.
Fundamentals Overview and Cash Flow
First, we will look into VOD's key stats and see how it compared to the industry average in the telecom services industry. As seen from the chart below, VOD's 3 year average revenue and EPS growth of 4.2 and 32.9 all show stronger numbers as compared to the averages of -1.7 and 10.3. VOD's operating margin and net margin of 24.1% and 15% are much more profitable than the industry average of 13.0% and 4.5%. We are also very comfortable with VOD's debt/equity ratio of 0.4 as compared to the average of 2.4. Moreover, we believe VOD is currently under-valued with P/E of 13.0 and P/B of 1.1, comparing to the average of 25.3 and 1.8.
| | | |
| --- | --- | --- |
| Key Stats | Vodafone Group PLC | Industry Average |
| Price/Earning ttm | 13.0 | 25.3 |
| Price/Book | 1.1 | 1.8 |
| Price/Sales ttm | 2.0 | 1.1 |
| Revenue Growth (3 Yr Avg) | 4.2 | -1.7 |
| EPS Growth (3 Yr Avg) | 32.9 | 10.3 |
| Operating Margin % ttm | 24.1 | 13.0 |
| Net Margin % ttm | 15.0 | 4.5 |
| ROE ttm | 8.5 | 6.9 |
| Debt/Equity | 0.4 | 2.4 |
Source: MorningStar
From a cash flow perspective, VOD had been consistently generating stable free cash flow in past years and we believe its dividend will be maintained if not increased in the future. A great analysis of VOD's dividend can be reviewed here, as written by Steven Dotsch from Seeking Alpha.
Technical Analysis
At the time of writing on Oct. 23, 2012, VOD is trading at $27.91 with 1.86% drop, where the Dow Jones index, S&P 500, and NASDAQ are dropping 1.76%, 1.60%, and 1.06% respectively. VOD had been trading in the 52-week range of $25.63 to $30.07. VOD is currently trading below its 50-day MV of $28.72 and still above its 200-day MV of $27.41. However, MACD (12, 26, 9) indicator had been showing a bearish sign since Oct. 12, 2012 and MACD difference diverged again with today's decline. From the momentum perspective, the selling pressure is increasing with RSI (14) at 37.58, approaching the over-sold territory of 30. We should see some technical support at $27.83 and then at $27.15, as seen from the chart with S1 and S2 for the pivot points.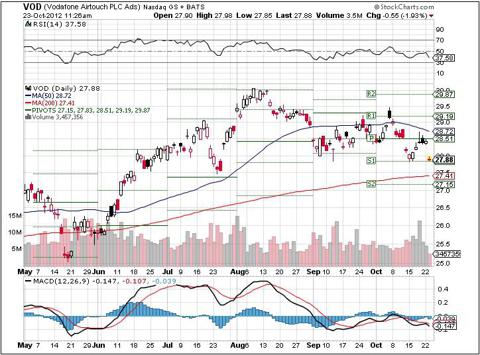 Source: StockCharts.com
Options Play
While VOD's fundamentals remain strong and its dividend is highly secured, the short-term selling pressure might be continued for a while. Technical traders might want to wait for the trend to turn bullish before setting up the long position. For long-term investors, we are going to review an option play with credit put spread for the investors and traders who are interested in acquiring VOD stock at a discounted price as the worst case scenario.
Short 1x Jan, 2013 Put with the strike price of $27 for the credit of $0.70
Buy 1x Jan, 2013 Put with the strike price of $25 for the cost of $0.15
The maximum profit potential is $0.55 and the maximum risk/margin requirement is $1.45 ($2 maximum loss - $0.55 credit received). This yields 37.93% maximum profit for the margin used with a 3 month investing period. However, if VOD fails to stay above $27 upon option expiration, our cost of acquiring VOD stock will be $26.45 ($27 exercised price - $0.55 credit received), which gives us an edge of 5.23% over the current price of $27.91. For long-term cash flow investors, VOD is definitely a good, stable candidate to consider and its return will be further maximized through the above options play.
Note: All the prices are quoted at the time of writing on Oct. 23, 2012 and all calculations are before fees and expenses.
Disclosure: I am long VOD. I wrote this article myself, and it expresses my own opinions. I am not receiving compensation for it (other than from Seeking Alpha). I have no business relationship with any company whose stock is mentioned in this article.