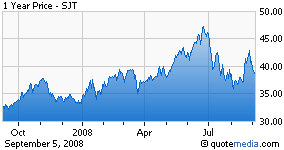 Buy-recommended San Juan Basin Royalty Trust (NYSE:SJT), with estimated net present value [NPV] of $48 a unit, offers natural gas resource value with income. On May 13, we raised NPV from $40 on the basis of a long-term natural gas price assumption of $14 a million btu, up from $11.
Since then perceptions of the long-term supply outlook for our cleanest fuel have increased materially, spurred by Chesapeake Energy's (NYSE:CHK) optimistic outlook for the Haynesville Shale formation in East Texas and North Louisiana. The better industry outlook may give electric utilities more confidence to build new plants to use natural gas and regulators more confidence to impose standards that favor the more environmentally friendly fuel. Distributions to be declared for August and September should be the highest of the year followed by a lower distribution in October, mirroring real-time natural gas price after a two month lag. Current futures prices point to seasonally higher price in winter that boosts our estimate of distributions in the first half of next year.

Weekly Income Stock Valuation
Thirteen income stocks have a median McDep Ratio of 0.81 that indicates attractive value. The median unlevered market cash flow multiple (EV/Ebitda) is 8.1 times, a low valuation for a median conservatively stated adjusted reserve life of 10.6 years. Median estimated distribution yield is a high 11.2% compared to 4% for the ten year U.S. Treasury Note.
Originally published on August 15, 2008.