It's not often that I watch CNBC anymore, but last week I worked late on Wednesday and had it on in my office. One of the "Fast Money" panelists suggested that 'the market can only go up or sideways, the Fed has removed the risk of down.' It was a sentiment that seemed inarguable after witnessing the effects of QE1, QE2 and Operation Twist on equity prices over the last three years. With the announcement of QE3, money managers promptly donned their bull caps for the inevitable rise, as suggested by this chart of Net positioning on S&P Futures contracts, courtesy of Zero Hedge.
Click to enlarge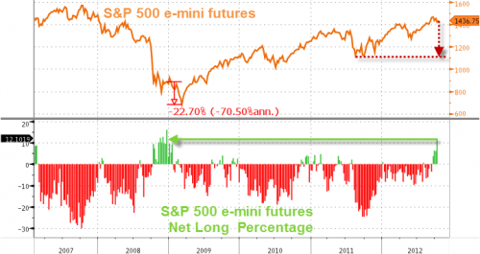 But then something funny happened: the inevitable equity rise didn't occur. Choppy behavior since the announcement of QE3 has thrown doubt into the bull case. Bits of strong macroeconomic news have been offset by a torrent of poor earnings and weak guidance. As four years of margin expansion stall, Uncle Ben and the Fed may be discovering what Japan found out years ago: more QE does not directly correlate with more economic growth. Two decades of failed policy has not altered the Bank of Japan's policy approach. Nor do I expect Uncle Ben to learn any lessons from QE's failures. But you know who can learn? The market. And perhaps the U.S. market is finally figuring out that QE is a growth scam, not a growth accelerant.
In Friday's sell-off, the Nasdaq (QQQ is my proxy) broke decisively under a long-term trendline dating back to the 2009 lows. Given today's action, it seems likely that the break is more than fleeting. In looking at the QQQ chart over the last decade, we see that it has actually formed a rising wedge - a pattern that resolves to the downside about 66% of the time, with an average retracement north of 20%.

Click to enlarge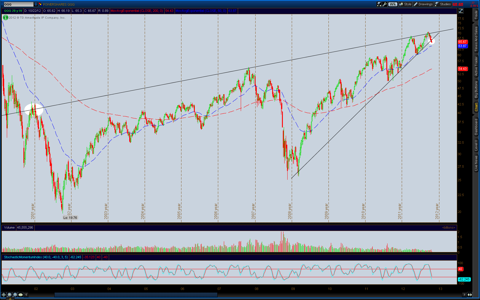 You can barely see the breakdown from a long-term view, but a look at the daily chart from the last couple years makes the breakdown more apparent.

Click to enlarge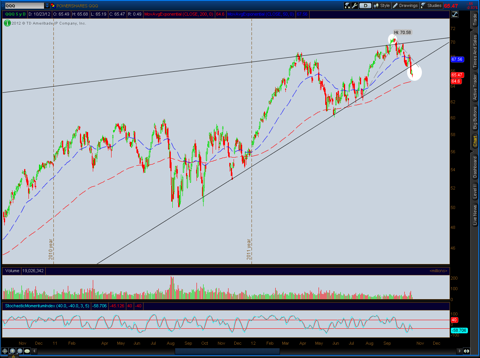 In terms of sentiment, a rising wedge suggests an environment where bulls and bears grow increasingly bullish in tandem, and where the bullishness of bears is rising faster than that of bulls. It would be common - and ideal for a bear - to see a rally back to the bottom of the trendline, followed by a reversal lower. I was hoping to save this article for that little rally, but alas, we may not get it based upon Tuesday's sell-off. If we do, I'll be opening some put options on QQQ when we get around $67.
Other risk-on assets are also suggesting that the time for a bearish reversal is likely at hand. The Euro, which has recently rallied despite headline risk, formed a double-top at the 38% Fibonacci retracement of its 2011 to 2012 drop which coincides with a falling trend line over the last two years.

Click to enlarge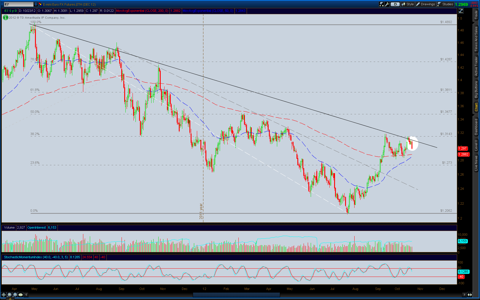 That kind of resistance likely sets the stage for a bullish US Dollar environment. Despite warnings of hyper-inflation and so forth, commodities could face severe pressure in the coming months. Miners like FCX, which have broken the recent uptrend, could be in the early stages of decline.
Click to enlarge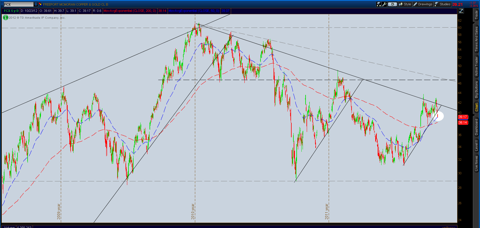 But while I am sympathetic to the position of uber-bears, and might even consider myself to be one, all is not negative. There are some interesting suggestions that the risk is not systemic at this point. It may simply be a rotation out of U.S. equities, which have outperformed over the last couple years. High yield is providing both a warning to equities and a reassurance for longer term investors at this point. Junk bonds (JNK as my proxy) have rallied relative to SPY in every downturn over the last four years, and appear poised to do so once again.
Click to enlarge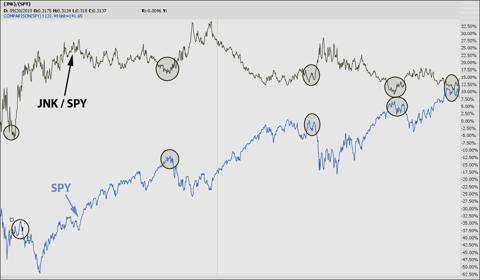 At the same time, high yield bonds are not showing any fear of systemic failure or mass defaults. JNK remains above the trend line support of recent years and at a relatively elevated price. The chart also forms a rising wedge which certainly bears watching, but as yet there is no breakdown.

Click to enlarge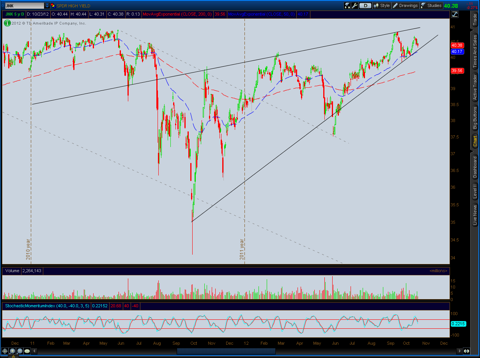 Looking abroad, China is actually strengthening relative to the U.S. markets. There was a time when China was viewed as a pretty solid lead indicator for U.S. equities, but over the last two years that hasn't been the case. Shanghai has been pummeled as U.S. markets continued to rally. However in the last month, China (using FXI as my proxy) has rallied relative to the S&P, breaking above trend line resistance from a falling wedge that formed over the last two years.
Click to enlarge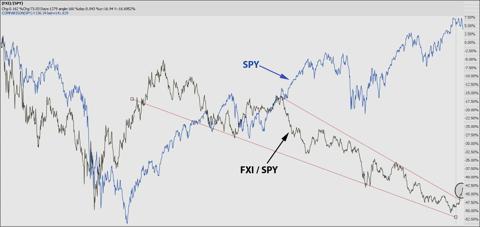 For now, it appears that the downside risk to U.S. equities is not systemic. Relative strength in high yield bonds and some emerging markets is offering reassurance at the moment. However, the breakdown in QQQ should not be underestimated as a warning sign of significant downside potential in U.S. equities - particularly areas like technology whose valuations have grown in step with margin expansion. To break down from a rising wedge that was three years in the making is likely the start of more downside in QQQ, and in my view, risk exposure should be adjusted accordingly.
Disclosure: I am short QQQ. I wrote this article myself, and it expresses my own opinions. I am not receiving compensation for it (other than from Seeking Alpha). I have no business relationship with any company whose stock is mentioned in this article.
Additional disclosure: I own FCX puts