When trading covered calls, it pays to know your break-even price. A break-even price that is significantly below the stock's current trading level will give an investor some reassurance that their principal will be returned. After all, no trade comes without risk.
For the basics of a covered call trade, there are many resources available to expand your knowledge base. For a simple start, lets say that the trade involves the purchase of an even block of at least 100 shares and the simultaneous or subsequent sale of a call option for each 100 share block that is held.
Investors in several stocks have an opportunity to lock in gains using covered calls, especially if they believe the stock won't rise significantly in the next few weeks. McMoRan Exploration Co. (NYSE:MMR) and AK Steel Holding Corporation (NYSE:AKS) have one thing in common. Neither of these companies will report earnings between this time and the November 2012 options expiration. This reduces the risk of an earnings disappointment that significantly erodes shareholder value.
Holders of McMoran stock can sell in-the-money covered calls with a November expiration to make this trade. The $11 strike price call option can be sold at the bid price of about $0.89. With the stock trading at $11.34, this creates a potential profit of 4.9% on shares held for the next 25 days. On an annualized basis this represents a return of 70%. In the stock drops below $10.49, the trade breaks even, which is 7.5% below the current price.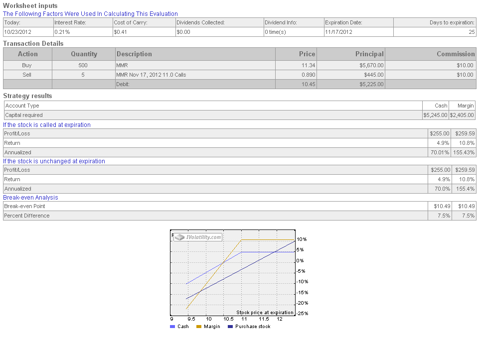 In a similar trade, investors in AK Steel can sell an in-the-money call option with a November 2012 expiration as well. With the stock trading at $5.19, a call seller can collect about 3.7% profit when they get $0.41 for the calls that have a $5.00 strike price. This represents a 53.78% annualized return. The break-even price on the trade is $4.82, or 7.1% below the current price.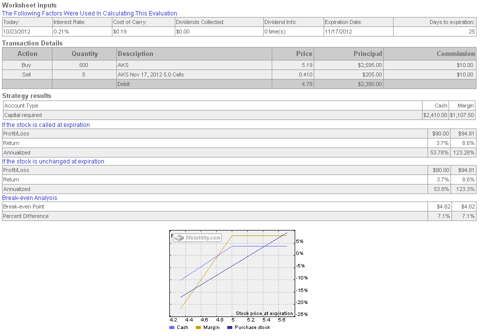 These hypothetical trades were calculated using the Options Industry Council's covered call calculator. Do your own due diligence before investing in any stock.
Disclosure: I have no positions in any stocks mentioned, and no plans to initiate any positions within the next 72 hours. I wrote this article myself, and it expresses my own opinions. I am not receiving compensation for it (other than from Seeking Alpha). I have no business relationship with any company whose stock is mentioned in this article.