Last week I wrote an article, Vornado Realty Trust: Simply A Hedge Fund In A REIT Wrapper, in which I attempted to unravel the various components of the diversified REIT. As I explained, "In the REIT-dom, there are also foxes and hedgehogs. Notably, Vornado (NYSE:VNO) is a complex thinking REIT that operates a variety of unique operating platforms. Its core competence cannot be defined as a one simple business model." As part of Vornado's focus on simplifying the business model the company planned to recycle certain non-core assets, including several regional malls.
This week Vornado announced that it was selling two New York City-area super-regional malls for about $1.25 billion. The company said it will receive net proceeds of about $185 million, after repaying the existing loan and closing costs, from the sale of its Green Acres Mall in Valley Stream, N.Y., to Macerich Company (NYSE:MAC).
Green Acres Mall will be sold for around $500 million and the1.8 million square foot super regional mall located in Valley Stream, New York. Green Acres is anchored by Macy's (NYSE:M), Sears (NASDAQ:SHLD), Kohl's (NYSE:KSS), JC Penney (NYSE:JCP), BJ's Wholesale Club and Wal-Mart (NYSE:WMT). The mall is 94 percent occupied and has approximately 408,000 square feet of in-line mall tenant space.
Vornado's financial statement gain will be approximately $195 million and the tax gain will be roughly $304 million, which is expected to be deferred as part of a like-kind exchange, the company said. The deal is expected to close in the first quarter of 2013.
Vornado will also realize a financial statement gain of approximately $181 million and a tax gain of approximately $202 million from the sale of Kings Plaza Mall in Brooklyn, N.Y. This mall, which is owned by Alexander's Inc., Vornado's 32.4 percent affiliate, is being sold to Macerich for $751 million.
Kings Plaza is considered one of the most productive malls in the region and a great addition to Macerich's portfolio. The mall tenant's annual sales per square foot are $650. The center is currently 95 percent occupied and has a tenant line-up that includes Aeropostale, American Eagle, Armani Exchange, Forever 21, H&M, MAC, Pink, Swarovski and Victoria's Secret. The purchase price is $751 million and the transaction is planned to close in late 2012.
One Man's Trash is Another Man's Treasure
So with news of the announced disposition by Vornado and acquisition by Macerich, there was no sign of rally by either REIT. Vornado, the complex multidiscipline REIT, was flat (closed at $80.43) in trading and Macerich actually traded back shares ($56.94) by around 4 percent (since the announced acquisition).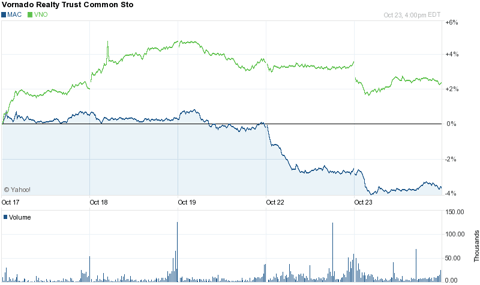 Click to enlarge
Given the improving fundamentals with Macerich, I was surprised that the company's shares did not rally somewhat. The sales per square foot for the overall are around $513 (up 12 percent) - a trend that has improved significantly since 2009.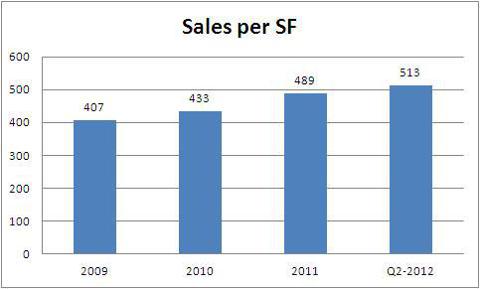 Click to enlarge
The estimates for cap rate for the portfolio is in the 5 percent range, which would mean it is an accretive transaction if funded on the line of credit. However, it is likely that an equity raise in the near future could bring back down the debt ratios, which would likely offset any first year accretion.
Macerich owns and operates around 71 properties with around 63.235 million square feet. Most of the company's portfolio consists of regional malls (63) with the balance in shopping centers (8). The assets are spread across various states with the majority of assets in California (18), Arizona (8), Texas (3), New York (4), and Virginia (3).
A quick review of Macerich's NAV pricing indicates that the current shares, trading at $56.94, are trading at a modest discount. Analyst consensus is in the range of $57.00 to $61.75 per share, making the current shares appear cheap to NAV. The current dividend yield is 3.86 percent and the year-over-year total return is 25.29 percent.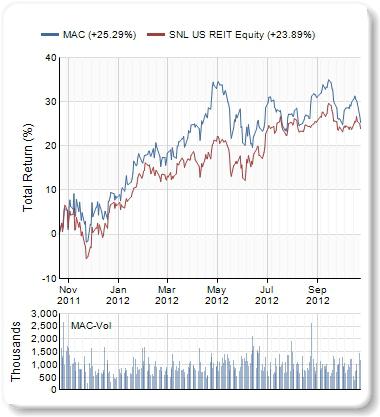 Macerich has outperformed the FTSE NAREIT All Equity Index and the S&P 500 for the past one year, two year, and three year periods.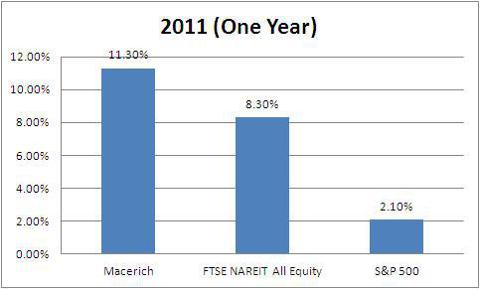 Click to enlarge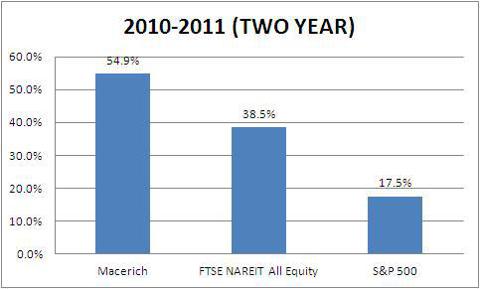 Click to enlarge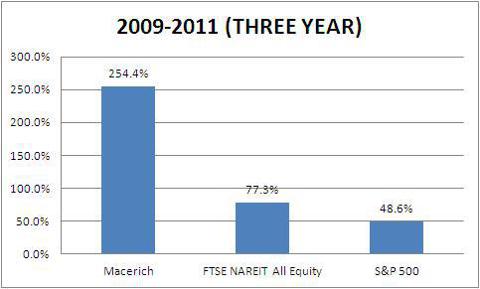 Click to enlarge
I will write a more detailed analysis on Macerich when the third quarter earnings are released. I suspect that there is a buying opportunity with this REIT as the $1.25 billion announced acquisitions cement Macerich's foothold in New York and the REIT's skillset for owning and operating high-quality retail malls.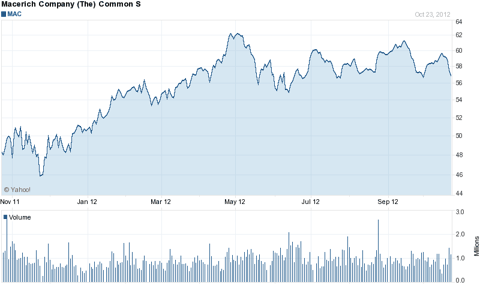 Click to enlarge
Disclosure: I have no positions in any stocks mentioned, and no plans to initiate any positions within the next 72 hours. I wrote this article myself, and it expresses my own opinions. I am not receiving compensation for it (other than from Seeking Alpha). I have no business relationship with any company whose stock is mentioned in this article.