You don't have to be Warren Buffett to figure out that when a commodity sells for $4 in one country and $16 in another country that market forces are going to go to work very hard to close that gap.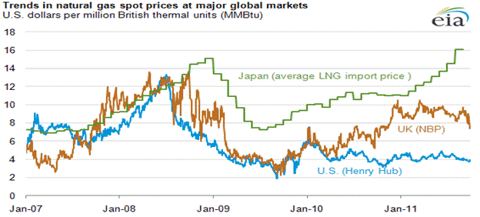 For North America, the shale gas market has always been an island. Ten years ago, with conventional natural gas supplies apparently dwindling, it looked like we were going to have to find a way to import natural gas to that keep that island supplied.
Wrong!
Today, several years into the shale gas revolution, our island is awash with natural gas; prices are depressed and producers are looking to get their product off the island and sell it into higher global prices.
For Canadian producers, the desired global market is so far west that it is actually east. I'm referring to Asia of course, which with each passing year requires more energy.
The challenge with accessing the desired market is that natural gas is not as easily transported as oil. To move it globally, natural gas needs to converted into a liquid form (NYSEMKT:LNG), and as of today we don't have the facilities to do that in North America. A remedy to that is on the way: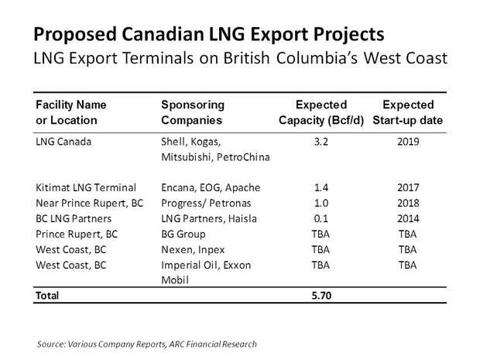 Plans to build LNG facilities off the West Coast of Canada are in various stages of development.
There are three major consortiums who have expressed an interest in building 5.6 billion cubic feet per day (bcf/d) of liquefaction by the end of this decade on British Columbia's West Coast. The official players include Apache Canada Ltd (NYSE:APA), EOG Resources Canada Inc. (NYSE:EOG), Encana Corp (NYSE:ECA) (1.4 bcf/d), Shell (NYSE:RDS.A) /Kogas/CNPC/Mitsubishi (3.2 bcf/d), and Petronas/Progress Energy (1.0 bcf/d initially).
By the end of this decade, if these LNG facilities are up and running, it will create 5.6 billion cubic feet per day of additional demand for natural gas. Today, Western Canada only produces 14.3 bcf/d of natural gas, so we need a very significant increase in production (another 5.6 billion cubic feet per day) in order to supply the expected level of demand.
While the increased demand for natural gas production is going to arrive near the end of the decade, the demand for natural gas reserves from the LNG participants is likely going come well before the actual production is needed. And the only real way to gather the size of reserves the LNG players need is by making acquisitions.
Those acquisitions are likely to involve many of the currently independent Montney shale players operating in Northwestern Canada.
Last week the Canadian government put a stop to the Petronas acquisition of Montney producer Progress Energy (OTC:PRQNF). But that hasn't cooled off the consolidation wave happening in the Montney as just two days later Tourmaline Oil (OTCPK:TRMLF) announced that it had acquired private oil company Huron Oil.
Tourmaline will pay $258 million for 5,500 boe of current production, 46.2 million boe of 2P reserves and 108 sections of land in Northeastern British Columbia that will add to Tourmaline's Montney position.
The metrics on that deal look like this:
Price per flowing barrel: $258mil / 5,500 = $46,909
Price per barrel of 2P reserves: $258 / 46.2 million boe = $5.58
Additionally, Tourmaline receives 108 sections of land which is roughly 69,000 acres. In the Montney transactions I've taken a look at over the past few years, undeveloped land in the Montney has been valued at $7,000 to $10,000 per acre, which might suggest that the acreage acquired could be worth as much as $483 million.
That estimate of acreage value seems too good to be true in this case given the price paid, but with the deal price at $5.58 per boe of 2P reserves, I'd suggest that Tourmaline seems to have gotten a good price. I don't know what portion of that 69,000 acres is core Montney land, but it sure doesn't look like they had to pay much of anything for it so that has to be good.
What does all this mean for investors? I think it means that the Montney acreage is still very much in demand despite the blocking of the Progress deal. Investors looking to get invested in front of what should be a multi-year consolidation phase in the Montney may want to look more closely at Montney players like Tourmaline, Painted Pony (OTCPK:PDPYF), or even Arc Resources (OTCPK:AETUF).
I'm more of an oil man personally, but this is one area where natural gas reserves still command a decent price and the LNG need for natural gas could create a value-realizing catalyst.
Disclosure: I have no positions in any stocks mentioned, and no plans to initiate any positions within the next 72 hours. I wrote this article myself, and it expresses my own opinions. I am not receiving compensation for it (other than from Seeking Alpha). I have no business relationship with any company whose stock is mentioned in this article.