After trailing the market since 2010, energy services stocks Diamond Offshore (NYSE:DO) and Noble Corporation (NYSE:NE) are starting to show signs of life again.
Earnings are reversing their late decade slide.
At Diamond Offshore, earnings per share peaked at $9.89 in 2009 before retreating to $4.63 in 2012. However, this year may be the trough for earnings. Analysts are projecting a return to earnings growth in FY13, with consensus looking for a 14% lift to $5.27. This would mark the most substantial percentage gain in earnings since 2008.
At Noble, earnings similarly peaked in 2009, at $6.41, before retreating to $1.30 in 2011. In 2012, they're expected to increase 75% to $2.28 and in FY13, they're expected to climb another 91% to $4.35.
While natural gas prices plummeted in the U.S., they've remained stronger overseas.
Extensive shale drilling cut domestic natural gas prices in half from 2008's highs. The drop in prices overseas has been less dramatic, particularly in Japan, where LNG demand has increased following its nuclear reactor disaster.
Source: BP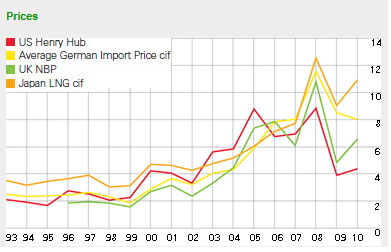 As prices move off lows, major oil and gas companies are continuing offshore E&P efforts, supporting deepwater and ultra-deepwater day rates.
For example, activity offshore Australia remains strong as the country is expected to surpass Qatar as the globe's biggest LNG producer by 2016. In 2011, the country spent $1.3 billion on deepwater drilling. Estimates suggest that level could increase to $2.5 billion in less than 4 years.
Rig rates are moving up for deep and ultra deep water rigs.
Diamond's deepwater rigs are inking deals at increasingly profitable day rates. In December 2013, Its Ocean Endeavor is going from $285k per day to an 18 month contract worth $521.6k per day. In West Africa, its Valiant will be getting $515k a day, up from $300k. In Australia, Chevron (NYSE:CVX) locked up DO's Ocean America for 18 months for a $475k day rate beginning mid 2013 - up from $405k today.
In Diamond's conference call, management indicated 3 year deals for ultra deepwater are being signed in the low $600s per day, while longer contracts are in the high $500s. Diamond also noted improving demand in the Gulf of Mexico, where it expects some 40 deepwater rigs could be active next year, up from 31 now.
Noble reported ultra-deepwater contracts are averaging 4 years, up from 2 years in the first half of the year. Additionally, they noted day rates have increased too, climbing to an average $575k from $533k. Those higher rates bode well for Noble's 8 ultra-deepwater drill ships slated to enter service by 2014, 3 of which came into service earlier this year.
Global rig demand is supported by efforts throughout the Middle East, Africa and the Pacific.
Offshore Israel, demand for rigs is expected to increase thanks to activity in the Leviathan field, which may hold 16 trillion cubic feet of natural gas and nearby at Tamar, with 9 trillion cubic feet.
Recently, Noble Energy (NYSE:NBL) locked up Atwood's (NYSE:ATW) Atwood Advantage - currently under construction - for $584k per day starting in Q4 '13. Offshore activity in Egypt, Saudi Arabia and Cyprus adds rig upside too.
So does activity offshore Ghana and Tanzania, where Statoil (NYSE:STO) recently discovered 3 tcf of gas from its Lavani well. Meanwhile, both Anadarko (NYSE:APC) and Eni have reported discoveries off Mozambique and Asia is seeing offshore exploration growth, with Total (NYSE:TOT) recently inking deals to explore offshore Indonesia.
Industry wide, there are 34 ultra deepwater rigs slated to come on the market through 2016. But, with utilization of 5000+ rigs at nearly 100%, rigs will likely find contracts and add meaningfully to bottom lines.
Source: IHS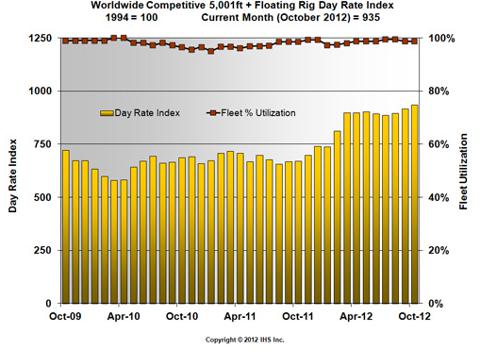 Click to enlarge
Seasonality suggests the timing is right for upside.
According to data from the Seasonal Investor, Diamond Offshore has finished Q4 higher than it begins in 8 of the past 10 years, producing a median return of 9%. Noble has finished higher in 9 of the past 10 years, generating a median return of 6.75%.
This first chart shows the average Q4 monthly returns for Diamond Offshore versus the S&P 500 ETF (NYSEARCA:SPY). As you can see, shares tend to improve as the quarter progresses.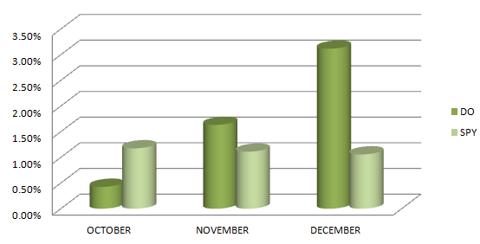 Click to enlarge
The next chart shows the Q4 monthly returns for Noble versus the SPY. In this case, you can see returns are typically front end loaded.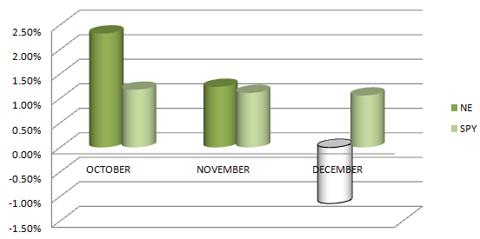 Click to enlarge
Given markets have retreated since the start of October, investors looking to add energy positions back into portfolios may find it makes sense to buy shares of Diamond Offshore for a multi month position trade. Those willing to trade more frequently can consider picking up some Noble too, with the goal of trading around the edges in November and December.
Disclosure: I have no positions in any stocks mentioned, but may initiate a long position in DO, NE over the next 72 hours. I wrote this article myself, and it expresses my own opinions. I am not receiving compensation for it (other than from Seeking Alpha). I have no business relationship with any company whose stock is mentioned in this article.