I guess EZCORP (NASDAQ:EZPW) is considered a financial since it is flying this morning - or perhaps it's this news. Either way I am going to take this opportunity to cut the position by 1/3rd, selling in the $16.60s on the "gap up". We're reducing from a 2.4% stake to 1.6%.
Ezcorp Inc., which makes pawn and payday loans, said Friday it will buy 11 Nevada pawn shops operating under the Pawn Plus and ASAP Pawn brands in a $34.5 million cash-and-stock deal.
The transaction includes about $6.6 million in pawn loans, $2.2 million of inventory, $1.2 million in auto title loans and the remaining operating assets of the stores. Ezcorp said it will pay for half of the acquisition with cash and the other half with Class A nonvoting common stock.
President and Chief Executive Joe Rotunda said in a statement that the shops, which are located in Las Vegas and Henderson, Nev., will complement its four existing Las Vegas stores.
The company anticipates the shops will add 5 cents to 6 cents per share to its fiscal 2009 earnings.
Remember, this stock lost over 20% of it's value when it walked away from a deal that would of added 1 CENT to its quarterly EPS and full year EPS. [
Aug 11: EZCORP Down 8% on Termination of Value Financial Deal
] Therefore if the market were logical, a deal adding 5-6 cents should increase the value by $20% x 5-6 = 100-120%. Somehow I doubt that ;)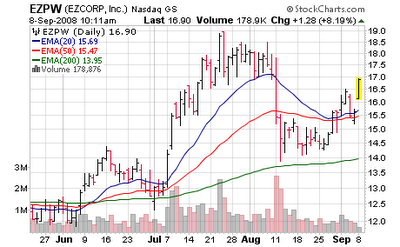 Disclosure: Author is long EZCORP in fund; no personal position.