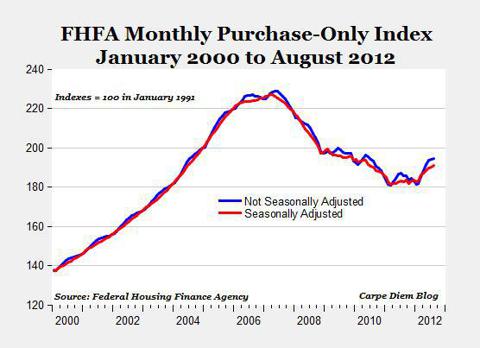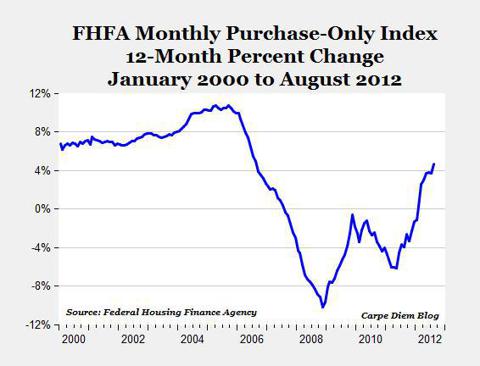 The Federal Housing Finance Agency (FHFA) reported late Tuesday on its House Price Index (NYSE:HPI) for August , based on the purchase prices of houses financed with Fannie Mae or Freddie Mac mortgages. The FHFA index of national home prices is more comprehensive than the 10 and 20 major metro-areas that determine the two Case-Shiller indexes, and includes both small cities and major cities like Houston (not one of the 20 metro areas in Case-Shiller). Here are some highlights of yesterday's FHFA house price report:
1. August home prices increased by 0.7% on a seasonally adjusted basis compared to July, and that was the seventh back-to-back monthly increase in home prices starting in February. The last time there was a streak of seven consecutive monthly increases in the FHFA price index was back in early 2006, more than six years ago. The August FHFA index was at the highest level for home prices since June 2010, more than two years ago (see top chart).
2. The August FHFA house price index (seasonally adjusted) was 4.7% above its year-ago level following a 3.7% year-over-year increase in July and 3.8% increase in June (see chart above). The 4.7% annual increase in August home prices was the largest yearly increase since a 4.9% increase in August 2006, six years ago. Further, the year-over-year increase in the August FHFA index was the seventh consecutive monthly increase in the HPI from its year ago level, and that marks the first time of that many consecutive increases in five years going back to 2007.
The seven straight increases in the FHFA House Price Index on both a monthly and annual basis hasn't happened since 2006 for consecutive monthly increases and 2007 for consecutive annual increases provide more support to the growing body of evidence that suggests that we've passed the bottom for U.S. home prices and that 2012 will mark the year of the U.S. housing recovery.