General Electric (NYSE:GE) kicked off third-quarter results for large industrial bellwethers last Friday. The industrial conglomerate saw its industrial revenues advance 6%, excluding currency fluctuations, thanks to industrial segment organic revenue growth of 8% (up 10% year-to-date). Excluding the effects of the preferred stock redemption that occurred in the third quarter of last year, operating earnings per share jumped 13%. The company recorded positive earnings growth in all five of its industrial segments for the first time since the third quarter of 2005. Our fair value estimate remains unchanged.
Organically, the firm's energy infrastructure and transportation segments led the charge, but we were interested to see that its aviation segment did not continue its steady advance (though we attribute this to more difficult year-over-year comparisons). The company also noted that, depending on the engine model, it has backlogs of two to seven years, so aerospace remains a very healthy end market. Further, GE continues to drive profitability expansion, as margins advanced 70 basis points from the prior-year period. Management noted that it continues to remove structural costs from the business and expects margin expansion to continue in the years ahead.
Infrastructure orders, however, were down 5% during the quarter, as purchases of wind turbines slowed. And while orders excluding wind turbines and foreign exchange fluctuations advanced 4%, we'd still like to see positive order expansion (without adjustments). Management noted that $1 billion of orders were pushed from the third quarter to the fourth quarter, so timing may have been an issue. But even after adjusting for this, sequential backlog growth was flat at best.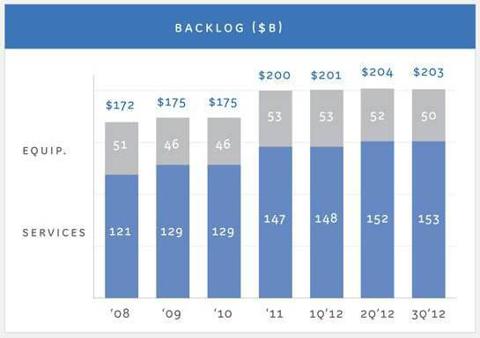 Click to enlarge
Image Source: General Electric
Still, the company generated an impressive $10.7 billion in operating cash flow during the quarter (up significantly from the same period a year ago) thanks to a special dividend from GE Capital to the parent. GE and its common stock dividend remain on very solid footing, in our view, and we think GE Capital's balance sheet is strong, boasting a healthy Tier I common ratio of 10.2%.
Looking ahead, GE expects to deliver double-digit earnings expansion in 2012 for both its industrial and GE Capital segments. Management also noted that it plans to have a balanced capital allocation plan: grow dividends in line with earnings, pursue value-creating buybacks (stock price < fair value) and bolt-on acquisitions in the $1 billion to $3 billion range. Click here for our thoughts on GE's dividend. And while order growth may be pressured due to global economic uncertainty, GE thinks seven of its nine growth regions (China, Africa, Latin America, etc.) will garner double-digit orders growth in 2012. We continue to monitor trends in orders very closely.
Disclosure: I have no positions in any stocks mentioned, and no plans to initiate any positions within the next 72 hours. I wrote this article myself, and it expresses my own opinions. I am not receiving compensation for it (other than from Seeking Alpha). I have no business relationship with any company whose stock is mentioned in this article.