Netflix(NASDAQ:NFLX) reported earnings with 26.2 million domestic paying subscribers (streaming+DVD) a net increase of about 15% over the year ago quarter. While much is being made of it not meeting its overall subscriber growth numbers of 7 million total subscribers over the year, for me the question is very simple. Is NFLX fairly valued at $3-$4 billion market cap (based on the share price range of 55-70/share) today? We do some simple back of the envelope calculation to answer this, and also consider-- would someone be willing to pay a premium to buy this asset?
Firstly, Netflix is the 800 pound gorilla of this space. It has created the cord cutting phenomenon and shaken up the traditional TV/cable industry, simulating a whole range of reactions. It has embarked on a costly international expansion that poses some risks; but for simplicity we value the domestic business separately from the international expansion.
At a $3-$4billion valuation, its 26 million paying domestic subscribers are being valued for about $115-$140/subscriber lifetime value. These subscribers are generating about $126/user annually in revenue and $34/user annually in contribution margin. And this is a growing base, adding 3.5 million subscribers over the last nine months.
The contribution margin is showing a steady expansion. From the Q1 '12 streaming contribution margin increased from 10.9% to 16.4% and DVD from 45.6% to 48.2%:
Click to enlarge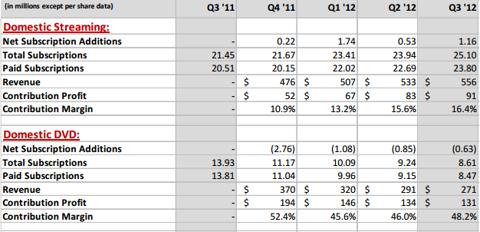 Source: Netflix Earnings Release
If you back out the international loss, Netflix would have made a $108 million operating profit in the last quarter, about $450 million annualized, even assuming very little margin expansion. Plugging in a 15-20% annualized subscriber growth and possibly greater margin expansion, what would be a reasonable multiple for that profit? If we put a multiple of 10, we would still get a stock price of around 80.
Finally, the international expansion is an opportunity and an investment. Netflix did not have to make the investment. It is likely that this investment will offer a return to the company, but for the moment we can assume it is worth zero the value.
At the current sticker price I believe Netflix makes a compelling acquisition play. AT&T (NYSE:T), Verizon (NYSE:VZ), Comcast (NASDAQ:CMCSA) and Amazon (NASDAQ:AMZN), and even potentially Apple (NASDAQ:AAPL) or Google (NASDAQ:GOOG), could be potential good fits. The cable companies have the most to lose from Netflix's success, so they are in a Catch-22. Amazon could own the subscription, pay-per-view and purchased video market by adding Netflix and take out a competitor for its streaming services in places like the UK. Google could better monetize the Netflix subscriber base and create a potential combination with YouTube and Google Play. Apple has struck a deal with Netflix for Apple TV. At $3 or $4 billion, the price is very compelling.
The challenge does remain, as my fellow Seeking Alpha analysts have pointed out, that the international expansion and ballooning content payments could create a liquidity problem. A liquidity situation may well have Netflix more willing to consider the offer of a well-heeled suitor . Hasting has said that the company is well-funded till the international expansion starts turning a profit, but then-- can we trust Hastings?
On the one hand, he has done fairly well hitting quarterly guidance. On the other, he has been very stubborn and unimaginative in terms of running the business, starting from the disastrous Qwikster move.
1. He has treated the DVD business as an unwanted step child even though it still generates the maximum profit. There is no attempt to upsell streaming subscribers to it. Here's a very simple idea-- streaming search should include DVD-only titles--with a "Subscribe Now" to add the DVD option. Create more cross-sell and also look at upsell.
2. My big problem with Netflix streaming-only is lack of content. Yes, I am among the one-third of subscribers that watch movies more than TV shows. Hastings has decided that Netflix is not a going to be a compelling offering in movies. ("So our movie offering is substantially, but not amazingly, better than other movie options for consumers." -- Q3 2012 shareholder letter). Netflix could become a one stop shop for my movie search if I could pay-per-view for some streaming content they don't include in the base, or have a Premium membership. Despite referring to HBO many times as a model, Hasting has been unwilling to look at creating another price tier-- premium channel with a higher sticker price to bring in more content. This could make for a more complete and compelling offering, and a Netflix subscription is so inexpensive that many would be willing to pay more for the premium offering.
Currently the Netflix streaming offering looks old and unexciting, and Hastings does not look like he has many new ideas to fix it. My fair value for Netflix is upwards of $80 per share but it may well need the board to consider some senior management changes before we can get there. Of course, an acquisition would solve that problem.
Disclosure: I am long NFLX. I wrote this article myself, and it expresses my own opinions. I am not receiving compensation for it (other than from Seeking Alpha). I have no business relationship with any company whose stock is mentioned in this article.