In our July report on Microsoft Corporation (NASDAQ:MSFT), we were amazed at Microsoft's mediocre stock performance since the dot-com implosion. Despite the fact that MSFT avoided the worst of the dot-com implosion and despite the fact Mr. Softy's EPS grew nearly fourfold since the end of its 1999 fiscal year (representing a CAGR of 11%), Microsoft's stock has registered a negative total return of 17% since the end of its 1999 fiscal year and 37.5% since its December 1999 split-adjusted all-time high of $60.
That price, at the time, represented a PE of over 70 times earnings. The company's stock is so cheap on a PE basis, it is trading at less than 10X adjusted FY 2013 earnings and now pays a $.23 quarterly dividend (3.21% yield). We were disappointed that the recent $.03 increase was less than the $.04 increase issued last year. Unfortunately for Microsoft, its mediocre stock performance is in-line with its business performance.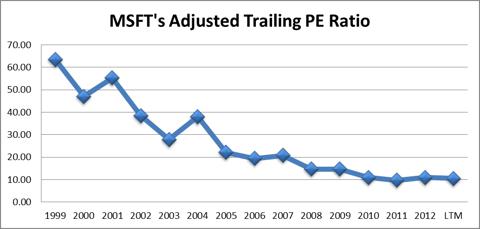 Click to enlarge
Source: Morningstar Direct
Microsoft's performance continues to be mixed bag of success, weakness and ugly, outright flops. Good news has come primarily from its Server and Tools Division and its Microsoft Business Division. Weakness has come from its Windows and Windows Live Division and Entertainment and Devices Division. And ugly, outright flops are proudly represented by Microsoft and Nokia (NYSE:NOK) flubbing the launch of the Lumia smartphones that are running on Windows Phone 8. At least MSFT did not write down any goodwill and intangible assets from any deals from hell since its $6.2B write-down for its aQuantive disasterpiece.
The Good:
Microsoft Server and Tools continues to be Mr. Softy's island of tranquility in an otherwise truculent market for Wintel enabled PCs. Microsoft Servers and Tools grew revenue by 8% for Q1 2013. Its Product revenue grew by 6% ($215M) due to growth in SQL Server, System Center and Developer Tools and reflected continued growth in Windows Platform revenues. Enterprise Services revenue grew by 12% ($121M) due to growth in both Premier product support and consulting services. Divisional operating income grew by 12% in the quarter due to the increased revenue and positive operating leverage, which offset a negative currency headwind of $77M (represented 5% of Q1 2012 division profits and ~4.5% of Q1 2013 division profits).
Results at Microsoft Business had been doing better since Stephen Elop left in 2010 in order to turn Nokia into The Burning Platform. Microsoft Business was flopping around from 2008-2010 under Elop's "leadership" and this resulted in sales and divisional operating income generating a cumulative decline of about 1% each while Elop was in charge. The good news at Microsoft Business is that performance improved from 2010-2012 when Kurt DelBene replaced Elop. Microsoft Business generated a 17% growth in revenue and 24% increase in profits in 2011 and a 7% growth in revenue and profits in 2012. Microsoft Business's revenue and profit results were negatively impacted in Q1 2013 by having to defer revenues associated with the recognition of revenues and profits from its new MS Office 2013 product suite.
Microsoft Business saw its revenue decline by 2% in Q1 as an adequate 3% growth in business customer revenues was not enough to offset a 6% growth in personal consumer revenues. Divisional operating income declined by 2% for the quarter due to the deferral of Office 2013 revenue and a soft PC market. Microsoft Business was not immune from the effects of a strong US dollar, which resulted in a negative $119M headwind to its revenue. Microsoft Business's revenue deferred due to the MS Office 2013 deferral was $189 and the division would have pulled off a 3% year-over-year revenue adjusting for these two notable headwinds. Microsoft Business acquired Yammer for $1.2B on July 18th and has not reported any noted results relating to Yammer specifically.
The Bad:
Whether you want to use the GAAP-reported results or the Non-GAAP adjusted results, Microsoft Windows and Windows Live's results were weak. On an adjusted basis which took into account Microsoft's Windows 8 upgrade offer, Windows/Windows Live saw a 9.5% decline in its Q1 2013 revenue. Q1 adjusted operating income decreased by 14% due to the one-two combination of lower revenue and higher research and development expenses. Microsoft's deferred revenue from the Windows 8 upgrade offer was $540M in Q4 2012 and $1.167B in Q1 2013. Windows 8 will be available in October 2012, including the much ballyhooed Windows Phone that will either make or break Nokia's ability to survive as an independent company. Microsoft also needs Windows Phone 8 to be a success in order for it to reverse its rapid market share decline in smartphone operating systems. We noticed that this downward trend in market share declined when Apple (NASDAQ:AAPL) released its cutting-edge iPhone smartphone device. In addition to worrying about Apple, Microsoft Windows Phone also has to worry about Google's (NASDAQ:GOOG) Android operating system. Judging by the performance of Nokia's Lumia Windows Phone 8 phone release, we don't expect much from WP8.
Microsoft's Online Services Division is continuing its perpetually profitless tradition. At least in this quarter, it did not have any acquisitions to write off like its $6.2B aQuantive deal. The good news for the division is that its revenue grew by 9% and was $3M shy of cracking the $700M mark for the quarter. It also narrowed its losses by 29% but it still racked up another $364M in losses for Q1 2013.
The good news for MS OSD is that Bing saw 120bp organic growth in its market share on a year-over-year basis and it is now at 16%. The bad news is that it came at the expense of Yahoo's (NASDAQ:YHOO) search market share and the Bing-Yahoo search partnership saw its market share decline by 160bp year-over-year and is now at 25%. Google's search engine market share in September was a comfortable 66.4%. Not only has Google never been significantly below that market share amount, it increased its market share by 160bp year-over-year. The good news for MS OSD is that Yahoo's search engine market share is like a giant 20 foot sub sandwich and Bing and Google are competing to see which one can eat the most of it.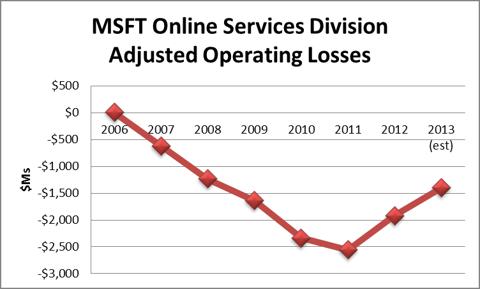 Click to enlarge
Source: Microsoft Annual Reports 2008-2012 and our estimates
The Ugly:
Microsoft's Entertainment and Devices Division saw its revenue decline by 1% for the quarter even with the inclusion of the $8.5B acquisition of Skype. Xbox 360 revenue declined by $418M year-over-year (24%) due to lower console sales volumes and lower video game revenue, offset by higher Xbox LIVE revenue. The division shipped 1.7M Xbox 360 consoles during the quarter compared to 2.3M in the prior year's quarter. MS EDD's profit declined by more than 94% in Q1 2013 versus Q1 2012 and this was due to lower revenue and higher expenses. Cost of revenue grew $151 million or 14%, largely due to payments made to Nokia related to joint strategic initiatives in order to help the Lumia WP8 phones compete against Apple's iPhone 5 and due to the acquisition of Skype, offset in part by decreased sales of Xbox 360 consoles and lower video game royalties. Research and development expenses increased $140 million or 44%, primarily reflecting higher headcount-related expenses related to interactive entertainment and the acquisition of Skype.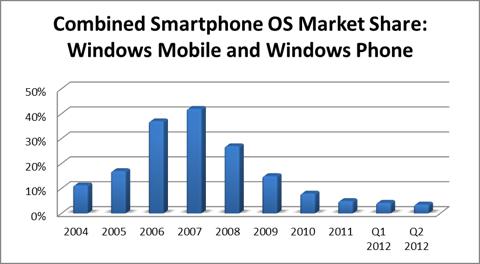 Click to enlarge
Sources: ComScore Market Share Report and ZDNet Market Share Report
In conclusion, we see that Microsoft's performance has been a mix of the good, the bad and the downright ugly. However, we have taken notice of its steadily growing dividend and continued ability to generate gargantuan cash flows. At least it has increased its annualized dividend from $.08 in 2003 to $.92 for FY 2013, though we were disappointed that it only increased it by 15% in this year. We are well acquainted with the offshore cash repatriation tax issue as over 80% of its gross cash and short-term investments are held in foreign subsidiaries in over to defer US corporate profit tax of up to 35%. Considering the low returns on the offshore cash, as well as the slowing growth momentum at Microsoft, we think that the company should either bite the tax bullet to repatriate the $50B in foreign source cash in order to pay its shareholders a special dividend or consider other options to unlock this low yielding cash holdings. Because Mr. Softy's stock has been a mediocre performer since 1999, we think the company should begin to distribute its cash to shareholders in order to reward them for their patience in watching Microsoft muddle in the muck and morass of mediocrity.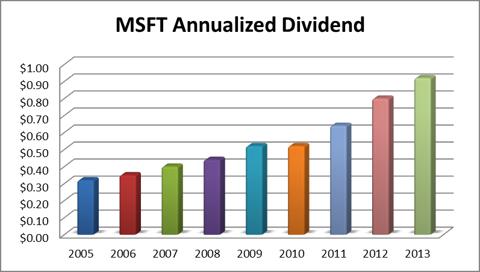 Source: Microsoft's Investor Relations Website
Disclosure: I am long AAPL. I wrote this article myself, and it expresses my own opinions. I am not receiving compensation for it (other than from Seeking Alpha). I have no business relationship with any company whose stock is mentioned in this article.
Additional disclosure: This article was written by an analyst at Saibus Research. Saibus Research has not received compensation directly or indirectly for expressing the recommendation in this article. We have no business relationship with any company whose stock is mentioned in this article. Under no circumstances must this report be considered an offer to buy, sell, subscribe for or trade securities or other instruments.