Business Overview
True Religion (NASDAQ:TRLG), which went public in 2003, has been a leader in the premium denim market over the past decade. The business is involved in the design, manufacture and sale of premium denim clothing, primarily its jeans which retailed for $255.00 on average in 2011.
Though in recent years the company has expanded to offer a full line of both men and women's attire, the majority of the company's sales are in the denim bottoms category, accounting for on average 59% of all sales each year since 2009.
In terms of profitability, the company has had a stellar performance since 2004 and has managed to internally finance its rapid expansion. Shrugging off the great recession, TRLG has grown sales at a compound rate of 26%, while maintaining a healthy free cash flow along the way.
Current Valuation
Click to enlarge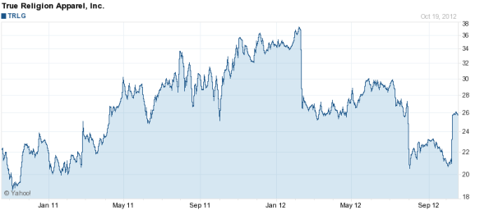 As has been the case for so many Wall St. darlings, the results of the business have not always mirrored the performance of its equity. For the long-term holder, the ride has been a rollercoaster one to say the least, swinging from a lofty multiple of 25x earnings in 2007 to 4.5x in the depths of the recession. What's worse, the stock has had a dismal 2012. This recent performance is largely attributed to declining margins and slowing sales growth.
Just last week, the company announced publicly that it would be exploring opportunities to sell itself. This caused the stock to rally an impressive 23% to $25.88 as of Friday's close. Until this recent announcement, the stock was down almost 39% in 2012.
At Friday's closing price of $25.88, using a fully diluted 25.310m shares outstanding, I calculate a market capitalization of $655m. With roughly $200m of cash and long-term investments (in treasury securities) on the balance sheet, I compute an enterprise value of $456m. Using a trailing 12 months FCFE of $35.27m represents an attractive CF/EV ratio of 7.73%. EBITDA/EV ratio is 16.88% - not too shabby.
For me, a valuation like this begs the question whether this is a fundamentally strong company or merely the victim of Wall Street's addiction to growth and impatience with anything that doesn't exceed its expectations? The statistical showing of the past five years certainly hints at this conclusion, but looking closer, a number of factors give me pause.
Compensation & Ownership
"A small leak may sink a great ship"- Benjamin Franklin
Digging deeper into TRLG, one of the first things that caught my eye was the rather generous compensation of named executive officers. Especially its CEO / founder Jeffery Lubell.
I am no expert on executive compensation practices, but the compensation table below taken from the 2011 proxy statement should serve as a sufficient introduction to the types of figures we are discussing: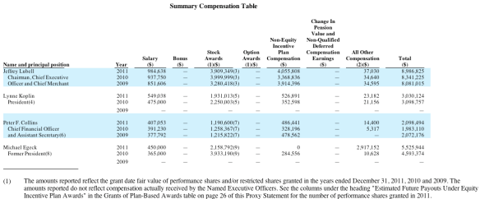 Disregarding for the moment the amount of other incentives being granted, I would like to focus on the significant equity dilution taking place.
The table below shows that the three-year average burn rate since the 2009 equity incentive plan was adopted has been above the Institutional Shareholder Services target rate of 2% [1], but not above the maximum 3.44% targeted at the inception of the plan.
In administering the long-term equity incentive compensation component of our compensation program, we actively manage our awards in accordance with a target "burn rate." The burn rate measures the potential dilutive effect of our annual equity awards. In May 2009, we committed that with respect to shares of our common stock reserved under our 2009 Equity Incentive Plan, the burn rate of equity awards would not exceed an average of 3.44% per fiscal year through our fiscal year ended December 31, 2011.
---
[1] IN EVALUATING AN EMPLOYEE STOCK PLAN PROPOSAL, ISS WILL LOOK AT A COMPANY'S HISTORICAL USE OF EQUITY COMPENSATION. GENERALLY, ISS WILL RECOMMEND A VOTE AGAINST AN EMPLOYEE STOCK PLAN IF THE COMPANY'S AVERAGE THREE-YEAR BURN RATE EXCEEDS THE GREATER OF:
THE MEAN PLUS ONE STANDARD DEVIATION OF THE COMPANY'S GLOBAL INDUSTRY CLASSIFICATION STANDARD ("GICS") GROUP SEGMENTED ON THE BASIS OF WHETHER OR NOT IT IS IN THE RUSSELL 3000 INDEX (AS REFLECTED IN A PROVIDED TABLE); OR
TWO PERCENT OF ITS WEIGHTED COMMON SHARES OUTSTANDING.
SOURCE: HTTP://WWW.COMPENSIA.COM/TPA_052310_RISKMETRICSSTRATEGIES.HTML

At a 2.25% adjusted burn rate, there can be little doubt that without spectacular management performance, the shareholder is likely getting a bum deal.
For a more detailed look at how excessive executive compensation has diluted equity holders, please see a great article in Seeking Alpha by Rabish.
But is this compensation all bad? Big equity incentives mean strong ownership, which in theory should lift all boats as the company strives to maximize shareholder value over the long run, right? True, but only if the executives hold on to their shares and in this case Mr. Lubell in particular has done the opposite. From owning 38% of the outstanding common stock at fiscal year-end 2006, he now owns less than 2.5% of the company. Worse yet, this decline is in spite of the extremely generous compensation program.
Perverse Performance Compensation?
The majority of TRLG executives' compensation comprises restricted equity and cash-based performance compensation. Both of which are awarded using a metric defined below as Adjusted EBIT. Based on whether or not the company performed up to a hurdle rate of Adjusted EBITDA, as set by the compensation committee, the named executives could expect to earn many multiples of their salaries in both cash and restricted equity compensation.
Performance Metric for 2011

For 2011, the Compensation Committee set performance targets for our annual cash and equity performance awards based on Adjusted EBIT (as defined below). The Compensation Committee used Adjusted EBIT to set targets after taking into account the advice of SH&P regarding measures of performance used by the companies in the Comparison Group and after taking into account the compensation philosophy of the Company. The Compensation Committee set the specific performance targets for fiscal 2011 so that the Named Executive Officers would be eligible to receive the target level awards if the Company achieved Adjusted EBIT of 101% of 2010 Adjusted EBIT, taking into account that, at the time 2011 performance goals were set, the Company continued to face a very difficult retail and wholesale environment that would require outstanding performance to achieve the targeted goals. By setting this target level for performance-based awards in 2011, the Compensation Committee believed the performance targets were challenging in light of industry and market conditions and trends in the general economy.

For purposes of our annual cash and equity performance awards, "Adjusted EBIT" means the sum of the following determined on a consolidated basis, without duplication, for us and our subsidiaries in accordance with GAAP: A) net income, plus B) the sum of the following to the extent deducted in determining net income as reflected on the Company's statement of consolidated net income (NYSE:I) taxes based on income or capital, including franchise and similar taxes, (ii) interest expense, amortization or write off of debt discount and debt issuance costs and commissions, discounts and other fees and charges associated with indebtedness, (NASDAQ:III) any extraordinary, unusual or non-recurring losses or expenses that are extraordinary or unusual in nature or infrequent in occurrence (including, without limitation, expenses for severance, non-recurring retention bonuses, inducement payments to newly hired executives, employees of acquired entities under stock option plans or similar incentive plans, relocation and restructuring costs), (iv) charges resulting from foreign exchange losses; V) all payments to directors of the Company other than our chief executive officer; (vi) any charges for litigation or other dispute or claim resolution in excess of amounts included in the Company's operating budget; and VII) any reasonable expense related to any equity offering, acquisition, recapitalization, divestiture, asset sale or indebtedness (whether or not successful); minus C) to the extent reflected as income or gain in the Company's statement of consolidated net income, any income or gains resulting from foreign exchange gains.
The compensation committee set the 2011 hurdle for incentive-based compensation at an Adjusted EBIT of 101% of 2010 and 108% of 2009 for 2010. And just in case that proved too difficult, executives could be reassured by the precedent set in 2011, when the compensation committee did the following (emphasis mine):
On February 10, 2011, the Compensation Committee certified the Adjusted EBIT achieved by the Company for fiscal year 2010. In determining whether the performance goals were achieved in 2010 the Compensation Committee excluded certain expenses related to the termination of the Company's former President and expenses related to the Company's international expansion efforts.
I can understand excluding the costs associated with terminating an executive officer, but forgiving expenses related to growing the business seems, in my opinion, like the compensation committee was giving the executives a pass.
Having said that, I think the real evil here may not be in the size or the relative ease with which the management was awarded these princely sums. Rather, it was the way in which the metric of Adjusted EBITDA incentivized the management to think about what constitutes a good business.
The most damaging aspect of this compensation structure is the fact that Adjusted EBITA can be roughly translated into the following statement:
A good business is a growing business.
As such the company's management has been strongly incentivized to grow the business and so it has. My concern is that just as architects being compensated on a per-story-basis naturally reach towards the sky, these executives may have built a modern-day Tower of Babel.
Strategy
Over the past five years, TRLG has been on a path of rapid expansion - growing sales and throwing off profits. Strategically, the business can be subdivided into three major segments: U.S. Wholesale, International Sales, and U.S. Direct to Consumer.
The wholesale strategy is what I would call the more conservative approach. Though you have less control over your merchandising and your margins may end up being smaller, you are not required to purchase and maintain the infrastructure of a full-on retail operation.
At the same time, if your goal is to build a durable luxury brand, while simultaneously targeting mass-market sales figures, it is going to be difficult to do so without some retail presence. As with any business, there are numerous ways to pursue growth, each with their own challenges, benefits and dangers.
TRLG almost since its inception as a public company has pursued an aggressive approach to building its retail distribution platform (aka U.S. Consumer Direct). A quick glance at the expansion of U.S. Consumer Direct sales as a percentage of total revenue bears this out quite plainly.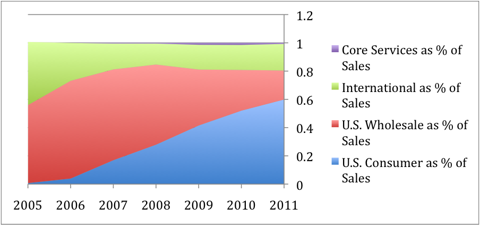 Another statistic that bears out the rapid development of the retail business is the number of stores the company operates. From less than 10 locations in 2006, True Religion now operates 139 worldwide stores, 23 of which are franchise locations.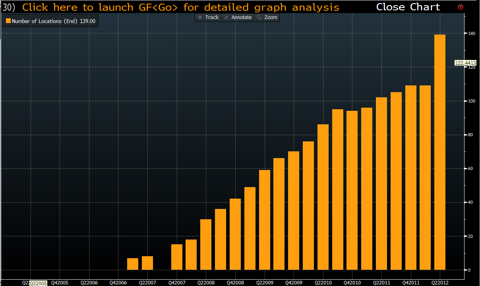 Source: Bloomberg L.P.
Without question this undertaking has been to the benefit of the corporation over the last decade; what worries me is whether or not it represents a liability in the future.
Leases & Liabilities?
As of Q2 2012, the company had minimum future lease obligations of approximately $230m. I was unable find any guidance on whether these were discounted to present value terms or not - I assume they are not.

As a statement in its 2011 10-k states, these leases are often non-cancelable. Below is a disclosure in the risk factors section of a recent SEC filling (emphasis mine):
Leasing real estate exposes us to possible liabilities and losses.

We enter into leases in connection with our retail stores. Accordingly, we are subject to all of the risks associated with leasing real estate. Store leases generally require us to pay a fixed minimum rent and a variable amount based on a percentage of annual sales at that location. We generally cannot terminate our leases and have restrictions in connection with assigning or subletting our leases. If an existing or future store is not profitable, and we decide to close it, we may be committed to perform certain obligations under the applicable lease, including paying rent for the balance of the applicable lease term. As each of our leases expires, if we do not have a renewal option, we may be unable to renegotiate a renewal on commercially acceptable terms, if at all, which could cause us to close stores in desirable locations. In addition, we may not be able to close an unprofitable store due to an existing operating covenant, which may cause us to operate the location at a loss and prevent us from finding a more desirable location.
Being honest, I am not entirely sure how to account for this kind of liability, but it gives one pause to say the least. At a minimum, I think it must throw into doubt any valuations made on an enterprise basis that do not take some of this liability into account.
Valuation
At first glance, the statistical showing of the company over the past decade and the sterling balance sheet make TRLG an appealing prospect. However, upon closer inspection the following factors should make the prospective acquirer think twice about jumping in headfirst.
Rapid expansion of the business has created substantial future lease obligations. Based on the companies' filings, we must assume that many of the aforementioned leases are non-cancelable and therefore represent a considerable future liability.
Despite being well- to over-compensated, the CEO and Chairman of the board has decreased his ownership stake from 38% in 2006 to fewer than 2.5% of shares outstanding. This must induce the suspicion that the most knowledgeable insider and no less the founder, has little wish to be claimant on the future of the enterprise.
Slower-than-expected sales growth and thinning profit margins indicate that enthusiasm for the company's offerings may be wavering. Given the fickle nature of fashion and the commodity-like nature of the product being offered, it can be assumed that changing tastes may represent a significant challenge going forward. In addition, declining revenue may reveal the company as over extended in the direct to consumer segment, thereby bringing into focus the liabilities discussed in point 1.
Declining brand cache may weigh on the company's prospects for a successful international expansion, as well as discourage a restructuring of the product offering into tiered collections.
Given that the company has indicated its intention to sell itself, I am faced with the question of how to approach valuation. I see two possibilities. One, the more common comparables approach which would try to figure out what price the company could hope to fetch in a going private transaction. However, this necessarily involves drawing conclusions on third parties willingness to pay for the business. Instead, I'll seek to examine what I myself or another conservative investor should be willing to pay for such a company and apply a control premium to that figure.
Using estimated FY 2012 earnings, a no-growth multiple of 8.5x EBITDA which I think is fair given the trend in margins, and a control premium of 20%, I came up with the valuation below: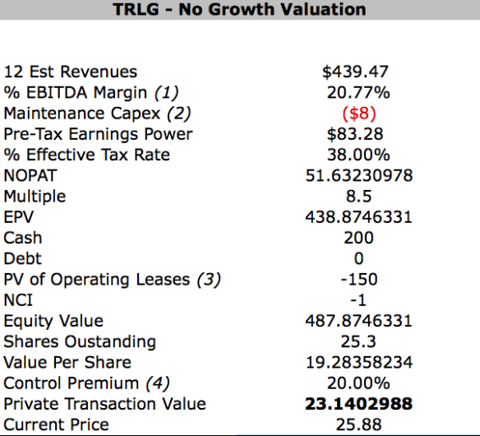 1. Though margins have been declining, I have used the trailing 12 months EBITDA margin so as not to be overly conservative. Partially because I believe it is likely that a private owner will reduce executive compensation and thereby perhaps slow the decline in margins.
2. Though FY 2011 Capex was 22mm but because we are valuing a going private transaction, I assume that the new ownership will want to retain more cash rather than expand the already somewhat bloated retail segment.
3. In determining the PV of future lease obligations, I used a 10% discount rate up to 2016 and a slightly higher rate for the thereafter period.
4. Because I have already made some adjustments in the EBITDA and Capex categories, I used a low-end control premium of 20% so as not to double count the benefits of control. One scenario that I envision, but don't feel comfortable quantifying is that of a new owner renegotiating the lease agreements and shuttering questionable stores on more favorable terms than the present PV future minimum lease payments envision above.
Conclusion
In sum, the price of $25.88 represents a considerable 11% premium over where I predict a conservative investor might be expected to value the firm. On the other hand, I realize that it is entirely possible some private equity enterprise, armed with better information through exhaustive due diligence, will find it reasonable to pay a higher price than the value I posit here. Then of course there always exists the non-negligible chance that the proverbial greater fool will amble in to relieve investors at some lofty multiple undreamed of. Either way, as an aspiring value investor, I cannot on the basis of my information justify an investment at the current price, and will have to enjoy the view from the peanut gallery for now.
P.S. Criticisms, thoughts and comments are appreciated!
Disclosure: I have no positions in any stocks mentioned, and no plans to initiate any positions within the next 72 hours. I wrote this article myself, and it expresses my own opinions. I am not receiving compensation for it. I have no business relationship with any company whose stock is mentioned in this article.