On Thursday afternoon, Apple (NASDAQ:AAPL) will report its fiscal fourth quarter results. The company will look to post strong year over year growth in its two key product lines, the iPhone and iPad. Investors have been concerned recently that iPhone sales might be light and that an iPad mini will eat into margins. That has taken a bite out of the stock recently, down from the $705 high Apple hit. Today, I'll preview Apple's results. This quarter, I will change things up a bit. Instead of providing my own estimates for what Apple will do, I will attempt to show investors a base line that Apple should need to hit in order to meet street expectations.
Past Results:
The following table shows the past two fourth quarter numbers for Apple, as well as the third quarter results from this year. For past Apple earnings releases, click here.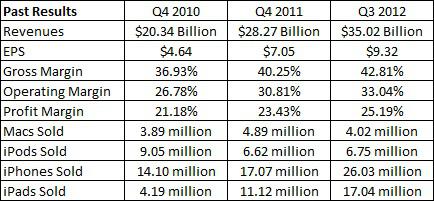 Looking back a year, Apple is set up for some nice growth. While we believe that iPod sales will continue their decline, we aren't quite sure what to believe about Mac sales. There have been a number of fears out their about a PC industry slowdown, but is Apple immune? In terms of the iPhone and iPad, Apple is expected to show decent growth.
In the next few sections, I'll discuss each product category and then analyze current street estimates if they are available. In each segment, I will reference an average selling price number. This number is calculated by taking the revenue for each product line, divided by the units sold. To see what I mean, take a look at the Q3 results table. I am strictly dividing revenues by units sold, and not adding in "other music", or any of the revenues not accompanied by a unit sold number (software, hardware, peripherals, etc.).
iPod / Mac numbers:
The iPod is expected to continue its decline, and in the three quarters so far this year, iPod unit sales have declined 21%, 15%, and 10% over their respective prior year periods. The average selling price has come down a bit as well, down to $157 in the recent Q3, from $176 in the year before. Last year's Q4 average selling price was $166.57.
In terms of Mac sales, most analysts seem to think Apple will have outshined everyone else. In last year's period, Apple sold 4.89 million, and it appears about two-thirds of the analysts out there think that Apple could eclipse that number. Remember, Apple put out a Mac refresh in June, so this will be the first full selling quarter for those units. Apple sold 1.278 million desktops and 3.616 million portables in last year's period.
In terms of selling price, Apple's average desktop sold for $1,320 in Q4 of 2011 and $1,274 in Q3 of 2012. Like the iPod, desktop average prices have come down each quarter since Q2 of 2011. The average selling price for portables was $1,268 in Q4 of 2011 and $1,211 in Q3 of 2011.
Apple could see an increase in the average selling price of portables this quarter, as some of the retina display models start at over $2,000. If Apple sells a lot of those, it can really help the average. Going forward, prices could trend lower as Apple releases cheaper models, like the newly announced $599 Mac mini.
iPad - The impact of China:
In terms of units sold, the iPad will battle the iPhone for the most percentage growth over last year's period. As I mentioned in a bull and bear debate for Apple's Q4, the iPad number will come down to China, which only started selling the iPad in early to mid July, the first month of Apple's Q4.
Last year, Apple sold 11.1 million iPads, and in Q3 of 2012, Apple sold 17.04 million without any sold in China. Analysts currently expect about 18 million to be sold. Last year, Apple saw a nice bump from Q3 to Q4, a rise from 9.25 million to 11.1 million. However, last year didn't have the China issue, and looking forward, the pending sales of a mini version of the iPad. Investors might want to ask themselves whether they think consumers will have held back iPad sales waiting for the mini one to be released. Apple also announced a new full size iPad on Tuesday, but that wasn't expected, so I don't think that will have affected Q4 numbers.
In terms of average selling prices, it's been all downhill since Q3 of 2011, when the average price was nearly $654. In last year's Q4, it was around $617.50, and in this year's Q3, it was $538. That average will most likely drop in the next quarter (Q1) with the lower priced mini versions coming out soon.
iPhone - Before or After?
Apple released a new version of the iPhone very late in this quarter. That phone was on sale for just over a week before the quarter ended, compared to 82 days in the quarter before it was sold. So which is more important, before or after the launch? It's a good question.
We know that Apple sold more than 5 million new iPhones in the opening weekend. That number was initially seen as a disappointment, because of the higher number of markets it was sold in initially (compared to the 4S). However, that number might not have accounted for iPhones pre-ordered online that had not been delivered yet.
Back to the pre-launch number for a minute. In fiscal Q2 of this year, Apple sold roughly 385,000 iPhones per day. In fiscal Q3, that number dropped roughly 26% to about 286,000. You would probably expect that number to continue its decline as consumers waited for the new phone. But how much? A decline to 270,000 means Apple would have sold 22.1 million before the release of the 5. But if the drop was to say 210,000, Apple would have sold just 17.2 million pre-launch. A drop sharper than that and you are looking at roughly 15 or 16 million.
The analyst community comes in at an average of about 26.4 million and a median of 27 million. At that rate, I would think about 16 million were sold pre-launch and then about 10 to 11 million were sold post-launch. That gives you the roughly 26 to 27 million figure.
In terms of selling prices, the iPhone average was over $659 in both Q2 of 2011 and Q1 of 2012. In last year's Q4, the average was $643.12, and in this year's Q3, the average was $624.14. If you believe that more of the older phones were sold than the new one, you might tend to believe that the average selling price could decline more from Q3's number.
All together now - analyst estimates:
Before I give you the analyst numbers, I will remind you that Apple guided to $34 billion in revenues and earnings per share of $7.65.
I mentioned the other day that analyst estimates have come down in the past week or so. On the Yahoo! Finance analyst estimates page, I had seen the average estimates as high as $36.39 billion in revenues and $8.91 in earnings per share. The average is now down to $36.19 billion and $8.84, respectively. Obviously, that makes it a little easier for Apple to beat.
So what does Apple need to do to beat that? Well, let's first consider a few price numbers. If you take last quarter's average selling prices, along with the $3.6 billion plus in "other revenues" that Apple generates, Apple would need to roughly do the following to hit that revenue number:
Macs - about 5 million units
iPods - about 5.6 million units
iPhones - about 26.3 million units
iPads - about 17 million units.
Now I don't think the average selling prices will stay the same, and I don't think anyone expects them to. I would think that unless average selling prices really fall off a cliff, you can make an argument that if Apple sells about 5 million Macs, 27 million iPhones, and 17 million iPads, that should get them that revenue number. Remember, these numbers are based on last quarter's selling prices, and are not my expectations for the quarter.
Margin discussion / other items to consider:
When it comes to margins, it comes down to the iPhone. As I've noted in several Apple articles, it's not necessarily how many iPhones Apple sells that drives higher margins. Rather, it is the percentage of total sales coming from the iPhone. For instance, Apple sold 37 million iPhones in fiscal Q1 of this year, but gross margins were 269 basis points higher in fiscal Q2, when Apple only sold 35 million. The difference is that iPhone revenues as a percent of Apple's total were nearly 58% in Q2, compared to under 53% in Q1. We've heard that iPhone gross margins are roughly double iPad gross margins, so a higher percentage of iPad sales would hurt gross margins.
Gross margins from Q2 to Q3 fell from 47.37% to 42.81%, as the percentage of revenues from the iPhone declined from 57.90% to 46.38%. Given the numbers above I mentioned for this quarter, iPhone sales are projected to be approximately 45% to 47% of the total. If we do see a slight sales percentage decline in the iPhone, I wouldn't be surprised if gross margins declined a little more. But I wouldn't expect a huge decline like we saw in Q3. The same themes should be true for operating and profit margins.
Balance Sheet Update:
Apple has a very strong balance sheet. At the end of Q2, the company had over $117 billion in cash and investments, up about $7 billion from the prior quarter. Investors wanted some of that cash, and they are starting to get it. In Q4, Apple started paying a dividend, and in the current quarter (Q1), Apple is beginning to buy back some shares to offset options dilution.
I would think that Apple's cash and investment pile won't rise as much this quarter, for two reasons. First, the dividend payment. Second, net income is expected to be slightly lower than Q3 (EPS of $9.32 in Q3, currently expecting $8.84 in Q4). We might not see as much cash generated from operations, so that could hurt a potential cash balance increase slightly.
Final Thoughts:
For all of the growth troubles around the world, Apple is still growing at a nice clip. Current expectations call for revenues to grow by about 28%. Apple should see some nice increases in the year over year iPhone and iPad unit sales numbers. Analysts are also expecting Apple to shake off PC industry weakness.
As I mentioned earlier this week, it is possible that Apple misses analyst expectations. In two of the past four quarters, Apple has beaten its own expectations, but missed analyst expectations. Since Apple's huge Q1 number earlier this year, expectations for Apple have been really high, and you'd expect that given how well the stock had done. Apple has come off its high quite a bit, which might reflect some reduced expectations. I'll be back to cover the actual results when Apple reports Thursday afternoon.
As for a recommendation on the stock, I really can't give one at this point, given the time between this article's publication and Apple's report. The stock will obviously move a bit before then, and analyst expectations could change some more as well. I will say this. Long term investors who believe in the future of Apple shouldn't really worry about any one particular earnings report. Unless of course, Apple comes out with a truly terrible quarter, like missing their own expectations. Should that happen, investors might want to change their view.
For now, Apple seems like a good position to hold for investors, and should we get a pullback post-earnings on a good report, it might provide a decent opportunity to accumulate more shares.
Disclosure: I have no positions in any stocks mentioned, but may initiate a long position in AAPL over the next 72 hours. I wrote this article myself, and it expresses my own opinions. I am not receiving compensation for it (other than from Seeking Alpha). I have no business relationship with any company whose stock is mentioned in this article.
Additional disclosure: Investors are always reminded that before making any investment, you should do your own proper due diligence on any name directly or indirectly mentioned in this article. Investors should also consider seeking advice from a broker or financial adviser before making any investment decisions. Any material in this article should be considered general information, and not relied on as a formal investment recommendation.