Business Overview
Hospitality Properties Trust (NYSE: HPT) is a real estate investment trust ("REIT") formed in 1995. Prior to January 31, 2007, all of HPT's real estate properties were in the hospitality industry and managed primarily by operators Marriott International ("Marriott") and InterContinental Hotels Group ("InterContinental").  
In January 2007, the company acquired TravelCenters of America (AMEX: TA) for $1.9 billion and spun it off to HPT shareholders. HPT retained the real estate ownership of truck gas stations operated by TA. A summary of the company's current composition as of June 30, 2008 is:
click to enlarge images
The company's day-to-day operations are conducted by REIT Management & Research ("RMR"). In addition to managing HPT, RMR and its affiliates also manage two publicly traded REITs, eight publicly traded real estate mutual funds, and two real estate-based operating companies. According to HPT's latest proxy filed on April 2, 2008, all of the trustees, nominees and executives combined own 344,856 shares of the company. This equity ownership of the insiders is paltry when compared to the company's over $2 billion market capitalization. Before you start feeling sorry for RMR, the firm did earn management fees of approximately $32 million in 2007. This compensation is not tied in any way to the performance of the stock, which is fortunate for RMR.
TravelCenters of America's Collision Course
As mentioned above, HPT's largest asset is the underlying real estate of truck stops operated by TA. TA's customers include trucking fleets and their drivers, independent truck drivers and motorists. The shareholders of TA have seen their stock price collapse since the spin off by HPT in January 2007 (see charts below). There has been widespread concern about TA's viability due to accelerating negative free cash flow. It is not surprising that a shareholder derivative suit was filed against TA, HPT and RMR on February 1, 2008 in the Delaware Court of Chancery. 

TA and HPT management have been quick to blame the negative free cash flow on deteriorating industry conditions.   While the trucking industry has been hard hit by increased diesel prices, TA's LTM EBITDAR is only 16% lower than in 2006 (see financials on following page) . TA's free cash flow; however, has gone from positive $14.6 million in 2006 to negative $231.7 million over the last twelve months. The reality is that HPT has overburdened TA with unsustainably high rent obligations. In 2006 TA had positive $107.4 million in cash flow from operations and by 2007 cash flow from operations had swung to a negative $74.8 million. The $182.3 million decline in cash flow from operations can almost completely be accounted for by HPT's increase in rent of $179.9 million in 2007. When you add capital expenditures to the equation, TA is wildly unprofitable and a potential bankruptcy.
In order to hold off disaster, HPT and TA entered into a rent deferral agreement on August 11, 2008 for $60 million annually until December 31, 2010. Two days later, Standard & Poor's Rating Service lowered its rating outlook for HPT to "Negative". Analyst Emile Courtney said in a statement from S&P that the revision reflects "uncertainties regarding prospects and timing" for HPT ever receiving repayment of deferred rent. In addition, it is clear from TA's financials that a $60 million cut in rent alone will not result in profitability. It is likely that HPT will have to defer additional rent in order to keep TA out of the bankruptcy courts.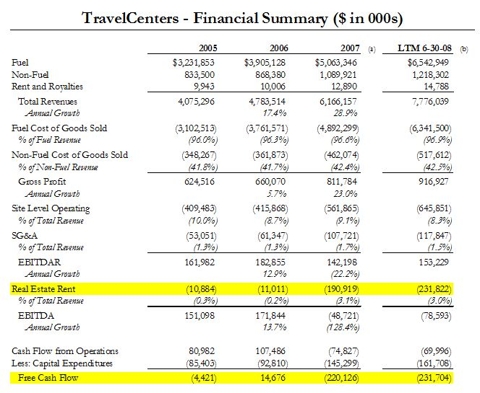 Hospitality Segment: Next Shoe to Drop
The recent economic slowdown and increase in travel costs to the consumer have decreased travel in the United States. This decline in travel has hurt the hospitality sector and is forecasted to exacerbate this issue going forward. Recent Sabre Holdings research used reported airline capacity plans to forecast available seat miles ("ASM") going forward. According to the report, ASM will be down significantly for the remainder of the year with the fourth quarter decline approaching 10% (see chart below). This loss of airline capacity directly impacts the hospitality industry as discussed in further detail later.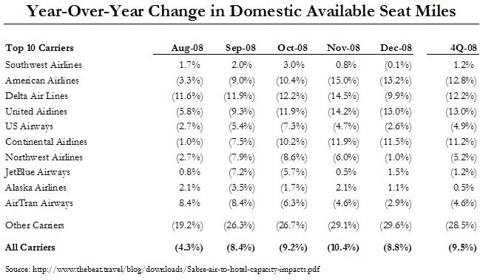 PKF Hospitality Research ("PKF") completed a study of the relationship between airline capacity and lodging demand. According to Mark Woodworth (President of PKF), "a 1 percent decline in available airline seats results in a 0.39 percent decrease in hotel demand, if airline capacity is reduced by 10 percent as some have suggested, then lodging demand would fall off 3.9 percent." This decline in lodging demand would be greater than that experienced during the turmoil following the terrorist attacks on September 11, 2001. A 3.9% decline in lodging demand would translate into approximately 40 million fewer room nights occupied, or $4.3 billion in revenue, on an annual basis according to PKF. A summary of the PKF report can be found here.
HPT is susceptible to declines in lodging demand with 42,946 hotel rooms in the United States and Ontario. The company's hotel operating revenues (over 70% of revenue in LTM) consist primarily of room, food and beverage sales according to HTP's annual report. On the second quarter 2008 earnings call, John Murray, President of HPT, lowered his guidance for revenue per available room ("RevPAR") to flat from an increase of 1% to 3%. According to John Murray, "our managers continue to reduce their projections for RevPAR growth as the economy remains weak." RevPAR for the second half of 2008 for HPT properties will have to come down substantially to fulfill these projections. 
HPT Earnings Misses Ahead
Wall Street estimates are not fully taking into account the TA rent deferral and negative developments in the hospitality segment. Avalanche Research projects total revenues will be down both sequentially and year-over-year in the next two quarters. Revenue projections are detailed below: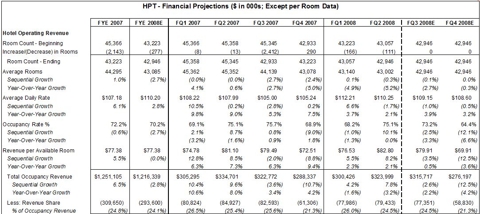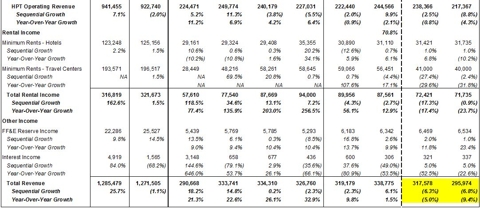 In the face of declining revenue and predominately fixed operating expenses, earnings prospects for HPT are negative in the second half of 2008. Avalanche Research projects EPS to miss Wall Street expectations by 47% and 33% in the third and fourth quarters respectively, as shown below.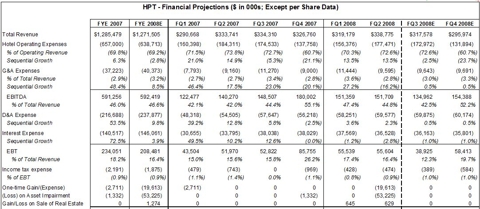 Sum of Parts Valuation of HPT
There are 9 publicly traded hospitality REITS in the United States with market capitalizations over $300 million. Asset types in that group include extended-stay, overseas, limited-service, resort, convention and luxury properties. There are only 3 REITs out of that group that focus on domestic upscale and full service hotels managed by companies like Marriott and InterContinental.   The companies most comparable to HPT are: Ashford Hospitality  Trust (NYSE: AHT), FelCor Lodging Trust (NYSE: FCH) and Sunstone Hotel Investors (NYSE: SHO). 
Avalanche Research compared HPT to its comparable companies based on funds from operations ("FFO"), which is the most widely used valuation metric for REITs. The average LTM price to FFO multiple is 3.8x for the group compared to HPT at 4.9x, a 28% premium (see valuation analysis below). When you take out the $60 million of deferred rent, HPT has a pro forma P/FFO multiple of 5.7x, a 49% premium. HPT should not trade at a premium to its comparable group; in fact Avalanche Research argues it should trade at a discount given the weak financial condition of its largest tenant. By analyzing the travel center and hospitality businesses separately, the fair value of HPT is clearly evident. The hospitality and corporate FFO was given an average multiple, while the travel center business was given the lowest multiple of a comparable company. This sum of parts analysis arrives at a fair stock price of $13.79 or 38% lower than the current price.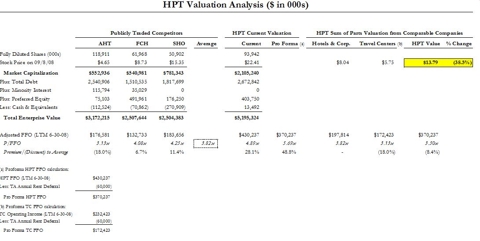 HTP's Dividend on Shaky Ground
The final consideration when evaluating HPT is the safety of the dividend. As is illustrated in the analysis below, HPT has a substantially lower dividend coverage ratio than any of its competitors. When rent deferral is taken into account, the company's FFO is only 114% of its dividend payments (versus 199% average). If the negative industry trends Avalanche Research detailed continue, HPT's dividend is at significant risk. HTP shareholders should look out below…

Disclosure: Author holds a short position in HPT