Excerpt from Raymond James strategist Jeffrey Saut's latest essay, published Monday (Sept. 8):
...it is difficult for us to envision a discernable trend for the equity markets until the credit markets straighten themselves out; and, that is just not happening as credit spreads above U.S. Treasuries have not narrowed in months (see the nearby chart from the "must have" Bespoke website). Still, while we have counseled participants all year that it is a mistake to get too bearish, we have also suggested it is a mistake to get too bullish, as 2008 has (so far) proven to be more of a trader's market than an investor's market.

And late-yesterday's "nationalization" of Freddie and Fannie may indeed be the spark for yet another trading rally. Unfortunately, at least for us, over the past few weeks we have recommended selling most "long" trading positions, bought into that mid-July "low," since history suggests you should look for an end of the summer rally in the first part of September followed by a stock-slide into early/mid-October that sinks the footings for the year-end rally. Moreover, NONE of the characteristics normally associated with a major market "low" were visible at those July "lows," even though we were pretty bullish back then...

The call for this week: Late last week we were telling accounts that if Friday's action mirrored "Thursday's Thumping" (-344 points), unless somebody in the government came out and did something over the weekend, the equity markets could be set up for a mini-crash. Since we don't take such "coin toss" bets, we are not in place to benefit from this morning's "Mac and Mae" mania. Alas, as Charles Dow opined, "The successful investor must be willing to ignore two out of every three money making opportunities." Or as Sun Tzu said 26 centuries earlier, "Strategy without tactics is the slowest route to victory. Tactics without strategy is the noise before defeat!"

P.S. – Where the heck is Franklin Raines!?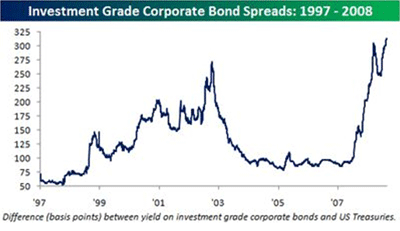 Click here to enlarge
Source: Bespoke