Netflix's (NASDAQ:NFLX) stock fell 16% from $68 to $57 yesterday, though it met analyst estimates for revenue and EPS in its Q3 results. The stock price plummeted due to longer term concerns of international profitability, domestic subscription growth, content cost obligations, and declining DVD business. In our last article discussing the bull and bear case for NFLX, we had said that a P/E multiple of 72x is not a tempting investment opportunity, as the company has many concerns to address. We still do not recommend buying NFLX.
Q32012 results:
While the company beat the already low EPS expectations of 5 cents by posting 13 cents, this was still 88% less than last year's EPS of $1.16 because of international growth initiatives. Sales were up 10% and met analyst expectations of $905 million. The net income of $8 million was almost flat as compared to last quarter's 6 million. Subscription costs jumped 28%, bringing the gross margin to 26.8%, down from 34.7% in Q32011. The company continues to rely on domestic streaming business to compensate for international presence/expansion costs, along with the declining DVD business.
Below is a table of what the company had guided to, taken from the NFLX investor letter for Q22012: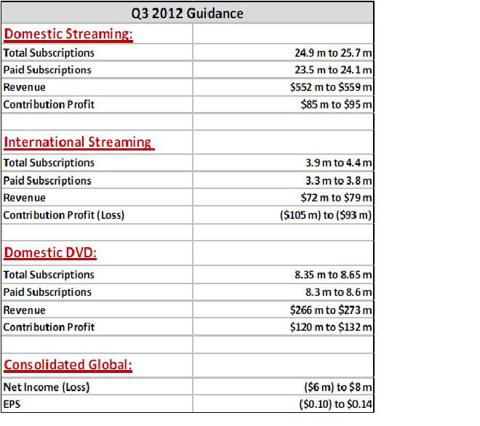 The company's actual results were in the upper end of the guidance ranges.
Total domestic subscription increased less than what analysts had expected. 1.16 million subscribers were added as compared to analyst estimates of 1.43 million. If the company had followed the growth rates for 2010, the domestic subscriptions should have increased by 1.6 million. The company had to cut its outlook from 7 million domestic subscription additions to 5.4 million.
International subscriptions grew by 0.69 million, but the loss from international expansion increased from $89 million in Q2 to $92 million in Q3 due to expansion in the Nordic regions, which include Sweden, Finland, Norway and Denmark. HBO is also expects a streaming service for the Nordic region. The results from this launch would be available from Q4. The U.K. and Ireland markets remain challenging for NFLX due to content expansion and competition from the likes of Amazon (NASDAQ:AMZN) LoveFilm and Sky.
Free cash flow was -$20 million for Q3. It had been low, but positive in the first two quarters of the i.e. $2 million in Q1 and $11 million in Q2. The free cash flow was negative due to cash payments for content as well as liabilities such as accounts payable. The company expects negative free cash flow for several quarters, as the company wants to invest in original content in addition to licensing content from providers, in the last quarter of this year, as well as in the next year. According to the investor letter for Q32012, NFLX has to pay for the 5-10 year original content license in the first few years. This means that the company would need plenty of cash in the coming quarters. The company had $798 million in cash and cash equivalents, along with short term investments. The operating cash flow (nine months ending) is $39 million.
The company currently has minimum obligations of $5 billion for content. This is almost the same as last quarter. The current portion of these obligations is expects. Owing to this, the company would have to make very careful content deals, and might have to give up exclusivity rights for deals (e.g. the recent Epix deal). These content deal developments could be catalysts for the declining stock price. The challenge for NFLX is the constant need to keep adding new and exclusive content, given the competition from Hulu, Amazon Prime and HBO.
Outlook:
While the company had said that it expected to show a loss for Q4 earlier this year, it gave a range of -$0.23/share to $0.04/share for Q4. International losses are expected to peak in Q4 (guidance range of -$119 million to -$107 million).
The company expects DVD subscriptions to continue to decline and be in the range of 7.85 million-8.15 million, down from 8.61 million in Q3. This means an expected decline of 5%- 9% as compared to Q3's decline of 6.8%, Q2's decline of 8.4% and Q1's decline of 9.7%. Thus, the rate of decline in the DVD business has slowed slightly.
The table below summarizes the Q4 guidance: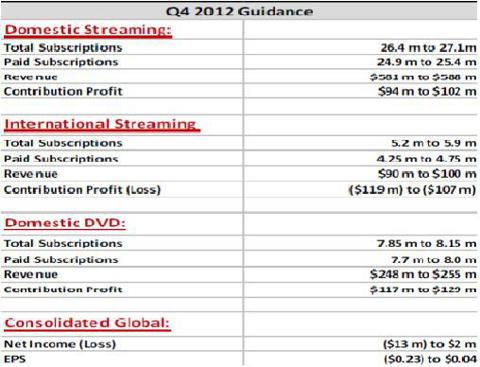 Conclusion:
We think that a forward P/E of 80x is too expensive for a company that has significant competition and tough cost obligations to meet. The company needs to continuously generate cash through its domestic streaming business so that it can spend it on content acquisition, original content and international markets. We still do not recommend buying NFLX. The stock is still down almost 17% since our first recommendation in July, when it was trading above $81.
Disclosure: I have no positions in any stocks mentioned, and no plans to initiate any positions within the next 72 hours.
Business relationship disclosure: The article has been written by Qineqt's Retail Analyst. Qineqt is not receiving compensation for it (other than from Seeking Alpha). Qineqt has no business relationship with any company whose stock is mentioned in this article.