Netflix (NASDAQ:NFLX) reported Q3 results yesterday.
Key highlights:
Revenue: $905 million
EPS $0.13 per share
FCF: negative $20 million
Domestic streaming subs: 25.1 million (+1.16 million q/q)
International streaming subs: 4.31 million (+0.69 million q/q)
Domestic DVD subs: 8.61 million ( -0.63 million q/q)
What I liked: International subs growth
Netflix's global subs growth is extremely resilient. International subs growth grew 191% y/y and 19% sequentially to 4.31 million.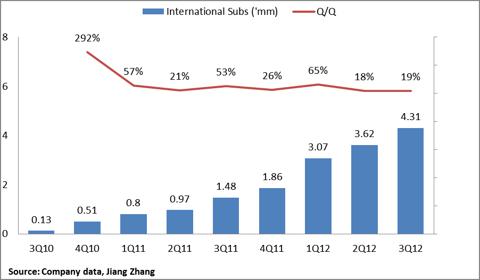 The strong growth was driven by UK and Ireland, which have over 1 million subs. However, Netflix is facing content pressure in the region because of competition from Sky and Amazon (NASDAQ:AMZN).
Latin America's 1 million subs only represents 50 million broadband household, indicating tremendous upside but poor online payments and credit card habits are preventing viewers to use the Netflix service. The bright side of Netflix's expansion is Canada, where the company has reached profitability two years after entering the market. In addition, subs is accelerating and the company is facing low churns.
What concerned me: Domestic subs, rising competition, negative cash flow
Net domestic streaming subs grew 1.16 million for the quarter, well below the consensus estimate of 1.43 million. The total subs of 25.1 million fell in the low-end of the company's guidance (24.9 - 25.7 million). Previously Netflix forecasted 7 million subs growth this year. But now, the company is expecting 5 million adds, +20% from 2011.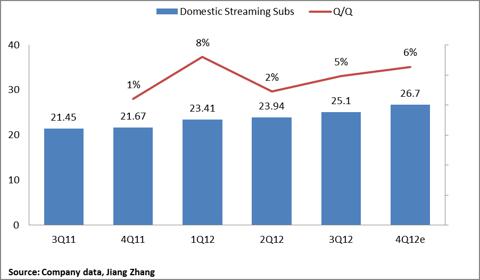 Part of the reason for the lower subs growth could be due to:
The Olympics, when less people tune into Netflix
Rising competition from Amazon, HBO, and Hulu
Both Hulu and Amazon are gaining traction relative to Netflix's viewing hours. Amazon has been bundling its Amazon Instant Video with Amazon Prime over the past couple years. The service features over 120K videos, including some newer releases such as "Madagascar 3", "That's My Boy" and "The Big Bang Theory", while Hulu continues to build its library with the backing of Comcast (NASDAQ:CMCSA), Disney (NYSE:DIS), and News Corp. (NASDAQ:NWS).
While Netflix was disruptive to the traditional brick-and-mortar movie rental model, the company is facing challenges in maintaining its standing from the other Internet TV providers. Days of low content cost, high subs growth and bargaining power with content providers are gone due to the growing number of companies offering similar services to Netflix. In the end, Netflix is at the mercy of content providers and the subscribers in that they are the ones with true bargaining power.
Finally, Netflix recorded a negative free cash flow of $20 this quarter and management expects the company to achieve negative free cash flow for several quarters. As of Q3, Netflix has $370 million in cash and cash equivalent, and $428 million in short-term investments.
Bottom line: Netflix is trading at 67x 2013e consensus, which I view is a bit rich given its near-term uncertainties. Investors are better off staying on the sidelines for now.
Disclosure: I have no positions in any stocks mentioned, and no plans to initiate any positions within the next 72 hours. I wrote this article myself, and it expresses my own opinions. I am not receiving compensation for it (other than from Seeking Alpha). I have no business relationship with any company whose stock is mentioned in this article.