The board of Sycamore Networks, Inc (NASDAQ:SCMR) made a shock announcement Tuesday, 23 October. Sycamore sold off some of its assets, while saying it would sell off the remaining assets of the business and close shop. NASDAQ temporarily halted trading in Sycamore's shares after the announcement was made.
In its press release off Business Wire, Sycamore's management:
...announced that it has signed a definitive asset sale agreement to sell substantially all of the assets of its Intelligent Bandwidth Management business to a subsidiary of Marlin Equity Partners (Marlin) for $18.75 million, subject to certain adjustments and the assumption by Marlin of certain liabilities.
The action requires shareholder approval.
At the same time the company declared a special dividend of $2. Since this is more than 25% of the share value, special NASDAQ rules kick in. Again, from the press release, the special dividend...
will be paid on November 12, 2012 to stockholders of record as of November 2, 2012. In accordance with NASDAQ Rule 11140(b), the ex-dividend date will be November 13, 2012, the first business day following the payment date for the cash distribution.
Earlier in October the company had issued a hefty $10 special dividend to shareholders from its massive cash trove. In an article at the time, I echoed many pundits' opinions that it was a good move for the board to unlock shareholder equity. Based on that and a surprisingly good 3Q earnings report, it looked like Sycamore was ready to finally turn the corner on profitability.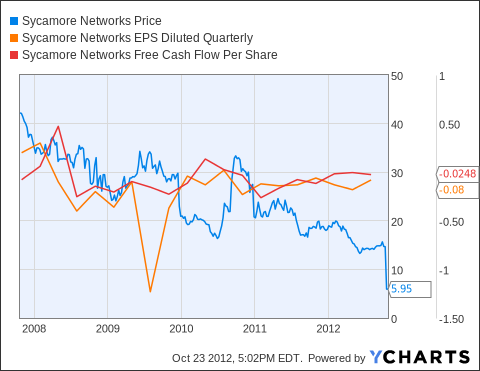 At least with the cash from the $10 special dividend happily in my account and improving numbers I was willing to hang on for a bit more. However it looks like the board does not expect that the positive results from the 3Q will continue.
The product Sycamore had laid its future on, IQ Stream, had been slow to gain sales. Now it seems that the board has lost faith that IQ Stream would ever develop into a reliable profit center. The press release continued:
The Company also announced that it is accelerating its pursuit of strategic alternatives for IQstream®, which may include an asset sale or other business combination transaction, or the discontinuation of the marketing and development of IQstream. The Company further announced that in the near term it will take certain cost reduction actions associated with its IQstream business, including workforce reductions and other cost containment measures.
Most management teams with a heavy cash position would have fought on. Instead the current team has taken the very Grahamian/Buffetonian action of returning the assets to the shareholders. I applaud them for their honesty and sincerity.
But what should a long investor like me to do? Well the $2 special dividend is nice. The company has around $2.50/share cash before the sale of the Intelligent bandwidth unit. It holds a book value of around $5.25-$5.50 depending on how you work the value on some of its assets.
With a closing price at $5.9794 Tuesday that is well above book value. While the company may be able to get more than book value for its assets, it is now a fire sale and I expect expenses to eat up much more than what more it could earn. Despite the upcoming $2 special dividend, it looks like a smart time for investors to hit the exits, so long as you can sell above $5. If the price goes below $5, it might be better to wait around for the assets to be liquidated.
Disclosure: I am long SCMR. I wrote this article myself, and it expresses my own opinions. I am not receiving compensation for it (other than from Seeking Alpha). I have no business relationship with any company whose stock is mentioned in this article.
Additional disclosure: I may sell SCMR within the next 72 hours.