Since the recent earnings report, Philip Morris (NYSE:PM) has been having a tough time along with most of the stocks in the market. This article lists six reasons (3 Fundamental, 2 Technical, and 1 Macro) why income investors looking for yield should be watching Philip Morris closely and perhaps set a limit buy order at $85. Let us get into the details right away.
Fundamental Reasons:
4% Yield Mark: Philip Morris increased its dividend yet again in September by 8 cents to 85 cents a share. That is $3.40 per year and $85 would give investors the magical 4% yield that many here at Seeking Alpha look for and love.
Valuation: Philip Morris is expected to earn $5.81 per share in 2013. That gives the $85 price a forward PE of 14.5, which is well below the average PE that PM has enjoyed over the past 5 years as shown below. Sure, the estimates might come down over the year but PM still dominates and even has room to grow in Asia, especially Indonesia and Philippines.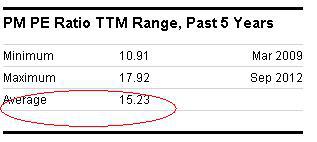 (Source: Ycharts.com)
Warren Buffett: Calm down, the sage of Omaha did not buy the stock recently. The point is about Buffett's famous quote "It's far better to buy a wonderful company at a fair price than a fair company at a wonderful price." Everyone knows that Philip Morris is a wonderful company. The bigger question is, is the price

fair

? The answer is yes if you look at the forward PE mentioned, add the dividend growth, and factor in that it operates in more than 200 countries with a potentially growing 15% market share.
Macro:
Volatile Market: After

smooth

sailing for most of 2012, the market is getting volatile of late. Case in point, the table below for Philip Morris. The stock, supposed to be a less volatile stock with a beta of 0.87, has moved up/down at an average of 2% the past 3 trading days. The same can be said of the market in general. A couple of more such down and volatile days, the stock might very well hit the $85 mark, which is why a limit order will help.

(Source: Finance.Yahoo.com)
Technical Reasons:
10% Correction: A $85 stock price would represent an almost 10% correction for Philip Morris. As mentioned in a few articles earlier, the 10% correction mark is often seen as healthy for stocks that have been on a run. The exact 10% correction mark is $84.7 for the record.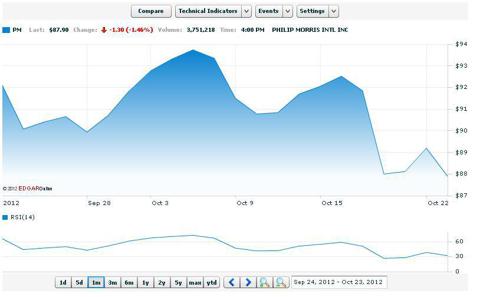 (Source: Nasdaq.com)
Conclusion: The stronger dollar and the general weakness in the economy (Europe especially) is a hindrance for all the companies that generate revenue from foreign countries. Philip Morris is no exception to that as evidenced in the recent earnings report. Companies that pay you to wait for a turnaround are your best bets during these uncertain times. And it helps if you have many more reasons to buy, like the ones mentioned above. If you are apprehensive about the market right now, you may want to buy in lots and average down if you desire.
Disclosure: I am long PM, AAPL, T. I wrote this article myself, and it expresses my own opinions. I am not receiving compensation for it (other than from Seeking Alpha). I have no business relationship with any company whose stock is mentioned in this article.