Personal computer bellwether shares dropped rapidly in recent weeks. Intel (INTC), Microsoft (MSFT), NVIDIA (NVDA), and Dell (DELL) each declined 8% or more in the last month: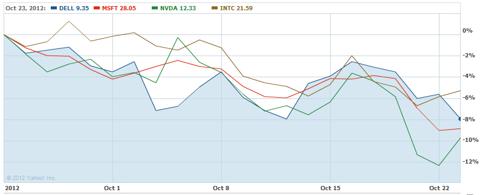 Click to enlarge
(Chart Source: Yahoo Finance)
Even with the sharp decline, graphics chip maker NVIDIA could also report weak results when it reports earnings on November 8 2012. The market is also anticipating that Dell, too, will announce it faced a weak quarter, when it reports on November 15. In its last quarter, Dell barely grew revenue when it reported a 1% increase to $15.7 billion. It did manage to grow earnings to $0.48, up 71% from the previous year.
Weak quarterly earnings from companies like IBM, reliant on enterprise sales, also led shares lower for the PC bellwethers. It is clear now that the technology faced negative headwinds last quarter. The market is anticipating that technology stocks, particularly companies relying on a rebound in PCs, will take several quarters to rebound.
Intel's earnings provided an indication on the direction for companies relying on PC sales. During its conference call, Intel said that September was a stronger month over July and August, but that its quarter grew at around half of the seasonal norm. Enterprise sales, which usually offset weak PC sales, were flat. Intel forecast business PC sales will continue to grow at a rate that is half of normal seasonality. A combination of market uncertainty and waiting for the release of Windows 8 are causing customers to lower inventory levels for computers.
Microsoft's conference call also confirmed the customer slowdown experienced by Intel. Microsoft said that PC sales declined during the quarter because its customers were anticipating the launch of Windows 8. Competitive pressures and a difficult macroeconomic climate were also to blame. This led to a revenue decline of 9% in the quarter for Microsoft.
Intel is affirming a weak quarter ahead. The decline in shares of PC bellwethers reflects this weak outlook. Any upside for the sector should not be expected for the rest of the year, even initially, after Windows 8 is launched. Uncertainty will grow as investors look for evidence in renewed demand. In the meantime, investors who want to benefit from the successful transition from traditional PCs to touch-based ones could be rewarded early next year.
There are three reasons why a transition in the PC sector will lead to growth in 2013.
1) Low Mainstream Prices for Ultrabook
In late-2011, the PC industry touted thin, light, power-saving laptops, called Ultrabooks, would reinvigorate computer sales. Since that time, sales growth was unimpressive. The industry had forecast Ultrabooks would rise from $1.3 billion in 2011 to $75.8 billion in 2016.
In its recent quarterly conference call, Intel said that there will be over 140 Ultrabooks on the market when Windows 8 is released, and 40 of them will be touch-enabled. Devices that convert between tablet and laptop are also being designed by Intel customers. Demand will be relatively stronger for Ultrabooks, since mainstream units are priced at $699. This will also appeal to consumers who prefer a thin device with desktop capabilities that do not compromise on productivity. Convertibility is also another appeal to users. Intel's new "Haswell" chip architecture supports tablets with detachable touch screens.
2) Low Inventory in PC Channels
In the last PC downturn in 2008, high inventory delayed a recovery for many companies. Higher PC shipments were a result of an economic downturn, one which would later be known as the great recession of 2008-2009. This time around, Intel reduced its factory utilization, which will lower processor inventory levels by $500 million. Capital expenditure is also being reduced by $1.2 billion, as Intel shifts to manufacturing 14-nanometer technologies. In the last quarter, Intel customers maintained low inventories, which is not seasonally the norm. Customers likely anticipated weak computing demand ahead of the launch of Microsoft Windows 8. The weaker economy was likely also a factor. This situation should be positive for the PC sector, especially if demand picks up.
The shift to lower inventories will be negative for Intel in the short-term. Intel forecasted gross margins will decline from 63% down to 57%. The decline is due to excess capacity charges, and expectation that inventory reserves will increase as production for the 22-nanometer "Haswell" begins. As PC demand picks up, the company is well-positioned to participate in an uptick in demand.
3) Windows 8 a Catalyst
When Windows 8 is launched this month, it marks the beginning of a transition in bringing gesture touch to the mainstream PC market for the first time. Still, Intel is cautious that this will help sales in PCs. Intel said it would know if PC demand will improve 90 days after Windows 8 is launched.
The refreshed Windows 8 operating system is scheduled to be launched on October 26. Otellini, Intel's CEO, said that feedback for touch-enabled Ultrabooks was positive, but that new designs have yet to be launched. There are signs that the launch of Windows 8 will be successful. Microsoft said that presale revenues for Windows 8 OEM were $800 million, which is 40% higher than Windows 7 presales revenue.
Conclusion
Investors were too early bidding up shares in Microsoft and Intel, as shares rose in 2012 to around 25% and 20% at its peak, respectively. When demand for PCs slowed last quarter, as customers waited for Windows 8 to be released, it hurt the quarterly results of Microsoft and Intel. For the year-to-date, Microsoft is up 10% this year, but Intel is down more than 10%.
The weak quarter is temporary.
Customers, especially corporate ones, will still demand manageable, secure, and integrated tablet devices that Windows-based ones offer. Evaluating products that meet this need will take some time. As many new products are rolled out, it will offer more choices for customers. As PC makers innovate in design and usability around the Windows 8 architecture, shareholders exposed to the sector will be rewarded.
Disclosure: I have no positions in any stocks mentioned, but may initiate a long position in MSFT over the next 72 hours. I wrote this article myself, and it expresses my own opinions. I am not receiving compensation for it (other than from Seeking Alpha). I have no business relationship with any company whose stock is mentioned in this article.