We have an equal-weight rating on the Dow Chemical Company (NYSE:DOW) in the short term; however, we are bullish on the stock in the long term because of its healthy dividend yield of 4.3%, and we recommend investors seeking dividend income go long the stock. They reported earnings last night, beating sell side estimates, and the stock is up 5% on the beat. Its share price can face some pressure in the near term due to rising natural gas prices.
DOW is a diversified petrochemical play. It continues to operate in a very challenging environment, as is evident from the recently announced restructuring program. The recent acquisition of Rohm and Haas has favorably shifted DOW's portfolio towards higher margin specialty businesses. However, the macroeconomic environment is likely to persist in the short and medium terms (recessionary conditions in Europe and sluggish Chinese growth), and the rising natural gas and propane prices are like to squeeze margins.
Natural Gas Prices
U.S. natural gas prices, currently trading at 3.27/mmbtu, are up almost 20 percent since July and are at their highest, YTD. September saw the largest increase in prices. Higher than average nuclear power outages, cooler than normal monthly temperatures in the Midwest and South, and a major explosion at a Mexican gas processing plant near the U.S. border, which according to Citi analyst P.J. Juvekar will probably increase U.S. gas exports to Mexico, drove prices higher. A continuous increase in gas prices could negatively impact earnings for Q4'12 and the next year. DOW uses gas to generate power, and as a feedstock for chlor-alkali, higher gas prices will negatively affect the ethylene producer.
Henry Hub Natural Gas Spot Price (6m) Henry Hub Natural Gas Spot Price (YTD)
Ethane and Propane Prices
The negative impact of rising natural gas prices could aggravate if propane and ethane prices also rise along with natural gas. However, ethane prices remain depressed for the third quarter and more than offset the negative impact of higher natural gas prices. Ethane prices recently dropped to $0.30/gal, DOWn 60 percent from $0.75/gal in January. The ethane market remains oversupplied, and the situation is not expected to change in the next few years. By the end of 2012, DOW will also restart its St. Charles ethylene cracker with total ethylene capacity of 386ktns. The oversupplied market and depressed prices continue to be a tailwind for DOW.
On the other hand, the outlook for propane prices, according to the Bank of America (NYSE:BAC) and Goldman Sachs (NYSE:GS), is stronger than ethane. Inventories for U.S. propylene declined for the seventh consecutive week. The oversupplied market has been a factor in keeping propane prices depressed; however, this is expected to change as inventory normalizes in the coming months due to a recovery in winter heating demand and increased export opportunities. According to Morgan Stanley, 10 percent of the supply is likely to be removed from the market in early 2013 by normal seasonal turnarounds.
Company Overview:
The DOW Chemical Company is the largest chemical company in the United States, and the second largest chemical company in the world, behind BASF SE. The company has a diversified portfolio of specialty chemicals, specialty and commodity plastics, agro sciences, and advanced materials. DOW's product range includes chemicals such as polyethylene, ethylene glycol, and caustic soda. The company is also a leading producer of differentiated chemicals and plastics for construction, industrial, agriculture, and automotive-end markets. DOW has six reporting segments; electronic and functional materials, coatings and infrastructure solutions, agriculture sciences, performance materials, performance plastics, feedstocks and energy, and corporate. Performance materials and performance plastics accounted for half of 2011's revenues. DOW recently purchased Rohm and Haas, a specialty chemical producer.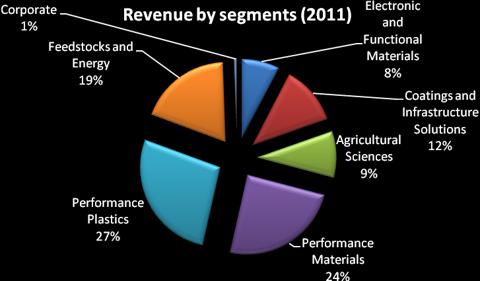 Third Quarter Earnings
DOW reported third quarter earnings of $0.42 EPS against consensus estimates $0.37 and below Q3'11 EPS of $0.62. Better-than-expected volumes, cost improvements, and strong plastic and materials margins helped DOW beat sell side estimates. However, EPS declined 32 per cent y/y and 24 per cent sequentially. The decline in quarterly profit was largely attributable to prices decline across all regions, led by Europe and China. Prices declined by 9 per cent; however volumes rose by 2 per cent. Higher-than-expected tax rate of 28 per cent also had a negative impact on earnings. As part of the restructuring program announced, DOW will close 20 manufacturing sites cutting 2500 jobs. The program is expected to save $500 million in costs by end of 2014. Majority of the reductions are expected in Europe, due to ongoing decline in demand which is not expected to improve either. However, the program is not expected to affect investments in Saudi Arabia and planned expansion on the US Gulf Cost.
Financials
DOW is trading at a forward P/E of 11x, approximately the same as E I Du Pont De Nemours And Co (NYSE:DD). It has a PEG ratio of 2.60 against DD's PEG ratio of 2.75. DOW has a decent long term earnings growth rate of 6 percent. It has a handsome dividend yield of 4.3 percent against 3.5 percent for DD and 2.9 percent for LyondellBasell Industries N.V (NYSE:LYB).
| | | | |
| --- | --- | --- | --- |
| Comp Sheet | DOW | DD | LYB |
| Trailing P/E (NYSE:TTM) | 18x | 12.23x | 14.90x |
| Forward P/E (1 year) | 11x | 10.52x | N/A |
| PEG ratio (5 year expected) | 2.60 | 2.75 | N/A |
| EV/EBITDA | 7.63 | 7.88 | 6.59 |
| Dividend yield | 4.3% | 3.5% | 2.9% |
| Long-term earnings growth rate | 6% | 4.6% | |
| Share price Performance (YTD) | -4.16% | -2.71% | 58.44% |
Source: Yahoo Finance.
Risks to our analysis
Weather impacts, foreign exchange rates, and rising natural gas prices present the biggest risks to our analysis.
Weather Impacts Weather plays a huge role in DOW's agriculture chemical demand. Droughts and continuous rains could have a negative impact on crop plantings and agriculture chemical use, thereby negatively impacting DOW's earnings.
Foreign Exchange - DOW has operations across the globe, leaving the company vulnerable to currency movements. Almost one-third of DOW's revenues come from the EMEA region, and it is expanding its operations in Latin America. Unfavorable movement in currencies could impact DOW's earnings.
Ethane and Natural Gas Prices - A persistent increase in natural gas prices and an unexpected rise in ethane costs would increase DOW's costs and negatively impact earnings.
Disclosure: I have no positions in any stocks mentioned, and no plans to initiate any positions within the next 72 hours.
Business relationship disclosure: The article has been written by Qineqt's Basic Material Analyst. Qineqt is not receiving compensation for it (other than from Seeking Alpha). Qineqt has no business relationship with any company whose stock is mentioned in this article.