Check Point Software Technologies (NASDAQ:CHKP) has had a challenging six months and the stock is down more than 30% from its $65/share high hit in the second quarter. However, it is launching new products and has received a rash of positive analyst comments and rating upgrades over the last week. It is selling for a cheap valuation and looks as if it has good technical support at these levels. It might be time to start to bottom-fish this premiere provider of security solutions.
Possible catalysts for Checkpoint Software:
Bank of America just upgraded the stock from a "neutral" to a "buy" on valuation. It also raised its price target from $47 to $52 a share.
JPMorgan also raised its rating from "neutral" to "overweight" today.
TheStreet reiterated its buy rating on the stock yesterday.
Finally, Standpoint Research upgraded the shares from a "hold" to a "buy" earlier in the week.
It has two-year technical support at these levels (see chart below).
Click to enlarge image.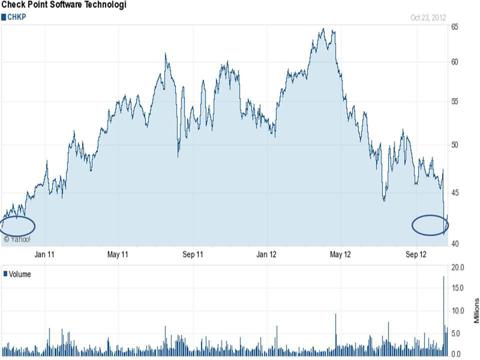 Click to enlarge
Check Point Software Technologies develops and supports a range of software and combined hardware and software products and services for information technology security worldwide.
Here are four reasons Check Point is a good value at $43 a share:
The company has a robust balance sheet with nearly $1.5 billion in net cash on the books (over 15% of its market capitalization).
The stock is selling near the bottom of its five-year valuation range based on P/E, P/S, P/CF, and P/B.
The mean analyst price target of the 22 analysts who cover the stock is $54 a share. Credit Suisse has an "outperform" rating and a $55 price target on the stock.
The company has grown earnings per share at better than a 20% annual clip over the past five years, despite the difficult economic environment. The company is going for less than 13 times forward earnings (11 times accounting for net cash).
Disclosure: I have no positions in any stocks mentioned, but may initiate a long position in CHKP over the next 72 hours. I wrote this article myself, and it expresses my own opinions. I am not receiving compensation for it (other than from Seeking Alpha). I have no business relationship with any company whose stock is mentioned in this article.