We reiterate our bullish stance on Schlumberger (NYSE:SLB), based upon its impressive growth in revenues, profits and bright future prospects. We have estimated our 12-month target price as $110, with a significant upside of 55 percent. The company estimates double-digit growth in earning per share in the fiscal year 2013, with the expected increase in drilling activities and cost efficiencies being brought in its operations. Its 2.2 million shares repurchases in the third quarter of 2012 and impressive dividend payout of 26% are positive signs for investors.
The company has posted strong Q3 results when compared to other oilfield companies, including Baker Hughes (NYSE:BHI) and Halliburton (NYSE:HAL). The company has performed well in the Asian Pacific and Middle Eastern regions, with approximately more than 7 percent growth in revenues in the aforementioned regions. High revenue growth in China and Saudi Arabia has also enabled the company to improve its margins.
Schlumberger has reported earnings per share of $1.08, which beat analyst estimates by $0.02, due to its high operational efficiencies and strong growth in Middle East, Asia, Europe and Africa. The company registered revenues of $10.6 billion in Q32012, which missed analyst estimates by $70 million. Its revenue has increased from $9.55 billion in Q32011 and $10.4 billion in Q22012. In our opinion, Schlumberger has properly utilized its liquidity in the third quarter by spending $80 million on its acquisition and $149 million on its share repurchase programs to maximize returns for its shareholders. The company has capitalized on liquidity resulting from the sale of its fifty-six percent equity stake in CE Franklin (CFK) for an amount of $122 million. In order to capitalize on its future growth projects and meet financing needs, the company has issued $1 billion of 5-year notes at the rate of 1.25 percent, and $1 billion of 10-year notes at 2.4 percent.
In our opinion, the company's margin growth will improve in the coming period, with the expected increase in drilling activities. The company is operating in a highly profitable market, and has strong growth prospects to cater to the upcoming expected energy demand.
Stock Price Movements:

Click to enlarge
Source: Google Finance
Since the company is generating the major proportion of its revenue (31%) in Q3 from the North American region, the sharp decline of 53% in natural gas rig count in the region has exerted pressure on the company's profitability. Due to the aforementioned reasons, the stock has only shown an upside of 2% over the course of the last three months. But the increasing natural gas consumption, due to the structural shift from oil to gas and also because of the start of the winter season, has improved natural gas prices by 94% over the last 5 months, as shown in the graph below. We believe the rising natural gas consumption will enable the company to facilitate companies in more drilling activities and generate considerable revenues going forward. In our opinion, the stock price will significantly move upwards in the coming period.
Natural Gas Price: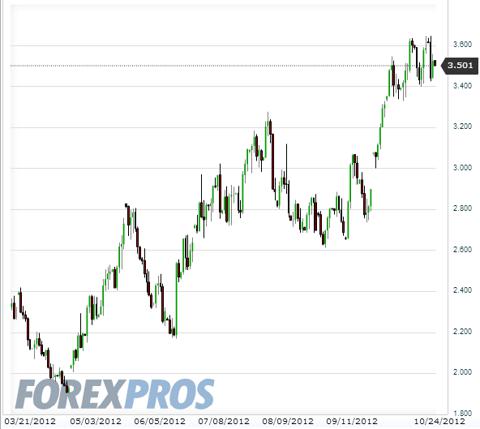 Click to enlarge
Source: ForexPros
Valuation:

Click to enlarge
Source: yahoo finance
We maintain our 12-month target price of $110 (by using historical average of EV/EBITADA multiple), with a considerable upside of 55%. SLB is trading at a forward P/E of 14.6x, at a premium when compared to its peers Baker Hughes' and Halliburton's forward P/E multiples of 11.3x and 10.3x. The low five-year expected PEG ratio of 0.9 depicts that investors can buy growth cheaply.
Details of SLB's target price of $110 are as follows: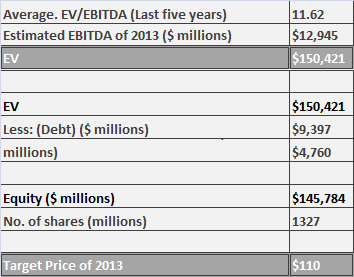 Disclosure: I have no positions in any stocks mentioned, and no plans to initiate any positions within the next 72 hours.
Business relationship disclosure: The article has been written by Qineqt's Energy Analyst. Qineqt is not receiving compensation for it (other than from Seeking Alpha). Qineqt has no business relationship with any company whose stock is mentioned in this article.