Our fast-paced, speed-of-light information feed world makes all of us subject to the temptations of trading stocks rather than investing in companies.
Major share price fluctuations seduce otherwise sane individuals into thinking they can call market movements with enough accuracy to outperform the time-tested but now old-fashioned buy-and-hold strategy.
In and out trading presumes you can overcome frictional costs (bid-ask spreads, commissions and taxes) while overcoming human nature (buying at tops and selling at bottoms). That's a tough task.
We have all read about investment legends like Warren Buffett, John Templeton and Ben Graham but I'm guessing few of us could name even one or two famous traders that stood the test of time. History is littered with Fund Managers of the Year or even the Decade that flamed out at almost the exact moment they were being anointed by Fortune or Forbes.
Over long periods of time well-run firms that consistently raise their payouts have far outperformed major indices as well as most non-dividend paying issues. The 14 companies shown below have all increased their dividends at least once during each of the past 50 years.
The initial yields may not have been the largest available 20 years ago. Their steadily higher distribution rates, though, have turned them into superior income generators based on those original purchase prices.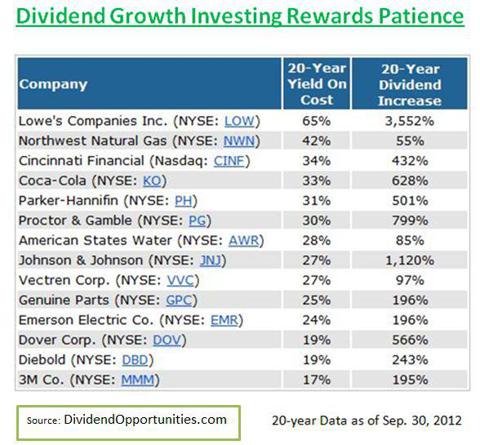 Admittedly, it was not assured two decades ago that all these yields would continue to grow each year. Each of the 14, however, already sported prior track records of 30 - 38 years in carrying out this stated goal.
The 'yield on cost' numbers look more attractive than ever in our ZIRP (zero interest rate policy) world.
Did dividends come at the expense of capital appreciation? The opposite was true. Growing income components led to total returns that outpaced the benchmark (S&P 500) on 100% of the fourteen stocks listed.
I have written extensively here on Seeking Alpha about this topic previously. You can see many of my favorite stocks to own and stocks to avoid by clicking here and here. My "Dirty Dozen" article includes some outstanding non-yielding shares also because no one strategy is always best.
Long-term thinking avoids most of the pitfalls associated with the high-frequency trading that dominates today's volume statistics. If anything those wild swings can create buying opportunities at favorable prices for those who set up "wish lists" and use limit orders to buy at below market quotes.
Many other fine companies have shown decades of ever-rising payouts. The data above is just shown as examples of typical results for these types of plays.
I will occasionally trade out of even the best holdings when I feel their valuations get excessively rich. There are always alternatives that meet all my criteria while providing better entry points.
People trading their asses off may be making asses of themselves. Nobody forces you to do the same with your hard-earned money.
Disclosure: I am long EMR, DOV. I wrote this article myself, and it expresses my own opinions. I am not receiving compensation for it (other than from Seeking Alpha). I have no business relationship with any company whose stock is mentioned in this article.