Don't be surprised if investors in Amazon (NASDAQ:AMZN) shares will be acting more like they're from Missouri, the "Show Me" state. Amazon's latest quarterly earnings might very well beat the Thomson Reuters mean estimate of -$0.08/share, according to StarMine's SmartEstimate of best-rated analysts who follow the stock. But one has to wonder when Amazon can convert its revenue growth into earnings, given the lofty price investors are paying today to own the stock, and at what point earnings will begin to matter.
The SmartEstimate is leaning toward an Amazon report closer to -$0.06/share, which is two cents and 19% better than the mean, though the SmartEstimate for revenues of $13.97 billion is only three-tenths of a percent above the mean revenue estimate of $13.93 billion. The table below shows the uneven pattern for the past eight quarters of Amazon earnings surprises, and the 30-day price change in the stock after the earnings report.
Click to enlarge images.
Amazon -- Earnings Surprise History

Earnings for this year are forecast at $0.69/share, though the SmartEstimate is 11% higher, at $0.77. That's actually down from $1.37/share in 2011and $2.53 in 2010 (see table below).
Amazon -- Annual EPS History

The potentially good news is that earnings are expected to grow next year to $2.30, according to the Thomson Reuters mean estimate. But after that, watch out. StarMine calculates that the market is pricing Amazon's shares as if the company will generate 53% compound annual earnings growth over the next five years.
The current forward 12-month P/E ratio stands at 117, compared to the median five-year value of 49.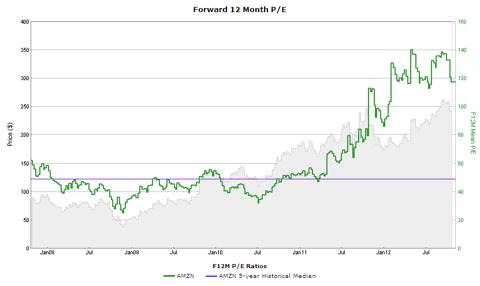 With the current price of Amazon shares around $231, more investors may be considering the "show me" aspect of Amazon's ability to deliver earnings in the long run.
Disclosure: I have no positions in any stocks mentioned, and no plans to initiate any positions within the next 72 hours. I wrote this article myself, and it expresses my own opinions. I am not receiving compensation for it. I have no business relationship with any company whose stock is mentioned in this article.