This "Septober" periodic installment summarizes eight sectors compared to the Dow industrials based on relative strengths of (1) yield and (2) dividend vs price gaps using projected annual dividends from $1000 invested in the ten highest yielding stocks in each sector as of September 28 and October 3. Results for the Dow index provided a baseline.
This effort was part of an ongoing one to respond to the question, "which dividend stocks were good, better, best, bad, or ugly, after September?"
The research was also in keeping with Yale professor Robert Shiller's observation: "People still place too much confidence in the markets and have too strong a belief that paying attention to the gyrations in their investments will someday make them rich, and so they do not make conservative preparations for possible bad outcomes." Thus this article graphically depicted the gyrations.
Dogs of the Index Metrics Selected Ten in Each Group
Two key metrics determined the yields that ranked index or sector dog stocks: (1) stock price; (2) annual dividend. Dividing the annual dividend by the price of the stock declared the percentage yield by which each dog stock was ranked.
Historically dividend dog investors utilized this ranking system to select portfolios of five or ten stocks in any one index, sector, or survey to trade. They awaited the results from their investments in the lowest priced, highest yielding stocks and prayed that the price of every stock they now owned climbed higher (having locked in a high yield percentage at purchase).
This Dogs of the Index strategy, popularized by Michael B. O'Higgins in the book "Beating The Dow" (HarperCollins, 1991), revealed how low yielding stocks whose prices increase (and whose dividend yields therefore decrease) could be sold off once each year to sweep gains and reinvest seed money into higher yielding stocks in the same index.
Sector Synopses
Ten dogs for each sector displayed their annual dividends from $1000 invested in those highest yielding stocks in the sector and index compared to the aggregate single share prices of those top ten stocks to produce the summary graphs shown below:
Basic Materials Dividend Dogs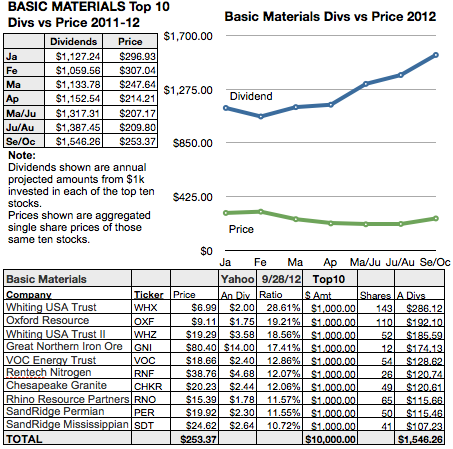 Top ten basic materials stocks paying the biggest dividends after September mostly represented oil and/or gas industries: Whiting USA Trust I (NYSE:WHX), a driller; Whiting USA Trust II (WHZ), an independent; VOC Energy Trust (NYSE:VOC), an independent; Chesapeake Granite Wash Trust (NYSE:CHKR), an independent; Sandridge Permian Trust (NYSE:PER), an independent; SandRidge Mississippian Trust I (NYSE:SDT), an independent. Just four of the top ten basic materials firms did not mention oil or gas in their industry description: Oxford Resource Partners (OXF) a metal and minerals firm; Great Northern Iron Ore Properties (NYSE:GNI), a steel and iron concern; Rentech Nitrogen Partners (NYSE:RNF), in agricultural chemicals; Rhino Resource Partners (NYSE:RNO) a nonmetallic mineral miner.
Consumer Goods Dividend Dogs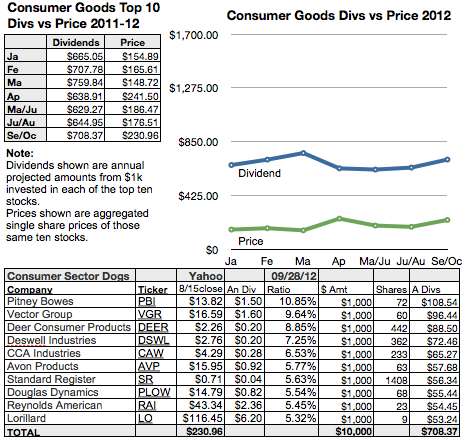 The top ten consumer goods stocks showing the biggest dividend yields after September represented seven industries. Tops was the one equipment firm listed, Pitney Bowes (NYSE:PBI). Second dog, Vector (NYSE:VGR) was one of three from the cigarettes industry. Other top ten dogs in the same cigarettes industry group were Reynolds (NYSE:RAI), ninth, and Lorillard (NYSE:LO), tenth. One home furnishings firm, Deer Consumer Products (NASDAQ:DEER) was third by yield. The one rubber & plastics firm listed, Deswell Industries (NYSEARCA:DES) was fourth. Two personal products industry firms placed fifth and sixth: CCA Industries (NYSEMKT:CAW), and Avon Products (NYSE:AVP). The balance of the top ten were: office supplies firm, Standard Register (NYSE:SR), and in auto parts, Douglas Dynamics (NYSE:PLOW).
Financial Dividend Dogs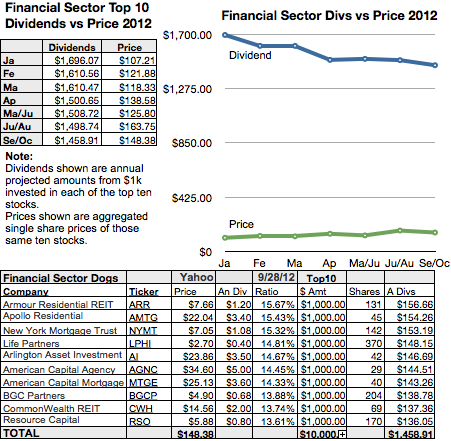 Top ten financial sector dogs showing the biggest dividend yields after September represented five industries. Top financial sector stock Armour (NYSE:ARR) was one of seven REITs in the top ten. Five including Armour, Apollo Residential Mortgage (NYSE:AMTG), New York Mortgage Trust (NASDAQ:NYMT), American Capital (NASDAQ:AGNC), and CommonWealth REIT (NYSE:CWH), were residential REITs; American Capital Mortgage (NASDAQ:MTGE) was a diversified REIT, and Resource (NYSE:RSO) was a retail REIT. The remaining two industries were represented by Life Partners (NASDAQ:LPHI) doing insurance, and Arlington Asset Investment (NYSE:AI), an investment brokerage.
Healthcare Dividend Dogs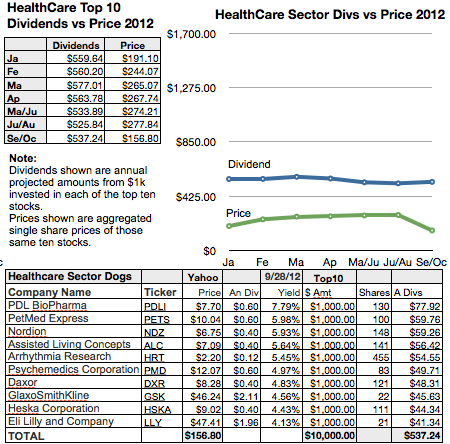 Ten healthcare sector stocks showing the biggest dividend yields after September represented eight industries. Top healthcare sector stock PDL BioPharma (NASDAQ:PDLI) was one of two biotechnology firms in the top ten. Heska Corporation (NASDAQ:HSKA) was the other biotech and took ninth place. PetMed Express (NASDAQ:PETS), in second represented drug delivery firms. Nordion in third place provides specialized health services. Assisted Living Concepts (NYSE:ALC) represented long-term care facilities in fourth position. The fifth slot went to Arrhythmia Research Technology (NYSEMKT:HRT), delivering medical appliances and equipment. Psychemedics (NASDAQ:PMD) appeared sixth as a medical laboratories and research firm. Daxor Corp (NYSEMKT:DXR), providing medical instruments and supplies took seventh place. Two drug manufacturers - major firms completed the top ten healthcare dogs: GlaxoSmithKline (NYSE:GSK), and Eli Lilly (NYSE:LLY).
Industrial Goods Dividend Dogs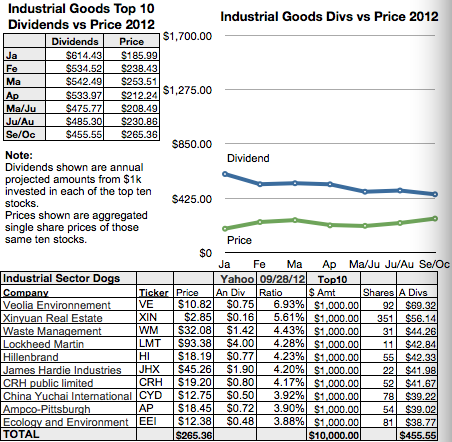 Ten industrial goods sector stocks showing the biggest dividend yields after September represented five industries. Top industrial goods sector stock Veolia Environement (VE) was one of three waste management firms in the top ten. The others were Waste Management (NYSE:WM) in third place, and Ecology and Environment (NASDAQ:EEI) in tenth. Xinyuan Real Estate (NYSE:XIN) in second, does residential construction. Aerospace & defense products & services was represented by Lockheed Martin (NYSE:LMT) in fourth place. The remaining five in the top ten represented two industries each: James Hardie Industries (NYSE:JHX), and CRH public limited company (NYSE:CRH), make cement; Hillenbrand (NYSE:HI), China Yuchai International (NYSE:CYD), and Ampco-Pittsburgh Corporation (NYSE:AP) make diversified machinery.
Services Dividend Dogs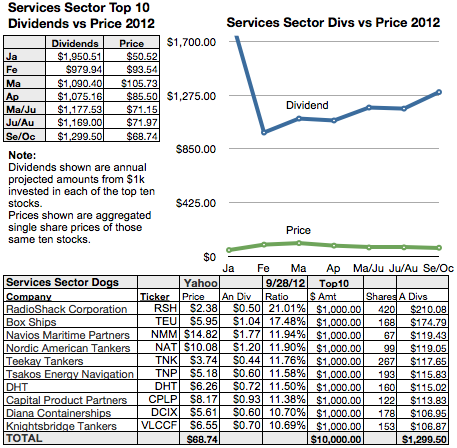 The top ten services sector stocks showing the biggest dividend yields after September represented two industries. Top sector stock RadioShack Corporation (NYSE:RSH), with its electronic stores was the only retailer. The others were all in shipping: Box Ships (NYSE:TEU); Navios Maritime Partners (NYSE:NMM); Nordic American Tankers (NYSE:NAT); Teekay Takers (NYSE:TNK); Tsakos Energy Navigation (NYSE:TNP); DHT Holdings (NYSE:DHT); Capital Product Partners (NASDAQ:CPLP); Diana Containerships (NASDAQ:DCIX); Knightsbridge Tankers (VLCCF).
Technology Dividend Dogs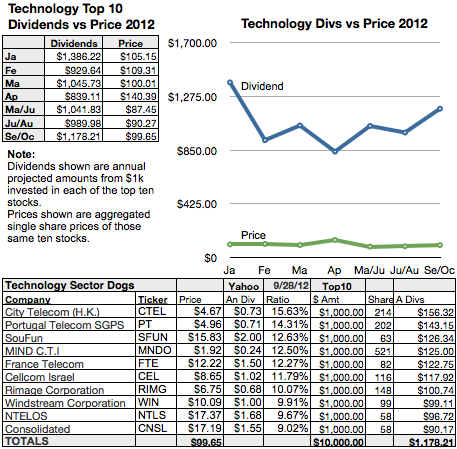 Top ten technology sector stocks showing the biggest dividend yields after September represented six industries. Top technology sector stock City Telecom (H.K.) (CTEL) was one of three telecom services - foreign firms. Portugal Telecom SGPS (NYSE:PT) was number two and France Telecom (FTE) came in at number five. SouFun (NYSE:SFUN) at number three represented internet information providers. MIND C.T.I (NASDAQ:MNDO) in fourth provides information technology. Cellcom Israel (NYSE:CEL) in the sixth slot, and NTELOS Holdings Corp. (NASDAQ:NTLS) in eighth, showed up for wireless. Rimage Corporation (RIMG) in seventh place makes computer peripherals. The remaining industry was telecom services - domestic represented by Windstream Corporation (NASDAQ:WIN) in eighth, and Consolidated Communications Holdings (NASDAQ:CNSL) in tenth.
Utility Dividend Dogs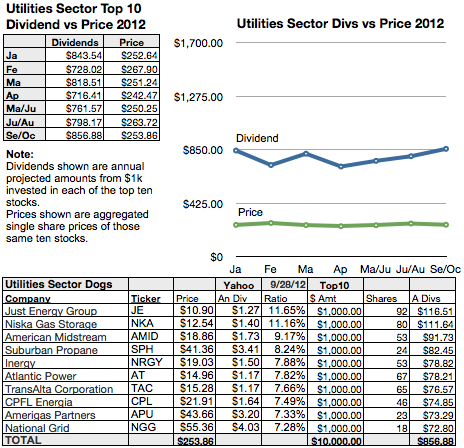 The top ten utilities sector stocks showing the biggest dividend yields after September represented four industries: diversified; gas; electric; foreign. Top dog, Just Energy Group (NYSE:JE) was one of two diversified firms; TransAlta Corporation (NYSE:TAC) in seventh place was the other. Four gas firms clustered in positions two to five near the top of the list were: Niska Gas Storage (NYSE:NKA); American Midstream Partners (NYSE:AMID); Suburban Propane Partners (NYSE:SPH); Inergy, L.P. (NRGY). One electric Utility was listed in sixth position, Atlantic Power Corporation (NYSE:AT). One foreign utility, CPFL Energia (NYSE:CPL) was listed eighth. Finally, two more gas utilities completed the top ten, Amerigas Partners (NYSE:APU), and National Grid (NYSE:NGG).
Dow Industrial Dividend Dogs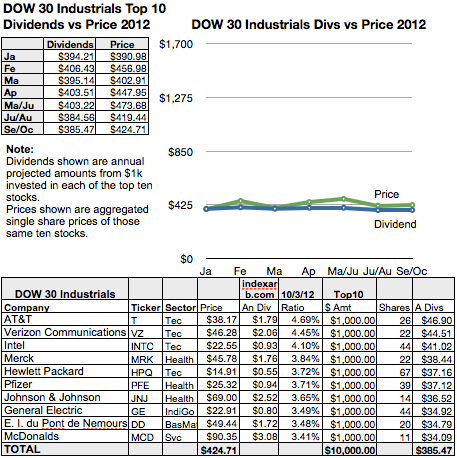 Four technology firms led the Dow top ten showing the biggest dividend yields after September, according to IndexArb.com: (1) AT&T (NYSE:T); (2) Verizon (NYSE:VZ); (3) Intel Corporation (NASDAQ:INTC); (5) Hewlett Packard (NYSE:HPQ). The rest of the Dow ten included three healthcare dogs: (4) Merck (NYSE:MRK); (6) Pfizer (NYSE:PFE); (7) Johnson & Johnson (NYSE:JNJ). One industrial made the dog list, (8) General Electric (NYSE:GE). One basic materials firm (9) Dupont (NYSE:DD) was ninth. A services firm, (10) McDonald's (NYSE:MCD) completed the ten top Dow dogs.
All Together Now
Each graph below shows monthly points of comparison between annual projected dividends resulting from $10,000 invested as $1,000 each in the top ten high yield stocks (blue points) versus the total prices of one share of each of the ten stocks (green points) by index. Grouped together the graphs display seven periods of comparative gyrations of eight sectors and the Dow index.

Sector Dogs Vie for Dividend Dominance
The following graph shows annual dividends projected from $1000 invested in each of ten stocks with the top yields in eight sectors compared to those of the Dow. The chart plotted projected yields as of a specific purchase date near the middle of each period since January. Projected yields increased in the sectors when average stock prices fell. When prices escalated yields dropped.
Relative yield strengths differentiated the sectors. The Dow shows the lowest yield with a low trajectory swing down of 3.7% since August. Healthcare was up 2.17%; industrial goods yield jumped 10.7% since August; consumer goods yield popped up 9.83%; utilities sparked 7.36%; technology increased 19%; services sector also vectored up 11.16% by yield since August; financial yields were down 2.66%; basic materials popped up 11.45% since August.
Annual Dividends Forecast from $1k Invested in each of 10 Top Yielding Stocks in 8 Sectors & the Dow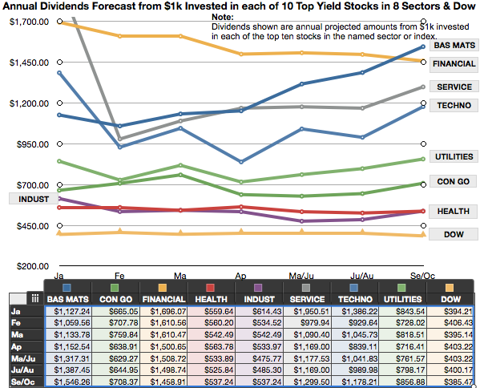 Relative Risk of Dogs by Sector Gauged by Dividend vs. Price Divergence since September
A reader request to "add relative financial data on the companies selected" for a previous article comparing indices by annual yield projections has inspired a simple tool to gauge investment risk. The tool is best applied prior to the purchase of any 5 or 10 Dogs of the Index stocks at any point during the year. This information will continue to be reviewed monthly as one step toward Robert Schiller's admonishment to "make conservative preparations for possible bad outcomes."
Dogfight for Dividend Dominance Decided
To show risk the gap between annual projected dividends resulting from $10,000 invested as $1,000 each in the top ten highest yielding stocks in an index or sector is measured against total prices of one share of each of those ten stocks in that same index or sector. These eight representative market sectors and Dow index displayed their relative divergences of dividend vs. price in the following order: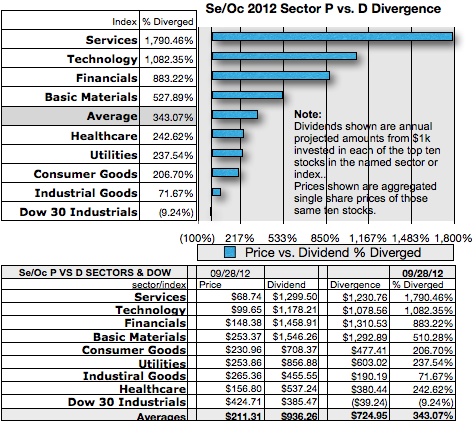 The services sector blasted to top risk status after September as it showed 1,790.46% divergence of dividend projected from $1000 invested in each of it's top ten stocks from the aggregate single share price of those ten. Technology showed 1,082.35% divergence; financials diverged 883.22% after September; basic materials showed a gap of 527.89% between dividend and price; the average gap for the eight sectors plus the Dow was 343.07%; healthcare diverged 242.62%; utilities aggregate single share stock price diverged 237.54% from dividends projected for $1k invested in each of the ten; consumer goods showed a 206.7% gap; industrial goods dividends diverged 71.87% from price; Dow industrial top ten dogs however continued to show an overbought status as aggregate single share price exceeded dividends from $1k invested in each by 9.24%.
These eight sectors and their component stocks have ongoing stories to tell. This graph and sector risk ranking of companies will be updated again for publication periodically. Stay tuned.
Disclaimer: This article is for informational and educational purposes only and should not be construed to constitute investment advice. Nothing contained herein shall constitute a solicitation, recommendation or endorsement to buy or sell any security. Prices and returns on equities in this article are listed without consideration of fees, commissions, taxes, penalties, or interest payable due to purchasing, holding, or selling same.
Disclosure: I am long T, VZ, INTC, JNJ. I wrote this article myself, and it expresses my own opinions. I am not receiving compensation for it (other than from Seeking Alpha). I have no business relationship with any company whose stock is mentioned in this article.