Merck (NYSE:MRK) reports 3rd quarter, 2012 financial results before the bell on Friday morning, October 26th, with analyst consensus expecting $0.93 per share (versus $0.94 last year) on $11.6 billion in revenue.
The stock is up 22% year-to-date (excluding the dividend), nicely outperforming the S&P 500.
The large-cap pharma rally has had a lot of folks scratching their heads this year as growth expectations are - to put it mildly - subdued for the sector, and that applies to Merck too.
MRK is looking for flat earnings growth in 2012, and slightly positive to mid-single-digit growth in 2013 and 2014, on slightly negative revenue growth over the next three years.
But it isn't taking much to move the stocks in this sector - Eli Lilly (NYSE:LLY) got a nice boost, more than 20%, when their Alzheimer's data met minimal expectations and management promised expense cuts and better margins in 2014 (go figure).
At 11x earnings and 11x cash-flow, MRK isn't a table-pounding valuation buy, but as one analyst commented on one of his sector comments, there could be a further "p/e revaluation" to the upside in large-cap pharma, if just 30% - 40% of the sector's drugs currently in Phase III trials become marketing successes.
That i think is the key to MRK and the sector - there is little credit being given for pharma pipelines, and the R&D pipelines are being undervalued.
In the 2nd quarter, 2012, MRK actually showed better than expected growth in US pharma, with 5% organic growth offset by 4% currency. The Singulair patent expired 8/12, which is 12% of MRK's q2 '12 revenues. Zytia and Vytorin are 8% of total MRK sales and 50% of cardiovascular sales.
The next big mover announcement for Merck regarding its pipeline will be the announcement on tredaptive, the "good" cholesterol drug that has the potential to be a major franchise for MRK.
In the meantime, better dividends, improved capital allocation, a shaving of expenses, possible M&A and very low expectations are having a positive impact on stock performance.
In 1997 when the sector started to break down, it left a lot of folks scratching their heads, and today, the opposite is happening, just to the upside.
Merck peaked in August, 2000 at over $90 per share. Today at $47, MRK is bumping against long-term resistance. We have a decent position in MRK, but would be a stronger buyer in the high $30's, low $40's. However if MRK's management uses some of that $9 billion in free-cash-flow to fund a better dividend, or repurchase stock, the stock could take out its $47 - $48 resistance level.
Currently MRK has a 3.5% dividend yield.
Ultimately, we think MRK is worth mid $50's to low $60's. Morningstar has an intrinsic value on the stock of $46.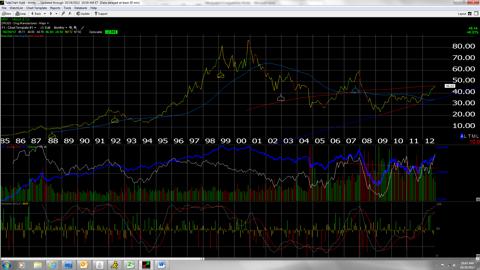 Disclosure: I am long MRK. I wrote this article myself, and it expresses my own opinions. I am not receiving compensation for it (other than from Seeking Alpha). I have no business relationship with any company whose stock is mentioned in this article.