Originally written on August 19, 2008
Horsehead Corporation (ZINC) is a major producer of zinc in the US, using as raw material EAF dust from steel mini-mills. EAF dust is a hazardous byproduct of steel refining, and environmental regulations in the US mandate that EAF dust be either recycled or carefully dumped in a sealed landfill. Horsehead gets paid to take EAF dust off the hands of steel refiners, extracts zinc from it, and then sells that zinc back to steel refiners for galvanizing iron.
In addition, Horsehead also produces zinc dust, used in batteries, and zinc oxide, used in the chemical industry. Major inputs in the refining process include electricity, coke and natural gas. Horsehead is the dominant player in this industry, processing over half of all EAF dust generated in the US.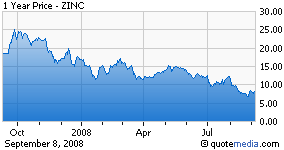 Horsehead has previously gone bankrupt and was taken private and reorganized before being IPOed less than a year ago at $18 per share. Horsehead emerged from bankruptcy with no debt, and now has an excess $1.95 per share in cash. Since its IPO, Horsehead stock has trended steadily downwards primarily due to zinc price deteriorating from $1.47 a pound in 2007 to around $0.75 a pound now.
Management is highly competent, and has already bought put options for 90 000 tons in 2008 (60% of 2008 production) at $1 a pound, and has locked in another 45 000 tons in 2009 at $0.90 a pound (accounted for under prepaid expenses). Management is also making initiatives to reduce its cost structure by $35 million, and adding an energy surcharge to its zinc oxide products to increase revenue.
However, the market seems to ignoring both the successful hedge and the strong financial position of Horsehead. In 2008 and 2009, Horsehead will probably have an $0.50 to $1 EPS despite zinc prices at $0.75 a pound, due mainly to its hedging. Therefore, in the short term, zinc prices will have only a limited effect on Horsehead. From 2010 onwards, zinc prices will obviously have a large impact.
While there are some metal analysts who predict a protracted downturn in metal prices, I take those reports with a large grain of salt; I simply do not believe that anyone can accurately predict zinc prices 2 years out. The current share price for Horsehead essentially values it at book value, disregarding its income potential, despite the fact that Horsehead is unlikely to become cash flow negative in the near future.
Zinc production is a highly cyclical industry. Prices ranged from a low of $0.35 a pound in 2002 to $2 a pound in 2006. While I have little experience with the zinc industry, and I do not know where the zinc price is headed, I do have some experience with cyclical industries. The way to play cyclical stocks is to pick the strongest company with the least debt, ensuring that it will not go bust during the downturn, and will pick up market share when the cycle reverses.
Horsehead is a major player in the US zinc industry, and management has extensive experience in the industry. About 75% of the zinc consumed in the US is currently imported. However, with a structural increase in freight costs which is likely to persist into the future, both zinc and manufactured goods are becoming more expensive to ship here, resulting in greater demand for local manufacturing operations and local zinc supplies. I believe that the long-term future of Horsehead is bright.
Furtherore, there are two possible wild cards associated with this stock. Firstly, the residual iron in the EAF dust is potentially worth more than the zinc content, but is currently sold for a negligible amount after zinc extraction due to impurities. Horsehead is working on upgrading the residual to furnace grade iron, which would bring a big boost to earnings. Secondly, zinc oxide is a major component in the recently discovered Solzinc process which stores solar energy captured by solar panels as hydrogen gas, which may boost zinc demand if the process is successfully commercialized.
I picked up a full position of ZINC today at $7.91. From a technical perspective, I may have been premature, since this might not be the bottom, and traders typically buy on the upswing rather than try and catch the bottom. However, ZINC will begin to show on up the screens of fundamental investors when it goes below its book value of $7.64. I am unable to specify a price target, since I cannot predict the zinc price, but I believe the risk-reward ratio is favorable. Should zinc prices rise at any time during the next 2 years, I expect a rapid spike in Horsehead's stock price. Only a persistently depressed zinc price, consistent only with a deep and persistent recession in the US, will sink this stock.
Disclosure: Long