On Thursday, September 4 after-hours, Cooper Co.'s (NYSE:COO) reported Q3 earnings of $0.39 per share or $17.9 million on $285.9 million vs. $0.18 per share or $8.1 million a year ago. Excluding restructuring costs, COO would have earned $0.67 per share or $31.5 million vs. $0.71 per share or $33.7 million a year ago. Analysts were expecting $0.65 per share on $285.2 million, beating earnings estimates and revenue targets. On September 5, shares closed at $34.01, down $2.16 or 6% on 1.84 million shares traded (over 3x the average daily volume).
I wear contact lenses and I had to see if they were from CooperVision, and they were! I didn't even know that until I checked. I have to wear the toric lenses for astigmatism. When I visited the corporate site, it mentioned that 160 million people or 50% of the world's population still need vision correction, 33 million people already wear contact lenses, and the rate of growth for lens wearers increases 4% per year. As more countries become industrialized, I expect the number of lens wearers to increase. If you had money and you wear glasses, you would get contact lenses. COO opened up a direct sales office in China in July 2007 and Hong Kong in March 2008, giving COO plenty of opportunity in the future.
Non-single-use sphere contact lenses grew 39% while the toric lens business grew 34% to $83.4 million and sales in the Americas increased 44% and sales in Europe increased 39%. CooperVision grew 15% to $243.2 million in revenue and CooperSurgical grew 7% to $42.7 million in revenue. CooperSurgical sales to hospitals increased 20% to $13.1 million, which represents 31% of the unit's revenue. Total revenue grew 14%, led by both units. Currently, COO commands 16% of market share and is #2 in the U.S. after Johnson & Johnson (NYSE:JNJ) and #2 in Europe after Ciba. In Asia, COO is #4, but I expect COO to take market share from JNJ, B&L and Ciba in the coming years in the Asian market.
COO reported free cash flow of $18.6 million and also reduced total debt by $13.3 million to $927.8 million, but long-term debt increased from $830 million to $890 million. In addition, cost of sales increased 23% to $130.7 million from $105.9 million. R&D, SG&A, and debt should be offset by COO's revenue growth in its Proclear®, recently launched 2-week use Avaira™, and Biofinity® lines in the future.
The healthcare supplies industry outlook is neutral; however, COO's outlook is positive, depending on the company's ability to gain market share from competitors. The industry is typically recession-proof, but I do expect slow down in the U.S. market to be offset by growth in Europe and Asia. In vision care, a 6-8% growth level is sustainable and the reduced demand and affordability of laser vision correction in the U.S. should help boost contact lens sales.
Currently, 8 analysts publish recommendations on COO with 1 "Buy" rating, 6 "Hold" ratings, and 1 "Sell" rating. There are no new or reiterated ratings for COO, so expect them in the near future. COO's short interest is relatively high at 19.5% of the float (43.69 million shares) with 16 days to cover.
Management also gave a more precise range for fiscal 2008's earnings. Previously, COO expected to earn $2.10 - $2.35 per share on $1.06 - $1.10 billion, but now they expect to earn $2.18 - $2.24 per share on revenue of $1.08 billion - $1.10 billion. Analysts were expecting $2.28 per share on $1.09 billion in revenue, which remains in-line with full year expectations.
Technically, COO broke down from the 50-day MA after forming an ascending wedge. In the intermediate-term, notice how COO 'perfectly fails' the 200-day MA (4x). However, keep in mind that COO is making higher lows and finds support at $33.50. Regardless, the breakdown response after earnings is a warning sign that investors were not too happy with the results. A breakdown below $33 signals a continuation of a short-term downtrend and COO is likely to remain in a neutral-range for some time.
click to enlarge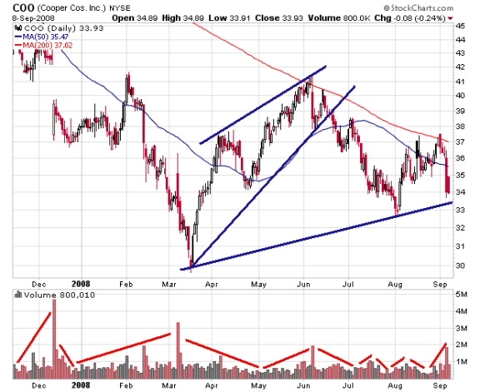 Click to enlarge
Full Disclosure: Author wears CooperVision contact lenses, but does not hold a position in COO.