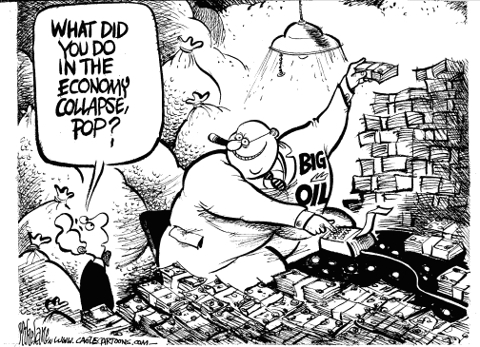 Click to enlargeOil is down at $104 pre-market.
Unfortunately, the commodity sector is still dragging down the broader markets so we'll see how we perform on what should be hailed as good news by the markets, but it's causing a pre-market sell-off.  We had some decent volume yesterday and did not go down so that was good but it's going to take a lot more than a 50% retrace of last week's losses to get this market back on track.  Just some quick notes this morning as I ended up writing an FA on Google (NASDAQ:GOOG), which I was reviewing in-depth last night, trying to figure out why it's so low (no good reason, it turns out).
Freddie Mac (FRE) may also be oversold down at .90.  Not to say they are unfairly valued but, with government backing and a mandate to expand lending under new guidelines, the slim chance that they may regain some of their former glory that valued the stock at $70 just last year makes sharing your equity with the Treasury Department not the worst idea in the world as a long-term investment. 
Asian markets fell back hard this morning with the Hang Seng and the Nikkei giving back a point and a half of yesterday's gains on what looked like mainly profit-taking.  Despite the worries, growth is still there and DHL forecasts 13% growth in Asian revenues this year, a little less than the 17% average growth of the past 7 years but still very nice. 
Europe is trading up about a point ahead of our open with London out-pacing Germany as traders there play a little catch up after yesterday's technical problems at the LSE.  Russia and Georgia seem to be coming to some sort of agreement but Bush is still mad and rescinded plans for a nuclear-cooperation agreement with Russia that was set to be the cornerstone of a global non-proliferation treaty. "Unfortunately, given the current environment, the time is not right for this agreement," Secretary Rice said in a statement.  Yes, when tensions are high you certainly don't want to agree to reduce stockpilles of nuclear weapons…  At least things are picking up slightly in England, where the PPI fell 0.6%, the fastest decline ever and the first decrease in two years.
As I said in last night's wrap-up - I'm a lot more concerned about how the markets fare adjusted to global currencies than about the action we see on this side of the ocean.  The strong dollar is skewing our view and that's a dangerous thing on a day when both oil and gold are collapsing below key technical levels.  Platinum fell below the key $1,300 level this morning and can get hit again if auto sales don't pick up soon.
It's going to be an interesting day. Hopefully some progress will be made, but we'll have to parse out the market data carefully as commodities are really going to take it on the chin this morning!