Monday's Gartner report that showed weakness in the smart phone market failed to identify the elephant in the room that the 3G iPhone wasn't even available in Q2. Instead of identifying this principal reason for the slower smart phone growth numbers, Gartner offered up a misleading conclusion,
"The current economic environment continues to negatively impact the market, limiting consumer spending and replacement purchases in general."
What should have been said is that all competitors to the iPhone are seeing their growth rates diminished. It seems like everyone within the industry is trying to find alternative excuses for their bad performance, they just can't come out and say that it's because of the iPhone.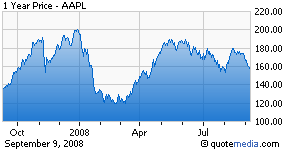 As an investor, you must understand this fact. After the misleading Gartner report the market sold off Apple (NASDAQ:AAPL) with the rest of the smart phone group in a practice that has become all too common in 2008-throwing the baby out with the bath water.
Lone Peak Asset Management (lonepeakportfolios.com) has officially put Apple on our conviction buy list. The current consensus on this stock can be summed up by two recent articles. The first, written by Jim Goldman of CNBC infers that this stock is suffering fatigue because of too much hype. Goldman, who is a long time Apple bull, wonders if the company is a victim of its own success. The second article, written by Jim Cramer, states that Apple is in a bear market and will be for some time. We strongly disagree. This is not the time to be jumping from the stock, it is the time to be buying for its seasonal run. Here are the catalysts:
1) The Steve Jobs health debate is coming to an end.
2) Investors have figured out that the P/E method of valuing Apple stock is not accurate. Accuracy will be restored as investors focus on P/Free Cash Flow (link).
3) Seasonality is on Apple's side. For the past three years, Apple stock has averaged a 45% return between now and the holidays. This is Apple's time to break through the $200 barrier.
4) International iPhone sales will be boosted from distribution deals in Russia and China. The iPhone will replace laptop computers in many emerging markets.
5) Microsoft (NASDAQ:MSFT) will continue to lose market share to Apple (link). Mac sales could reach 3 million in the current quarter.
6) Apple's new game plan of gaining market share over margins (link) will begin to play itself out after Tuesday's event. This company is at a positive tipping point.
The best time to buy Apple is when sentiment is contained. We are in one of those moments. Don't be a seller when you should be a buyer.
Disclosure: Long AAPL