As the market for mortgage real estate investment trusts (mREITs) has lost some steam over the last couple of weeks, the investor day for Two Harbors Investment Corp (NYSE:TWO) provided an ideal time to review the prospects for this company.
The company acquires, owns and manages a portfolio of Agency and non-Agency residential mortgage-backed securities and related investments. The investment approach focuses on security selection and the relative value of various sectors within the mortgage market.
Two Harbors currently has a total residential mortgage-backed securities (RMBS) portfolio of over $15B, providing for a significant hybrid mREIT that now has substantially reduced the expense ratio to 0.8%.
Dividend History
Being a new company, Two Harbors has a limited dividend history. The dividend was consistently at $0.40 since 2010, but the company recently dropped the dividend to $0.36 for Q3 2012.
Most notably, the stock has soared, though the dividend rate has been flat to down over the last couple of years. Interestingly though, the dividend still remains relatively high at 12.5%.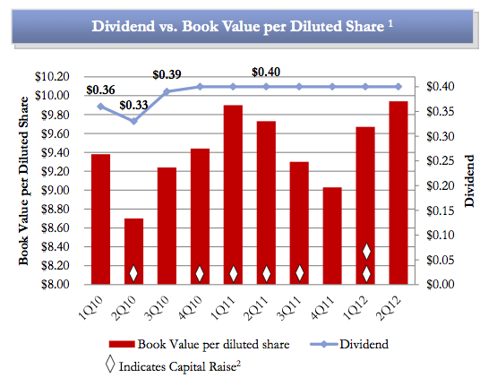 Silver Bay IPO
The company plans to siphon off the single-family house division with an IPO for Silver Bay. This move will provide for a more streamlined investment vehicle, while giving investors the ability to invest directly in the single-family market. However, the presentation spent limited time discussing this new company.
The company currently owns 1,670 homes worth around $190M.
Interest Rate Risk
The biggest issue with mREITs remains the risk that the sector faces with sharply rising or falling interest rates. Brad Golding, managing director at hedge fund Christofferson, Robb & Co., had the following to say to Bloomberg about interest rate risk:
Rates go down you get killed, rates go up you get killed. With a smaller and smaller coupon and higher and higher dollar prices, it's a very dangerous game to play.
Clearly, lower interest rates cause prepayment risk. While potentially bad for income, as it leads to lower yields, it clearly doesn't lead to lower stock prices. Since the Fed has pushed mortgage rates to historically low levels, the stock for Two Harbors has soared.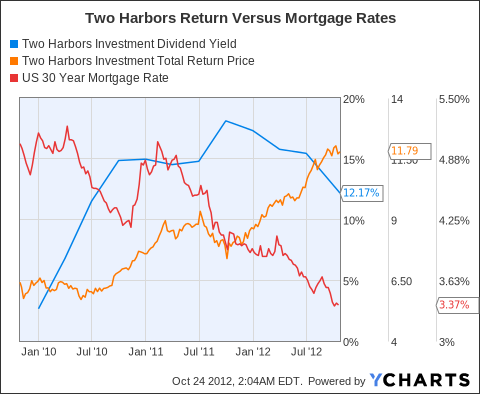 TWO Dividend Yield data by YCharts
Conclusion
While the presentation discussed the hedges for higher interest rates and success the company has had with lower prepayments, the stock price apparently faces the most risk from higher rates. Higher rates will make the stock's dividend yield less attractive.
Clearly, the stocks of mREITs have become more volatile over the last couple of weeks. However, investors should follow the actions of market leader Annaly Capital Management, Inc. (NYSE:NLY). The company recently announced a $1.5B stock repurchase, equivalent to nearly 10% of the outstanding shares. If this market leader is buying stock, investors should follow their lead -- at least until rates rise, which might not happen for a couple of years.
Disclosure: I am long NLY. I wrote this article myself, and it expresses my own opinions. I am not receiving compensation for it (other than from Seeking Alpha). I have no business relationship with any company whose stock is mentioned in this article.
Additional disclosure: Please consult your financial advisor before making any investment decisions.