The market has seen some big swings in recent days and volatility could ratchet higher in the coming weeks as the U.S. Presidential election is around the corner and the fiscal cliff is on investors' minds. As third-quarter earnings reports have been dull, investors should consider low-volatility ETFs for risk-adjusted performance and to cushion any market pullbacks.
"Why have low-volatility stocks posted such great risk-adjusted returns? The best explanation is leverage aversion. Investors who target above-market returns may be unwilling or unable to use leverage to reach their expected-return targets. By resorting to volatile stocks (more accurately, high-beta stocks), which theoretically should outperform less-volatile stocks, they hope to earn above-average profits. Ironically, their collective bet on high-beta stocks leads to low risk-adjusted returns," Samuel Lee wrote for Morningstar.
ETFs such as PowerShares S&P 500 Low Volatility (NYSEARCA:SPLV) can produce great risk-adjusted returns over the long term, although it will likely trail the market during powerful rallies. The fund has a yield of 3% and costs about 0.25%. There are around $2.6 billion in assets, a good amount for liquidity and easy trading.
The index tracks 100 of the lowest volatility stocks over the past year in the S&P 500. SPLV is best used as a long-term play. Investors who want a buy and hold ETF would be safe to invest in SPLV, but bear in mind the low volatility stocks do underperform in bull markets.
There are also low-volatility strategies that focus on emerging markets and global equities. The iShares MSCI All Country World Minimum Volatility Index Fund (NYSEARCA:ACWV) gives global exposure to low volatility stocks in both developed and emerging economies. The fund costs 0.30% and yields 3.87%, reports Neena Mishra on Zacks. The ETF has returned 10.22% year-to-date. Another option is the iShares MSCI Emerging Market Minimum Volatility Index (NYSEARCA:EEMV), which costs 0.25% and yields 3.07%. The ETF has returned 17.2% year-to-date and has heavy weighting toward Taiwan, China and South Korea.
BlackRock's iShares Global Chief Investment Strategist, Russ Koesterich, recently told ETF Trends that investors should consider taking a more defensive posture with low-volatility ETFs that limit downside risk.
PowerShares S&P 500 Low Volatility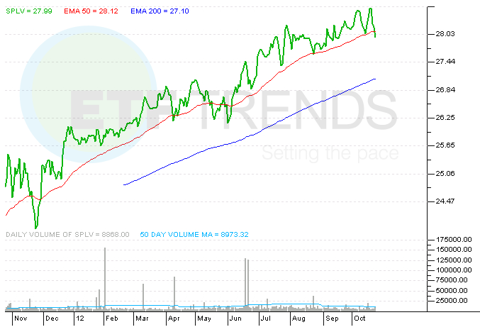 Tisha Guerrero contributed to this article.
Disclosure: I have no positions in any stocks mentioned, and no plans to initiate any positions within the next 72 hours. I wrote this article myself, and it expresses my own opinions. I am not receiving compensation for it. I have no business relationship with any company whose stock is mentioned in this article.