Southern Company (NYSE:SO) is a holding company, which owns Alabama Power, Georgia Power, Gulf Power, and Mississippi Power, each of which is an operating public utility company. SO generates and distributes electricity to more than 4.4 million customers in the Southeast with more than 43,500 megawatts of generating capacity, where a majority of which comes from coal-fired plants. In this kind of uncertain economic environment, SO could be a great cash flow and capital preservation investment target with its pure-play regulated utility model and consistent dividend distribution and growth.
The Dividend Story and Fundamentals
On Jan. 27, 1987, Southern distributed the dividend for the first time and had been consistently distributing and increasing its dividend since then. The latest dividend was declared on Oct. 16, 2012, and the ex-dividend date is Nov 1, 2012. Currently, with $0.49 dividend distributed per quarter, the annual dividend yield is 4.24 percent at the share price of $46.20. In order to dig further into SO's fundamentals, we will now take a look at SO's fundamental key stats to see where it stands as compared to the industry average in the regulated electric utilities industry.
| | | |
| --- | --- | --- |
| Key Stats | Southern Co | Industry Average |
| Price/Earning ttm | 18.6 | 16.6 |
| Price/Book | 2.2 | 1.4 |
| Price/Sales ttm | 2.4 | 1.5 |
| Revenue Growth (3 Yr Avg) | 1.0 | 123.6 |
| EPS Growth (3 Yr Avg) | 4.3 | 8.3 |
| Operating Margin % ttm | 24.5 | 20.0 |
| Net Margin % ttm | 12.8 | 9.2 |
| ROE ttm | 12.4 | 8.5 |
| Debt/Equity | 1.1 | 1.2 |
Source: MorningStar
While the 3 year average revenue and EPS growth of 1.0 and 4.3 for SO are below the industry averages, its operating margin of 24.5% and net margin of 12.8% are all showing strong numbers as compared to the averages of 20.0% and 9.2%. The ROE for SO at 12.4 is also higher than the average of 8.5. From the valuation perspective, the P/E and P/B ratios of 18.6 and 2.2 are above the industry average of 16.6 and 1.4, which we believe can be justified with its operation efficiency and dominance in the Southeast area.
Technical Analysis
On Tuesday, Southern closed at $46.20 with a 0.75% decline. The volume of 2.86M is 19.66% less than the 30 day average volume of 3.56M. The major indices all closed lower with a 1.82%, 1.44% and 0.88% drop for Dow Jones, S&P 500 and Nasdaq, respectively. Southern had been trading in the range of $42.11-$48.59 in the past 52 weeks. From the trend perspective, MACD (12, 26, 9) had been showing a bullish signal since Sept. 20. However, with the recent pullback, MACD difference continued to converge. At $46.20, SO is still above its 50-day MV of $45.81 and 200-day MV of $45.2 and we should find some supports at the following pivot points: $45.71 (pivot), $45.02 (S1), and $43.95 (S2), as seen from the chart below. From the momentum perspective, RSI (14) at 53.21 is approaching the neutral, middle line at 50, indicating the decreasing momentum. If SO can hold above its 50-MV, we should see a good technical rebound for SO in the near term.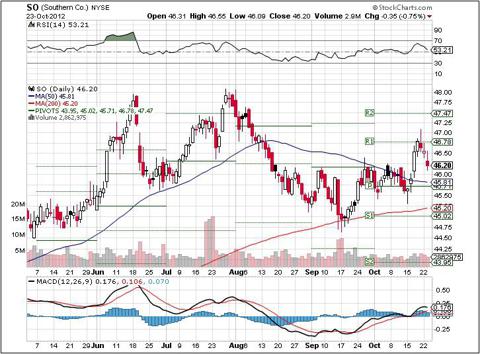 Source: StockCharts
Options Play
While we are optimistic about SO's long-term outlook with its consistent dividend, we are waiting to see if SO can hold above its 50-MV average. If SO can stabilize above 50-MV, it will be a good opportunity for investors and traders to take a look at this stock as a long-term cash flow play. Below, we will review a credit put spread for investors and traders who are comfortable of acquiring SO stock at a discounted price should this options play below fail to generate profit.
Short x1 Jan 19, 2013 Put with the strike price of $45 for the credit of $0.80
Buy x1 Jan 19, 2013 Put with the strike price of $42 for the cost of $0.24
The maximum profit potential is $0.56 and the maximum risk/margin requirement is $2.44 (maximum $3 loss - $0.56 credit received), which translates into a 22.95% return for the margin used for the 3 month investing period. If the stock fails to stay above $45 upon option expiration, the acquisition cost per share is $44.44, which is 3.8% lower than the current price of $46.20. From the dividend standpoint, it would yield a 4.41% annual dividend return with projected $0.49 dividend per quarter at the acquisition cost of $44.44.
Note: All the prices are based on Oct. 23's closing and all calculations are before fees and expenses.
Disclosure: I have no positions in any stocks mentioned, but may initiate a long position in SO over the next 72 hours. I wrote this article myself, and it expresses my own opinions. I am not receiving compensation for it (other than from Seeking Alpha). I have no business relationship with any company whose stock is mentioned in this article.