Paychex (NASDAQ:PAYX) stock trades around $32.43 versus its 52-week range of $27.11-$34.70, up 18% in the past year. The stock trades with a P/E multiple of 20 times versus its forward multiple of 19 times. Currently, the stock yields 4%. Others in the peer group such as Automatic Data Processing (NASDAQ:ADP) and Insperity (NYSE:NSP) yield 2.74%, 2.7%, respectively.
The chart below compares share performance over the past year. "D"s mark dividends paid.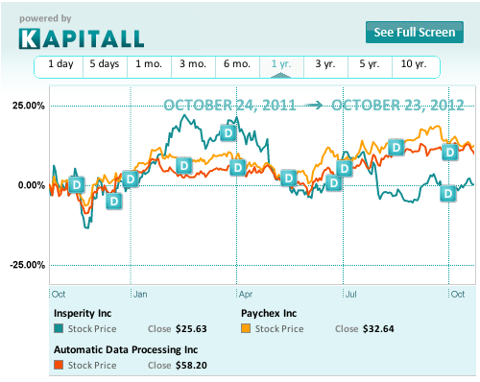 As of June 29th, 2012, the major institutional holders of the stock are FMR, LLC (4.7%), The Vanguard Group (3.7%), Capital World Investors (3.6%), Bank of New York Mellon (3%), and Blackrock Institutional Trust Company (2.3%).
A quick look at the fundamentals:
Paychex maintains a strong balance sheet with cash and cash equivalents of $149 million, and $900 million available under its lines of credit.
Although the company has been negatively impacted by the uncertainty in the macro and regulatory environment, Paychex delivered record operating margins of 40.1% last quarter. Paychex management has been proactive in controlling expenses to increase productivity, and hence margins.
Paychex has reiterated FY2013 guidance of 5-6% services revenue growth, and 3-4% in payroll services. The company is still expected to be a beneficiary of a growth in new clients, and revenue per paycheck.
The Paychex Next Generation suite and the online reporting service for its clients and CPAs have received good traction and feedback. In the long-run these technological enhancements place the company in a better competitive position.
The company has significant liquidity for a possible share buyback program some time in the near future. Management has not announced any plans for a share buyback as yet.
In conclusion, Paychex is a profitable company with an attractive dividend payout. An important fact to keep in mind is that companies such as Paychex and Automatic Data Processing grow their earnings from interest income earned on client portfolios. Interest income is earned on excess funds that are kept on reserve by their clients before their employees are paid in the form of paychecks. As per the company's Annual report dated May 31st, 2012, average interest rate earned on client accounts from FY2010-FY2012 was 1.5%. The interest income generated from the client funds was in the range of 5%-7.6% of EBIT. Hence, any increase in interest rates going forward will increase the interest income earned by Paychex.
It provides an attractive opportunity for income-oriented investors.
Written by Kapitall's Sabina Bhatia. Tool provided by Kapitall.
Disclosure: I have no positions in any stocks mentioned, and no plans to initiate any positions within the next 72 hours.
Business relationship disclosure: Business relationship disclosure: Kapitall is a team of analysts. This article was written by Sabina Bhatia, one of our writers. We did not receive compensation for this article (other than from Seeking Alpha), and we have no business relationship with any company whose stock is mentioned in this article.