Moody's (NYSE:MCO), the venerable credit rating institution that has seen a little of the shine come off its cape the last 5 years, reports its calendar Q3 earnings before the bell on Friday morning.
Analyst consensus is for $0.63 in earnings per share on $622 million in revenue, for expected year-over-year growth of 10% and 17% respectively.
Third quarter 2012 bond issuance was -- in a word -- huge, and MCO will benefit from this when we see the results Friday morning. Per an October 9th report out of PiperJaffray, "Q3 debt issuance posted healthy gains both domestically and internationally, with particular strength in the the high yield market."
From looking at a couple of analyst models in terms of Q3 revenue by segment, "corporate finance" revenues are expected to increase 30% to 50% year-over-year, while the other segments, like structured finance, financial institutions and municipals should see mid-single-digit growth y/y.
After the '08 - '09 financial crisis, Warren Buffett was very public about wanting to get out of MCO, and I believe he has sold some, but all of the litigation against MCO and S&P following the mortgage crisis hasn't amounted to negative judgments of any material size (to my knowledge), against the companies. The rating agencies are finding themselves as bullet-proof as the tobacco companies.
That being said, a credit rating is just an opinion, like any other investment opinion, and thus should be taken with a grain of salt. (As someone who grew up on the fixed-income side of the business, and working for a buy-side investment management company, I actually got to explore how credit-rating models and the process works. It is a topic too long for this space, but you'd be surprised at how rating agencies arrive at a rating, and the process involved. As you could expect too, the process has changed dramatically in the last 12 years.)
Longer-term, MCO will benefit from the emergence of capital markets in emerging economies throughout the world.
Our internal model values MCO in the high $30's - low $40's, but i expect that the Presidential election will have a big impact on what happens within the bank universe, given Dodd-Frank. Financial Institutions revenue is 12% of MCO's rating revenues today, but closer to 20% 10 years ago. The other issue is the question over the sustainability of low interest rates in general, and what happens to issuance once ZIRP ends.
Some analysts think MCO earn $3.50 per share longer-term, but i think we would need to see capital markets like the 1990's, where everything went right for quite a long period of time. Current consensus is looking for MCO to earn $2.76 this year in 2012, and $3.00 next year, for expected growth of 12% and 8% respectively, with corporate refinancings driving a big part of that activity. Analysts are pretty bullish coming into the report and numbers have crept up given the bond issuance, and we do expect a strong quarter, but we don't have a big position in the stock and will wait for a better entry point down the road.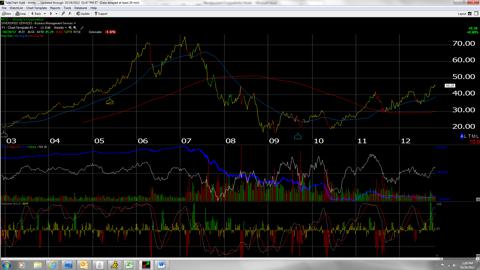 Click to enlarge
Disclosure: I am long MCO. I wrote this article myself, and it expresses my own opinions. I am not receiving compensation for it (other than from Seeking Alpha). I have no business relationship with any company whose stock is mentioned in this article.
Additional disclosure: very small position in longer-term account