Apple Inc.'s (NASDAQ:AAPL) latest gizmo, the new iPad Mini, is powered by the 4th generation big iPad technology. The starting price of the new iPad Mini is $329 for the entry level version with the 7.9 inch screen. The price is kept slightly higher than expected by the company, a move that will keep the profit margins of Apple at a decent level.
As with the other the iPad series of devices, there are three key price points -- $329, $429 and $529. The price of the entry level version is well above the commonly perceived 7 inch tablet ceiling of $159-$199 for the most basic machines like Amazon's (NASDAQ:AMZN) Kindle Fire HD, Google's (NASDAQ:GOOG) Nexus 7 and Barnes & Noble's (NYSE:BKS) Nook HD.
According to some analysts, the price point for the new iPad Mini is at such a higher level that it would result in decreased sales in terms of units, even with Apple's strong arm over its supply chain. They believe the company should have been less aggressive on the price to drive more units, as competition is getting tougher in the tablets market.
Why The iPad Mini Deserves A Premium
I think Apple made a successful attempt to justify why the iPad Mini deserves a premium:
With the 7.9 inch screen in contrast with the basic 7 inch tablets, iPad Mini offers 35% greater screen area when browsing in portrait mode, and 67% more when in landscape mode.
Access to 275,000 iPad-specific apps, while Android tablets are still largely reusing smartphone applications.
iOS 6 (200 million devices are now running the new iOS 6) -- Apple claims it is the largest upgrade in computing history, and the key reason Apple doesn't care about the small issue with its map app.
Battery - Apple always strives to keep iPad battery life in the 10-hour range, but smaller tablets have much less room for big batteries. By keeping the screen resolution at iPad 2 levels, the display will require much less power, and Apple claims 10 hours of battery life for the iPad Mini.
Amazon has been open about the fact that it sells its devices at break-even in order to make money on the content. Apple is the opposite -- its iTunes and App Store content business are run close to break-even levels, in an effort to justify a premium price on the newly launched iPad Mini and other products.
Investors Should Be Bullish On Apple With iPad Mini
I expect the iPad Mini sales to soar in the forthcoming holiday buying season, leaving Amazon, Google and others far behind. If Apple can deliver 10 million new iPads out of its suppliers, it will sell every one of them in short order. It will have a huge impact on Apple's revenues and profit margins, and the post-holiday season earnings call is going to be like a blockbuster Hollywood movie.
Apple has played it smart to wait for the 7 inch tablet market to mature and define itself. As of two weeks ago, Apple has sold 100 million iPads, and iPads currently deliver -- as Apple claims -- 91 percent of all tablet Web traffic. Apple knows that the time to jump in is right now.
(click image to enlarge)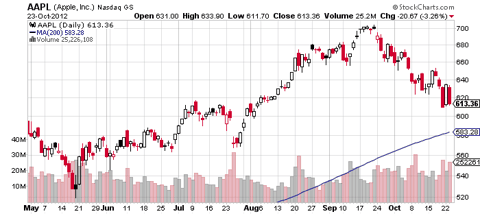 Click to enlarge
Apple's stock is currently undergoing a corrective phase, and offers investors an excellent opportunity to buy. In the short term, the stock could correct some more, and I expect it to take support around the 200-Day SMA near $580.
Disclosure: I am long AAPL. I wrote this article myself, and it expresses my own opinions. I am not receiving compensation for it (other than from Seeking Alpha). I have no business relationship with any company whose stock is mentioned in this article.