Last Friday, Honeywell (NYSE:HON) reported mixed third-quarter results that showed weakness in Europe (as expected) but strength in commercial aerospace, infrastructure spending, and oil and gas investments. Though revenue was roughly flat from the same period a year ago, organic sales edged up 2% and earnings per share from continuing operations jumped nearly 40%, though the firm benefited from a more-favorable tax rate in the most recently reported quarter. The company lowered its 2012 revenue guidance modestly, but it only narrowed the range of its 2012 proforma earnings per share outlook to $4.45-$4.50 per share (was $4.40-$4.55 per share), still representing a double-digit increase from last year. Free cash flow for the year is expected to come in slightly better than previous expectations, reaching $3.55 billion at the midpoint of the provided range, about 9.4% of sales. Our fair value estimate of the industrial conglomerate remains relatively unchanged.
Aerospace sales continue to perform well, with sales up 4% thanks to a 9% increase in its commercial end market. Commercial original equipment sales advanced 14% driven by higher aircraft production rates. We continue to believe that the tremendous and multi-year backlogs at Boeing (NYSE:BA) and Airbus (OTCPK:EADSY) will provide support for Honeywell's aerospace business for many years to come. And while we don't hold Honeywell in our Best Ideas portfolio (click here for our academic white paper), we do hold a number of aerospace suppliers. Aerospace segment profit advanced 9% thanks to segment margin expansion of 90 basis points, to 19.1%.
Honeywell's Automation/Controls Solutions (ACS) and Performance Materials/Technologies (PMT) segments showed roughly flat growth. However, segment profit in each segment advanced at a mid- to high-single-digit pace during the quarter as a result of margin expansion. Impressively, segment margins in its PMT business jumped 130 basis points from the same period a year ago, to 18.6%, a very nice showing. Strong performance at UOP and solid execution on productivity initiatives were the primary drivers for the profit expansion in its PMT segment.
The company's Transportation Systems (TS) segment, on the other hand, was incredibly weak. Sales dropped 10%, while segment profit fell 14% as margins shrank 50 basis points from the same period a year ago. On an organic basis, performance didn't look quite as poor, but organic revenue still fell 2% as new platform launches and higher turbo gas penetration in the US failed to offset lower European light vehicle production volume and unfavorable foreign exchange fluctuations.
Looking ahead to 2013, Honeywell will face an uncertain macroeconomic backdrop, but we continue to see strong growth in aerospace and UOP as key performance drivers. The company has solid exposure on Boeing's Dreamliner (787) as well as the jumbo 747-8. Management also spoke positively about the record backlog at UOP and the addition of Thomas Russell, a leader in technology and equipment for natural gas processing and treating. Furthermore, solid execution, productivity initiatives and tailwinds from recent restructuring efforts should help drive consolidated margin expansion for the year. We like Honeywell and its dividend (click here for our dividend analysis), but its shares are fairly valued.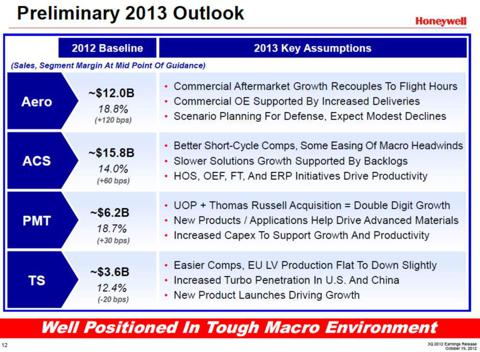 Image Source: Honeywell 3Q Slide Presentation (page 12)
Disclosure: I have no positions in any stocks mentioned, and no plans to initiate any positions within the next 72 hours. I wrote this article myself, and it expresses my own opinions. I am not receiving compensation for it (other than from Seeking Alpha). I have no business relationship with any company whose stock is mentioned in this article.